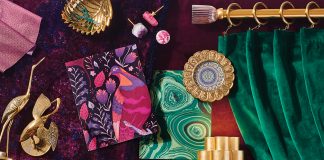 Photo by Janelle Olson || Styled by Jocelyn KrackeJBurgundy and gold fabric, $13/yard, SR Harris Fabric Oriental wool burgundy rug, $155, Wayfair Opalhouse...
Land & Sea Wall ArtAdd a bit of paradise to your pool house with this framed canvas of the ocean waves lapping up against...
Photo by Janelle Olson & Styling by Anna Lundberg"Radar Kelly" cement tile, $10.48/square foot, Clé Tile BODARP cabinet door, prices vary by size,...
Lake, sun, cold drinks, chic accessories... perfection! Black-and-white umbrella, $48.99, black tilting frame and pole, $37.79, World Market  //  Black-and-white outdoor ottoman, $40.62, wood...
1. Melamine organic stone tray, $14, West Elm; serving bowl, $5.99, Target; citronella candles, $9.99/set of 4, and plastic mod goblet, $9.99/set of 4, HomeGoods  2. Fishnet...
Tête-Á-Tête
Add continental chic to summertime fêtes
Dishes are making a bold move off the color spectrum.
[icon name="magic" class="getlookicon"] Get the look of this beautiful bathroom.