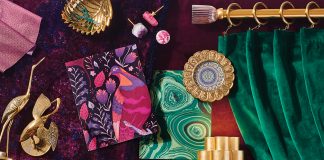 Photo by Janelle Olson || Styled by Jocelyn KrackeJBurgundy and gold fabric, $13/yard, SR Harris Fabric Oriental wool burgundy rug, $155, Wayfair Opalhouse...
Photo by Janelle Olson & Styling by Anna Lundberg"Radar Kelly" cement tile, $10.48/square foot, Clé Tile BODARP cabinet door, prices vary by size,...
Photo by Janelle Olson || Styling by Anna LundbergFantasia "Diamond Galaxy" wallpaper, $36/double roll, Ralph Lauren "North Hemisphere" wallpaper, $205/double roll, Essentia "Star Collision"...
You've seen the trends: the resurgence of herringbone, the widespread manufacturing of glass mosaics, and we probably even have enough subway tile to span...
Looking to make a statement in your next remodel? Discover why large-format tile is exactly what you need to maximize your design.