Home
Tags
Photography by Andrea Rugg
Tag: Photography by Andrea Rugg
By Katherine LawlessPhotos by Andrea RuggNestled in what the Olson family calls "the back 40" for its remoteness is a secluded area where wildflowers...
Mirrored tiles create an entirely reflective, floor-to-ceiling result.
Historic accents shine in a Queen Anne's new kitchen
2018 Winners from NKBA's Minnesota Chapter
No cabin commute for this busy family. Their lake place is 30 minutes from home
This Lake Pepin farmhouse is made for a crowd
A downsizing couple remakes rental property a rightsized home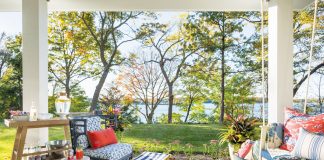 This nautical & East Coast-inspired lake home on Lake Minntetonka offers its family all the conveniences of a summer getaway without the 4 1/2 hour drive.