Cambria and Room & Board, two Minnesota-based companies, collaborate on new versatile furniture collection launching in January 2020.
The Cooper Hewitt, Smithsonian Museum has awarded Blu Dot with their 2018 National Design Award for Product Design. The winning submission featured several pieces...
If you're hosting this St. Patrick's Day instead of going out, these interesting kitchen pieces will keep your party on its toes.
This year's DIY Succulent Planter Bar is your opportunity to express your succulent style.
Listed for up to $8,000 a night are a variety of Twin Cities homes from an 8,000 square foot geodesic dome home to a condo within shouting distance of the stadium.
Renting your home to 2018 Super Bowl fans can be lucrative, but there are a few things to consider.
The Kingfield neighborhood in southwest Minneapolis has a cool vibe, affordable housing and a fun and progressive community spirit.
Discover the natural beauty found within the lush and colorful gardens surrounding landscape architect Frank Fitzgerald's Minneapolis home.
Step inside the home of Janey Winterbauer and Christian Erickson, a blend of eras in Minneapolis' Tangletown neighborhood.
The Minneapolis Sculpture Garden at the Walker Art Center reopens with an 19-acre expansion including, a native-plant meadow, more than 300 trees and more.
David Heide Design Studio brings new life to Lake of the Isles charmer.
Patterns pay homage to Minneapolis.
A kaleidoscope of annuals redesigns this urban garden each year.
A former Minneapolis warehouse gets a structural and cosmetic facelift.
This south Minneapolis home gets a new look with a practical porch.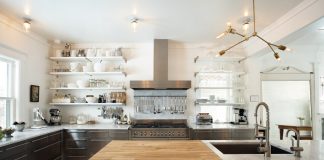 A historic home gets a colorful makeover by LiLu Interiors featuring pieces from the owner's world travels.
A home overlooking Minnehaha Creek gets a serene new library.
Two relatives created a new residence for a Minneapolis couple hoping to enjoy their retirement years—and host their entire clan.
Looking for an excuse to finally jump-start that kitchen remodel? Put your house on the market.