A young millennial couple finds ideal modern living in the Mill District
2018 Winners from NKBA's Minnesota Chapter
Congratulations, Heather! Winner of Midwest Home's November/December giveaway
You don't have to travel around the globe for a taste of the far East
Asian- and African-inspired furniture and textiles add rich color to homes this autumn
Even pooches need custom amenities
All of your woodworking needs in one place
Midwest Home and ASID MN present the winners of a colorful design competition
Step inside the homes on Midwest Home's 2018 Luxury Home Tour
When the Regan family of Regan Brothers Bakery fame (a one-time Minneapolis institution) built their summer getaway on Lake Minnetonka's Crystal Bay in 1905,...
Having a cabin "up North," seemingly a Midwest tradition if not a residency requirement, used to conjure visions of a rather ramshackle structure. Plain...
Stephen and Annie Roche had two things in mind when they began looking for lake property: retirement and downsizing. Their kids had grown up and left the...
A Wisconsin lake home is a showcase of organic finishes and textures
No cabin commute for this busy family. Their lake place is 30 minutes from home
This Lake Pepin farmhouse is made for a crowd
A cozy Edina home teems with color and life after a remodel.
An Edina family relishes a mashup of tradition, glam, and glitz.
Interior designer Andrew Flesher helps a family with three young boys give their home a playful update, making it all their own.
A new marriage and an old house renovation? This couple took on both and lived to tell the tale.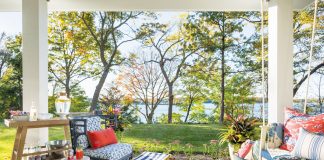 This nautical & East Coast-inspired lake home on Lake Minntetonka offers its family all the conveniences of a summer getaway without the 4 1/2 hour drive.