Home
Tags
John Kraemer & Sons
Mixing It Up First impressions are everything, so why not make yours unforgettable from the sidewalk? Get creative with your approach to exterior siding selections....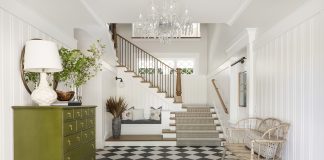 Green, from soft sage and light mint to rich forest and deep evergreen, is a go-to hue for packing a sophisticated, yet lively punch...
As a family-owned company, John Kraemer & Sons has established a stellar reputation among clients, the design community, and industry peers
Photos by Spacecrafting"We always knew this is where we wanted to build a house," says one of the homeowners of this East Coast-style abode...
Background Gary Kraemer and his late father John founded John Kraemer & Sons in 1978. We are proud of the fact that our builder's license...
A home's abundance of wood stays modern with uncluttered views and contrasting materials
Architecture: Charlie & Co. Design Builder: John Kraemer & Sons Interior Design: Twist Interior DesignWhen a young couple was ready to move out of their Lowertown...
At the O'Hara home, holiday décor is by design, tempered with plenty of nostalgia
John Kraemer & Sons designs a stunning outdoor shower for a suburban home.
Homes designed and built for the affluent homebuyers showcase stunning locations, expansive spaces, sumptuous finishes, and the latest technology.
A guide to design from the Minnesota branch of NARI.
These projects will provide insight and inspiration for your next home project.
2015 Tour: John Kraemer & Sons 952-935-9100jkandsons.com Age of the home: 93 years Type of remodel: Full kitchen renovation, large mudroom addition, main floor update complete with custom cabinetry,...
Rehkamp Larson Architects and Brooke Voss create a sleek loft-inspired home on the lake.
Sponsored
John Kraemer & Sons Inc.
John Kraemer & Sons breaks down the five things you need to do while researching and planning to build your new dream home.
Presented by John Kraemer & Sons Inc.
Wayzata, MN
Conscientious developers—and watchful residents—create a fitting addition to one of St. Paul's oldest neighborhoods.
In this dream home on Prior Lake, the "wows" just on keep coming.