Home
Tags
James McNeal Architecture & Design
Tag: James McNeal Architecture & Design
The team behind James McNeal Architecture & Design are experts in making innovative and bold ideas come to life
Renderings by JMAD/DreamTrace In a 1,000-square-foot room, James McNeal Architecture & Design (JMAD) can immerse you in some of its greatest feats in the past,...
Photos by Spacecrafting"Sprawling, open, and warm," is how architect James McNeal describes his recent build, a 9,400-square-foot Tuscan-style villa that, while located in Chanhassen,...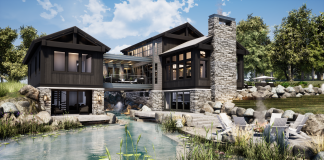 This is a home from the Luxury Home Tour.
Photos by SpacecraftingA winding cobblestone driveway leads guests up to Huntington Manor, the majestic 7,774-square-foot fortress known as the modern-day castle in Orono. Designed...
Photos by SpacecraftingThis year marked an exciting development in Midwest Home's Luxury Home Tour. For the first time, we combined our home tour—which celebrated...