Home
Tags
Department: Outdoors
Tag: Department: Outdoors
As owner and landscape designer, Grundeen brings 25 years of experience to her passion for providing creative and one-of-a-kind solutions to enhancing her clients' lives.
Photos by Tracy WalshFew city dwellers can say they have an island in their backyard. But Minneapolis graphic designers Meg and Chad Olson have...
Across the street from Bailey Nurseries, John Bailey's own gardens offer a real-life look at plants in the landscape
This handcrafted landscape is a St. Paul couple's labor of love
Nothing lures neighbors like the smell of pizza cooking in a wood-fired oven. That's what Rocky and Gigi DiGiacomo found out shortly after building...
Fanciful landscape evolves with homeowners' preferences
The joyful colors and peaceful ponds of this west metro landscape inspire contemplation
How St. Louis Park is staying relevant, healthy and attractive to current and new residents.
We know the Swedes excel in design—Minnesota is loaded with fans of both Swedish folk and modernism. Just in case you can't get enough...
A group of friends gather on Madeline Island for a weekend dedicated to outdoor fire, food and good times with those closest to them.
Several Minnesota architecture firms won recognition for their design work at the Association of Licensed Architects ALA 2017 Design Awards.Peterssen/Keller Architecture won a Gold Award...
The Macalester-Groveland neighborhood in St. Paul is unhurried, unpretentious and full of charm.
Lisa Elias of Elias Metal Studio uses steel rods and torches to create modern and elegant works of art for private homes and public spaces.
Kerry Brooks of Dock 6 Pottery creates decorative and functional pottery making sure each piece evokes a sensation of nature.
This century-old residence welcomes holiday visitors with festive decor outside and in
Decades in the making, this St. Paul garden captures the subtle art of abstraction.
Once an unsightly patch of buckthorn, this Minnetonka yard is now a garden-filled woodland.
This Linden Hills gardener's colorful creation attracts plenty of buzz.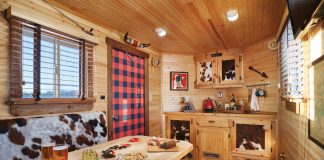 Jerrid Voss's fish house combines the rugged outdoors with Ralph Lauren-style.
Minimalist modernism of the award-winning Minneapolis landscape architecture firm, Coen + Partners, is in high demand.