Home
Tags
Department: Around Town
Tag: Department: Around Town
As one of the most well-known signs of spring, tulips are nothing short of stunning. Of course, this isn't news to avid gardeners and...
Photos courtesy Trace West and Judith+RolfeWhen it comes to art, never underestimate the power of a gift. For Twin Cities business owners Andrew Golish...
For those looking for kitchen and bathroom inspiration on the western side of the Twin Cities, stop by Select Surfaces' shiny new showroom for...
Photos courtesy Sue BradyThis spring, freshen up your home with some custom fragrances from Olfactory Scent Studio, which recently opened in The Shoppes at...
What happens when four city slickers with a shared love of good food, '70s music, and the north woods of Minnesota get a wild idea?
Treasures can be found across the state
Stay cozy all season long
Spread some holiday cheer with these pop-up shops and markets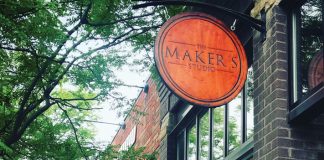 Finely crafted furniture and more await you in this charming Excelsior store
Interior designer Bridget Chirigos opens the DesignBar in Wayzata for DIYers, the budget-conscious, and anyone with spaces in need of sprucing up