Home
Tags
Brooke Voss Design
Photos by Spacecrafting, Alyssa Lee and Andrea Rugg  Earlier this year, I read an article about how Gen Z is determined to bring maximalism...
Photos by Alyssa LeeWhen a vacant lot opened up in the Linden Hills neighborhood of Minneapolis, Rehkamp Larson Architects and Reuter Walton Companies were...
Old has been made new again with trends popularized in decades past making a comeback (with a contemporary twist) in modern homes. Local interior...
When a young couple, both doctors, purchased a 1920s Spanish-style house on Lake Minnetonka, they knew this was a special property. Its lovely bone...
When it comes to interior design, Brooke Voss has one rule: There aren't any rules.Sure, she's a rule breaker—but she's also an avid traveler,...
Midwest Home and ASID MN team up for a vibrant design competition.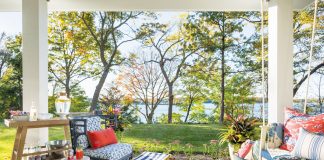 This nautical & East Coast-inspired lake home on Lake Minntetonka offers its family all the conveniences of a summer getaway without the 4 1/2 hour drive.
Life is messy. We know that only too well here in Minnesota, where we're trained from childhood to take our shoes off as soon as we enter a home. Would that my frequently wet and dirty dogs were as well trained.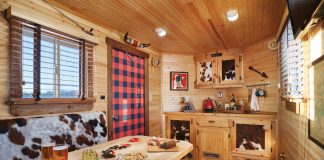 Jerrid Voss's fish house combines the rugged outdoors with Ralph Lauren-style.
When it comes to interior design, how do you blaze your own trail rather than follow trends? How do give your home that personal touch?