Araya Jensen's Willful in Minneapolis' Tangletown neighborhood expands to include colorful wool rugs, throw pillows, tea towels and more.
Christopher Strom Architects takes home the award for "Best Contemporary" in Marvin Windows and Doors' annual Architects Challenge.
Give your home the scent of the Oxford Library or Gatsby's Mansion with literature-inspired candles by Frostbeard Studio.
A good night's sleep has never been more comfortable—or affordable—thanks to SOL Organics' budget friendly luxury bedding.
Serious gardeners have already started this year's crop of annuals and lettuces. The rest of us? Feeling inspired and maybe even antsy though spring planting is still weeks away. But the time is right for planning edible summer gardens.
Kate Worum and Jennifer Jorgensen of She She offer custom, hand-painted wallpaper for residential and commercial clients.
A Q&A with Charlie Lazor on his architectural style and the completion of his first Stack House near Cedar Lake in Minneapolis.
Shop for all your home decor at St. Louis Park's Design District with stores including Ciel Loft & Home, Navab Brothers, Woody's Furniture and more.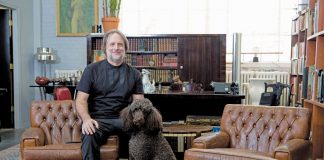 5 antique and estate sales tips from Minneapolis antiques dealer Peter Dyste formerly of Spinario Design for finding those rare and priceless finds.
Minneapolis photographer Karen Melvin showcases Boathouses of Lake Minnetonka, and local artist Amy Rice turns her art into a coloring calendar
Give a little inspiration with these new design books: "In the Company of Women" by Grace Bonney, "Living With Pattern: Color, Texture, and Print at Home" by Rebecca Atwood, and "Gardenista: The Definitive Guide to Stylish Outdoor Spaces"
Researchers from Mayo Clinic and New York design and technology firm Delos use simulated offices and rooms to study factors that affect everything from productivity to sleep to mood