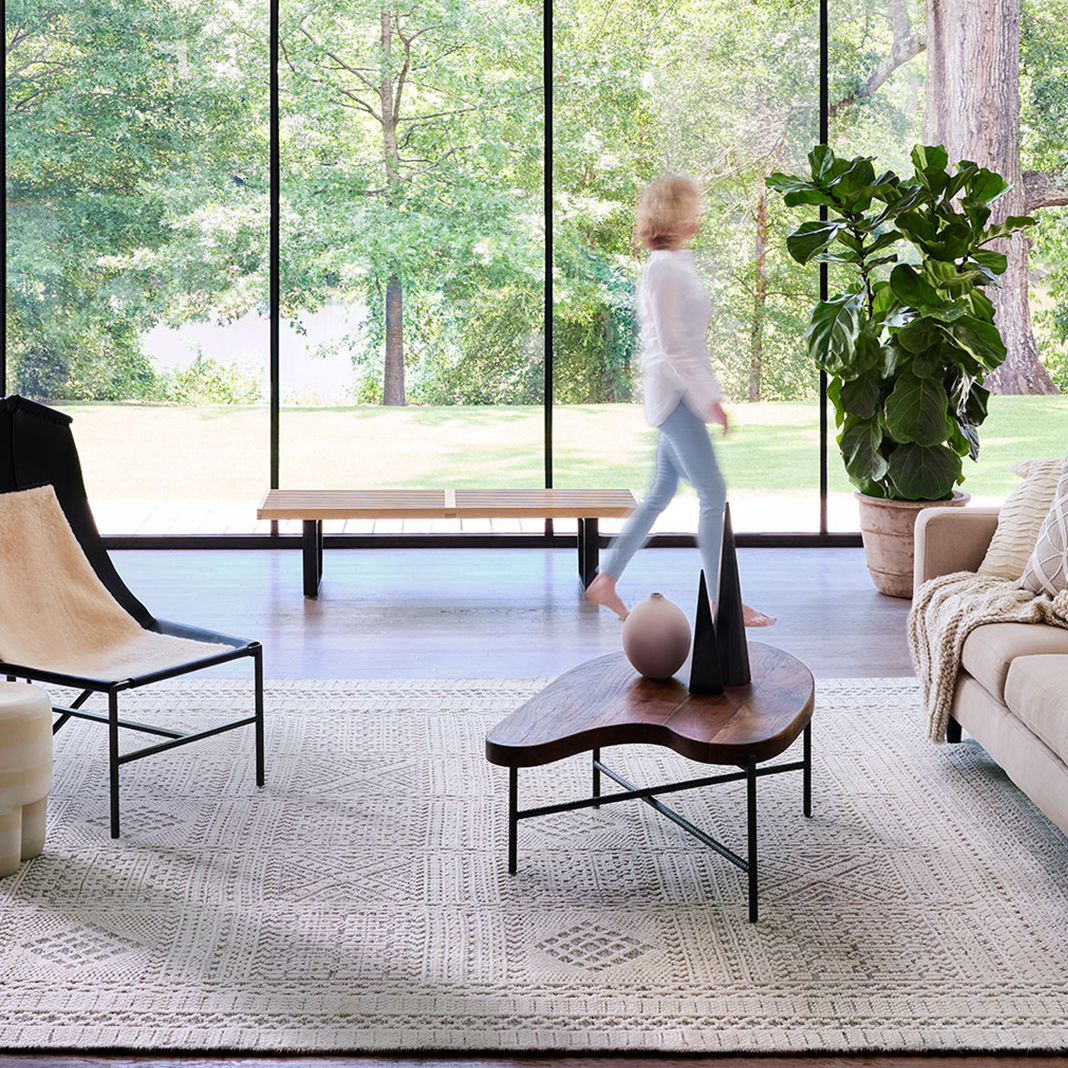 Our environment impacts our wellness, both mentally and physically. As the cooler months drive us back indoors, it's time to trade our gorgeous garden vistas for the beauty and coziness of our interiors. Because an area rug is the foundation of the room, the choice you make will be one of the most impactful facets in creating the mood. What is it you are craving during these pandemic times? Travel and excitement? Soothing simplicity? Supporting industries that empower the disadvantaged and use sustainable practices? Designing your room with these cravings in mind will be sure to bring a smile to your face as you look up from your work-from-home desktop or walk through to the kitchen for the hundredth time. Get inspired!
Soothing the Soul
Craving calm and simplicity? Go minimalist in neutrals. Hand knotted wool rugs with texture will give dimension and coziness to your space. Pair with clean-lined furnishings and you'll strike the perfect balance of simplicity and comfort. A light ivory color rug will keep the space light and airy (bye-bye winter blues!), while deeper grays and charcoals lean in to the cozy cavern vibe. From full pile Moroccan shag rugs to flat woven wool, the textures of these rugs have you feeling one with nature and the elements.
Wanderer at Home
Can't travel? Bring the world to you with an artisan-made rug reflecting different cultures and traditions! Color, pattern, and weave are hallmarks of handmade rugs that have been produced for hundreds of years. From antique Persian rugs to Gabbeh styles inspired by the rug weaving traditions of nomadic tribes and vegetable dyed tribal area rugs with classic motifs from the Caucasus region, the vibrant colors and patterns of these rugs are cheerful and energizing. Find more velvety and happy color rugs crafted by Cyrus Artisan Rugs.
Supporting Sustainable Décor 
If ethically produced and environmentally sustainable décor is a priority for you, you have lots of choices, design-wise, in hand-knotted wool area rugs. Wool is such a strong and durable fiber that a rug can last through decades of kids, life, movie nights and take out dinners. Another wonderful aspect of the hand-knotted rug industry, is that in the many regions of the world these rugs are produced, weaving is one of the few industries that employ women as the artisans. This provides societally disadvantaged women a fair living wage, access to healthcare and educational opportunities. For example, of the 40,000 artisans employed by one of Cyrus Artisan Rugs' premier suppliers, 85 percent are women. Empowering the woman artisan is a beautiful thing—it can uplift a whole community.
The team at Cyrus Artisan Rugs can help find that perfect rug that will be the foundation of your sanctuary. There are more than 5,000 rugs in the showroom, from traditional to modern, and there is plenty of space in the 13,000-square-foot showroom to keep socially distant as an expert shops with you. Safety protocols are practiced and mask wearing is required. The opportunity to take home rugs on approval to try-before-you-buy is also an extremely helpful service Cyrus Rugs practices to ensure you've made the perfect choice.
Facebook Comments