These Twin Cities designers can help you fall in love with your home.
Photo Susan Gilmore. Portrait Steve Henke Photography
Bruce Kading 
Interior Design
In the world of Bruce Kading Interior Design, classical antiquities effortlessly converse with contemporary art, priceless family heirlooms cohabit with flea market finds, and parquet is perfect for skateboarding. Whether Bruce and his team are designing an elegant San Francisco maison or an expansive Wyoming ranch, every space is both pedigreed and playful, soigné and stylish, cozy and comfortable.
Kading loves collaborating with clients and their architect and builder to design timeless signature properties. "We excel at designing extremely complex projects for exceptionally private clients," he says. "Whether we're renovating a glamorous brownstone in New York's Gramercy Park neighborhood or building a hunting lodge in Wisconsin, my team and I bring the highest levels of sophistication, discretion, and integrity to every project."
Kading and his team offer a comprehensive suite of interior design services for homes, ranches, lofts, condominiums, boutique offices and other projects in California, Montana, Wyoming, New York, Florida, Minnesota, and other destinations. Whether the project is new construction or renovation, clients benefit from the team's expertise in space planning and lighting, custom cabinetry and furniture design, acquiring and installing art, and other services.
"To me, a space feels like home when my team and I have worked our magic, ensuring that the spaces are perfectly proportioned, the lighting is impeccable, the fabrics are beautiful, the furnishings are comfortable, and the ambiance is inviting," Kading comments. "But, because a great house is never truly finished, we love working with several generations of the same family to keep it fresh, exciting, and inviting."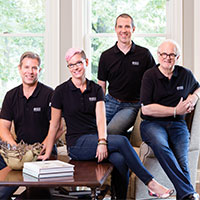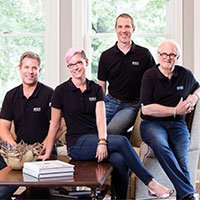 The team at Bruce Kading Interior Design
brucekading.com
612-886-3960
---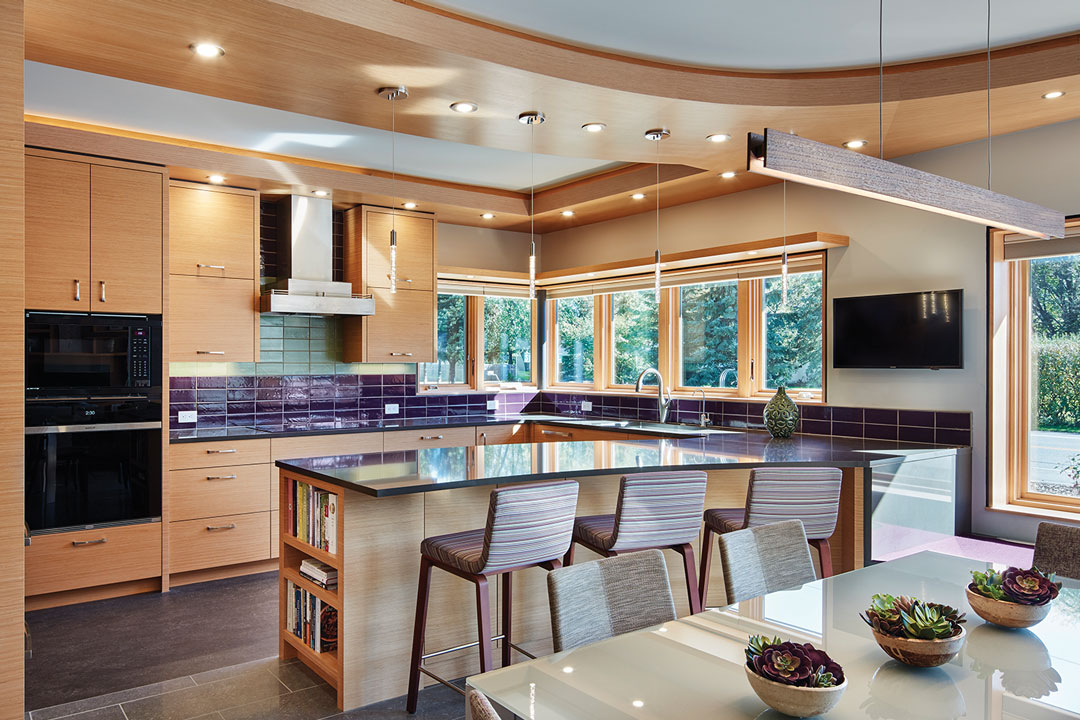 Photo Corey Gaffer. Portrait Dan Davis
LiLu Interiors
A home that seems perfectly tailored to fit the homeowners' needs and preferences doesn't just happen. It takes intentionality, attention to detail, and trust. "Most of all, it takes a unique understanding of how to perfectly connect what people value with how they want to live," explains Lisa Peck, owner/principal designer of LiLu Interiors. No project is too big and no dream is too bold for the LiLu team, who have made a name for themselves on the design scene since first opening their doors in 2008. Whether it's a remodel, redesign, new construction, or commercial environment, they take pride in showcasing what clients love about life and weaving those passions, interests, and pursuits into creative environments. Life is too short not to have a little fun with design.     
"If you love it, use it," Peck says of incorporating meaningful pieces into your home. That doesn't mean, though, that "everything is special." Every room needs a focal point, she says, or "it just looks like a parade."
Listening to what clients want and brainstorming custom design solutions that meet their clients' ideas of a perfect home is a LiLu specialty. "We don't dictate design," Peck says. The team is also known for open and honest communication when it comes to timelines, budgets, and expectations.
Clients receive an enjoyable boutique design experience from the initial conversation throughout the journey, wowing clients with a spectacular end result. Peck comments, "We create interior spaces that are authentic representations of who our clients are and all that they love."

Clockwise, left to right: Christina Rymer, Allied Member ASID; LuAnne Silvia, ASID; Lisa Peck, ASID, owner; and Ally Evander, Allied Member ASID.
liluinteriors.com
612-354-3271
---
Photos Scott Amundson Photography
Studio M Interiors
Since creating this new design firm in 2013, the team at Studio M Interiors has already built an impressive reputation for presenting fresh ideas and innovative design concepts that fit their clients' goals, needs, and budgets.
The spaces they design aren't bound by trends, but rather context. Some clients may seek a light, fresh, bright palette, others want elegant sophistication; some request a casual look and feel, others a mix of classic and modern elements.  Whatever the concept, "No detail is overlooked," says Kristen McCormick, owner/designer. "Our goal is to always create a space that reflects our clients' lifestyle and fulfills their vision." 
Whether they're in design sessions with the client, architect and builder, or handling material selections, space planning or specifying custom furnishings and décor, the designers at Studio M ask the right questions.  What works/does not work in your current space? What existing pieces of furniture would you like for us to incorporate into your new design? What are your favorite/least favorite colors? How do you want to feel in the space?
Achieving that "just-right" balance of flow, color, texture, pattern, and scale takes a trained eye. According to Melissa Musgjerd, owner/designer, a beautifully decorated interior should function well with the style and personality of the family on full display.
"Our passion is to design spaces that inspire and energize," says Annie Graunke, Allied ASID, owner/designer.
Studio M Interiors is within the 25,000-square-foot Mingle showroom in Plymouth. With access to the latest materials and furnishings, Studio M designers work to create spaces that reflect each client's individuality.

The team at Studio M Interiors
studiom-int.com
763-717-8500
---
Photos Susan Gilmore Photography. Portrait Becca Sabot
Mint Design
Underneath all I design lies the solid belief that beauty is a positive force." This quote, attributed to celebrated interior designer Barbara Barry, resonates with Maureen Haggerty, Allied ASID, owner of mint, a full-service interior design firm. Why? "Because interior design is so much more than furnishings, textiles, and paint colors," she explains. "It's the careful crafting of environments that make people feel happy, peaceful, and safe, it's the art of establishing lovely synergy, and it's a positive force towards enhancing daily living."
Haggerty's purposely layered interiors reflect this mantra, although she is quick to point out that her clients, ultimately, influence the final design.   
The award-winning designer has worked in the interior design industry for over 27 years, launching mint in 2007. "I acknowledged my dream and I went for it," she says.
Her clients welcome her detail-oriented approach, open communication, kind and reassuring personality, keen intuition, and understanding of art, color, textiles (one of her specialties).
When Haggerty walks through a freshly-appointed space with her clients and they are visibly enthusiastic and pleased, this is the icing on the cake! It is the reason that she does what she does. Thoughtful design—producing handsome spaces by enhancing her clients experience—is so incredibly rewarding.
"I love helping people realize the interior design vision for their homes," she comments. "It's what I relish most about my job."

Maureen Grace Haggerty, allied ASID
mint-design.biz
651-332-9609
---
Photo Slavun – fotolia.com
National Kitchen & Bath Association-MN Chapter
The kitchen can be the most complicated room in the home when it comes to remodeling. Where are the gas and plumbing lines? Do you know how to move a wall? Do you know what "trouble spots" to look for in the early planning stages so you're not stuck with a huge, expensive headache later? Certified National Kitchen and Bath Association (NKBA) design professionals know the answers to these questions (or can quickly find them for you), alleviating worry or stress caused by attempting the feat on your own. NKBA, a not-for-profit trade association, is a leading authority in the kitchen and bath industry, owning the Kitchen & Bath Industry Show (KBIS), which showcases the latest product innovations and leading brands at the world's largest trade show—and the annual NKBA Design Competition, offering an exclusive platform for member designers, builders, and remodelers to  receive national industry recognition.
Associate Kitchen and Bath Designers (AKBD), Certified Kitchen or Bath Designers (CKBD), and  Certified Master Kitchen & Bath Designers (CMKBD) know products, know how to maximize space (and budgets), have access to industry resources, and can help ensure that your product selection is installed with quality craftsmanship. Most importantly, they can serve as your advocate and help bring your vision to life.
The Minnesota Chapter of NKBA has more than 500 members and member employees. Their membership includes all of the Twin Cities metro area, as well as greater Minnesota, South Dakota, and North Dakota. To find a qualified NKBA member to help with your next project, visit the website at nkbamn.org and search on the home page under "find an expert."
---
Photos Troy Thies Photography
Sarah Randolph Interior Design
Known for creative combinations of color, texture, dramatic lighting, and a keen sense of scale and balance, Sarah Randolph of Sarah Randolph Interior Design aspires to create statements that reflect her clients. After a career at high-end residential interior design firms in San Francisco and Minneapolis, Randolph founded her firm in 2008. The lessons she learned were invaluable, not only in helping clients create stunning spaces, but in collaborating with architects, builders, and remodelers.
"Working with an interior designer is like working with a creative project manager and designer," she explains. "We take the stress out of coordinating and maintaining the project, provide an outsider's perspective with industry experience, and help bring ideas to the surface to create a stunning end result that's truly an extension of who you are and how you live."
Her job, she says, isn't to enforce her own style, but rather help clients determine their own style.
While inspiration comes directly from the clients, once in awhile it also comes from the space itself. "Sometimes a home or space speaks to me, and visualizing the end result becomes crystal clear," she says.
Clients appreciate her creative eye for design, hands-on approach, problem-solving skills, and personality. She comments, "I like to have fun and make things fun."

Sarah Randolph, principal designer
sarahrandolphid.com
952-473-0288
---
Photo Dean Reidel – 360VIP Photography. Portrait Becky Kelly
Insite Interiors & The Sale Room @ IMS
In 1999, Sharon Clasen took a risk and followed her heart by opening the full-service interior design firm Insite Interiors. In 2010, she added The Sale Room @ IMS, a local showroom offering high-quality designer furnishings at a discount. "I love working for myself and with clients that trust my expertise," she says. And while she's passionate about design, she points out that a successful design business is at least as much business as it is design. "Managing scope, expectations, and budget is sometimes a challenge for designers that focus only on the aesthetic part of the job," she says. "If something goes wrong, your clients will eventually forget about the issue, but they'll always remember how it was handled."
Clients appreciate her business acumen, industry connections, and access to resources. "When I was new to the industry, someone told me 'You're only as good as your resources.' That advice stuck," she says. She goes to international furniture markets twice a year, gathers ideas through international travel, and has the advantage of owning a showroom of inventory. "This allows me to purchase products at significantly large discounts," she says. "I then pass those discounts on to my clients."
She's currently working on an exciting modern mountain home in Palm Springs, and the home—much like her business outlook—can be summed up in six words: "The best is yet to come."

Sharon Clasen, associate ASID, owner of Insite Interiors & The Sale Room @ IMS
insite-interiors.com • 952-922-9140
thesaleroom-ims.com • 612-877-4173
---
Photos Troy Thies Photography
The Sitting Room
There are a lot of great designers in the metro area. What makes The Sitting Room different is their design firm and retail boutique, located in quaint downtown Excelsior, offering a wealth of design resources. Over the past 14 years, The Sitting Room has built a reputation for fresh, unique ideas. "Our clients love that we create inviting spaces that are livable, warm and refined. From family living to empty-nesters, each project is unique and personal to us," says Kate Regan, principal designer and owner.
Whether it's timeless and classic, modern, traditional, or coastal, the team has an appreciation for all styles. With this varied portfolio, the designers have the confidence to "push the boundaries when appropriate" with unique materials, custom furniture, and gorgeous fabrics, Regan says, showing off their clients' personalities.
Transforming one room—or a whole home—doesn't just happen overnight, like some home improvement shows might have you believe.  (Regan should know, she appeared on HGTV's Room for Change.) "We work with builders, remodelers, and architects as a team to ensure we have listened to and interpreted the client's ideas to allow for an enjoyable experience," Regan says. "I love experiencing moments when the project just clicks and things fall into place so naturally, when the client looks at you and says, 'I absolutely love it!'"

The design team of The Sitting Room
thesittingroomstudio.com
952-473-4440
By Special Advertising Section Editor Chrissy Sarinske