Know what you like but don't know exactly how to pull everything together? Fortunately for us, the Twin Cities is home to some of the most innovative, creative, and business-savvy designers around. Whether rejuvenating just one room or revamping your space from top to bottom, these designers can help you fall in love with your home.
LiLu Interiors
T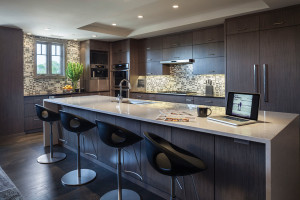 imeless design doesn't happen by accident. It takes careful consideration, planning, and execution on the part of both the designer and the client. In other words, says Lisa Peck, ASID, owner and principal designer at LiLu Interiors, it's all about intentionality.
"By identifying what our clients value most in life—their passions, interests, and pursuits—we create interior spaces that are authentic representations of who they are and all that they love," she says.
The talented interior designers at LiLu work alongside clients; it's a partnership. "Our creative vision is most clear when we fully understand and honor our clients' desires, dreams, and needs," Lisa explains. "We don't steal this ownership by dictating design."
Instead, the LiLu team provides clients with an enjoyable boutique experience void of prima donnas and egos. Relationships are built on trust and mutual respect. The LiLu formula has been so successful, they opened a second boutique firm in North Carolina. Peck also recently launched Sylvie&Mira, a collection of fine fabrics, wallcoverings, and hand-knotted Tibetan rugs, sold in select showrooms at International Market Square in Minneapolis.
"We're committed to high-caliber design and excellent service," Lisa says. "Our goal is simple—to design spaces that lift our clients up and allow them to live their best lives."
Portrait by Dan Davis,

 

interior photographs courtesy of Brian Droege Photography
Studio M Interiors
Good design isn't just about style. It's about luxury, comfort, security, peace of mind, quality, understanding the principles of pulling a room together, and style.
The designers at Studio M Interiors understand this "big picture" thinking. They develop not only space plans consisting of beautiful and functional design solutions, but overall plans based on how their clients work, what they love, and how they feel in their space. They ask questions to understand their clients' vision and then work hard to bring that vision to life.
"Our passion is to design spaces that inspire and energize the soul," says Annie Graunke, Allied ASID, owner/designer, Studio M Interiors.
Over the years, the Studio M team has built a reputation as bringing a fresh, insightful perspective to the table. "Our goal is to provide innovative design concepts in a creative and collaborative way," Annie comments.
They do this through implementing lighting for "warmth, sparkle, reflection, and glow," taking cues from homeowners (something as simple as a family heirloom can kick-start a project), and putting an unexpected spin on traditional ideas, all while making the process fun.   
Studio M Interiors is conveniently located within the Mingle showroom, a 25,000-square-foot showroom featuring appliances, cabinetry, countertops, flooring, lighting selections, and more that celebrate each client's individuality.
Photos courtesy of Scott Amundson
Twist Interior Design
Sandy LaMendola had a unique hobby as a teenager: wandering the aisles of the local fine furnishings store, studying shapes, colors, and textures. "The employees recognized me as a regular by the time I could drive," she says. She used the family living room as a design lab, buying lamps and accessories to warm up the space. Fast-forward to today, and her parents still have the lamps and accessories she bought, right where she placed them.
It made perfect sense for Sandy to go into the field of interior design. Since 1991, she's been honing her design skills on a professional level as owner and principal designer at Twist Interior Design, translating clients' wishes and dreams in a wide range of environments—from historic residences to new construction.
Clients appreciate not only Sandy's professionalism and sense of style, but her take-charge personality, timely communication, ethical business practices, and policy of treating everyone with respect. She creates beautiful, customized spaces that honor the individuality of the homeowners without ever losing sight of the fact that the experience is meant to be enjoyable.   
"Design is a voyage of discovery," Sandy says. "As wonderful as our destination will be, the journey itself is half the fun."
Portrait courtesy of Twist Interior Design, interior photo by Susan Gilmore Photography

 
Che Bella Interiors
Imagine having a home so beautiful, so comfortable, so stylish—you can't wait to walk in the front door. You deserve to love your home, and the team at Che Bella Interiors (pronounced "K" Bella) can get you there.
"We believe everyone deserves good design," says Tracy Hains, owner and principal designer. Over the years, Che Bella Interiors has earned a reputation for integrity and approachability. Made up of Tracy Hains, Calie Pierce, and Jillian Marchiafava, the interior design team of Che Bella Interiors works hard on every project to truly listen to and understand their clients and what they are ultimately hoping to achieve. "We want the end design to be a reflection of our clients, not simply a design that we want to bring to life," Tracy explains.
The design team strives to take a collaborative approach to projects, allowing the designers to bring their unique abilities and talents to the table. They enjoy solving the puzzle of how to be creative within the constraints of a project.
"Between our designers, we use our education and experience to try and be creative thinkers, good listeners, and innovative problem-solvers," Tracy says. The end result is a home that truly reflects each client's personality and style; a place they are proud to share with friends and family.   
Photo courtesy of Che Bella
Chester Hoffmann & Associates, Inc
.
Nothing is impossible … the impossible only takes a little longer" was a valuable lesson learned by Jean Hoffmann nearly four decades ago under the direction of Jean's mentor, Dorothy Collins.
It reinforced that anything is possible in the world of interior design, a field with unlimited opportunity for self-expression and transformation. Unlocking the potential of a space is a collaborative process.
"Our clients are part of our team," says Jean, principal designer, ASID, CID, and president of Chester Hoffmann & Associates, Inc. "They always come first. We work together to create their dream spaces."
Along with Sarah Maloney, allied member ASID, and Catherine Hoffmann, project manager, Jean has extensive experience in space planning and design, drafting, project management, color and design consultation, new construction and renovations, and transitional design for Baby Boomers downsizing to smaller-scaled residences. At every stage and phase in life, "It's so important that our clients' new spaces are designed to enhance well-being with impeccable function, taste, and style," Jean says. "It's a privilege to work with clients in their homes. We don't take that invitation lightly."
Portrait courtesy of Susan Gilmore Photography
Eminent Interior Design
It can take months to pull a room together, and years to finish an entire home when you're doing it on your own. Hiring a professional interior designer can be a helpful, educational, enjoyable, and time-saving decision.
"Everyone is so busy these days," says Brandi Hagen, Allied ASID, principal designer and owner of Eminent Interior Design, an award-winning full-service design firm based in Minneapolis. "Who has time for it all?"
The challenge for most people, she says, isn't getting started—just about everyone has a general idea of what they like and don't like. The challenge lies in editing the space.

With over 20 years of industry experience and a vast understanding of the principles of proportion, scale, balance, rhythm, and harmony, Brandi can explain why certain pieces go together and why they work for the space. Clients appreciate her classic, timeless designs, decisive personality, energetic nature, keen eye for detail, and honest business methods.
As one satisfied homeowner commented, "Brandi and her team put the work into understanding how we lived and finding what we wanted. She got it right, over and over again."
Photos courtesy of Eminent Interior Design
mint
At a young age, Maureen Grace Haggerty, Allied ASID, owner and principal designer of mint, inherited an immense appreciation for color, patterns, and textiles. "I realized that interior design would be an ideal vocation," she says. Her design pilgrimage began as Master Plan designer at Southdale Dayton's Home Store several years ago, providing a strong foundation for her work as a designer today.
"Throughout my career, I have been extremely fortunate to work alongside some of the best designers in our market, including Tom Gunkelman, Bill Beson, and many others," she comments. "Their style is brilliant and continues to serve as
inspiration for my design philosophy and business."
Successful interior design requires the skillful pairing of practical needs and the principles of good design. Open communication between client and designer is paramount to achieving a positive outcome. "First and foremost, I strive to hear what my clients wish to achieve in regards to their interior spaces," she explains. "Then, after the practical aspects have been addressed, we are able to incorporate the aesthetic possibilities that will infuse balance, personality and interest." Her goal? "To provide an end result that exceeds my clients' expectations."
Portrait by Becca Sabot Interior Photo courtesy of Susan Gilmore Photography
Fusion Designed LLC
When design is done right, the space should make you feel better—a solace from the stresses of everyday life. If one piece is out of harmony, it can upset the balance of the entire room.
Sheree Vincent, Allied ASID, design principal of the boutique style firm, Fusion Designed, uses her feng shui training to help clients create a sense of peace and calm in their homes. "Every element within a room has the ability to transform your living space," she says.
Fusion Designed also specializes in sustainable interior design "giving my clients options that strive to support a healthy environment and world," she says. Our living environments affect our lives, and Sheree works hard to understand how she can best create spaces her clients truly love.
Her unique skill set brings a different dimension and perspective to interior design, creating award-winning projects featured in local and national publications. She is frequently asked to lecture within the design community and serves as an adjunct faculty member within the Interior Design Department at Century College.
Photos by Page Photography
RLH Studio
Whether renovating a traditional home in Wayzata, designing a classic house on Summit Avenue, or building a brand new family home in Florida, every RLH project begins with a simple question: "What do you love about your life?"
"We want to know what inspires you, where you love to travel, what you collect, which artists you admire, your culinary specialties, and other fascinating aspects of your world," explains Renée LeJeune Hallberg, Allied ASID, principal, RLH Studio. "I take pride in being a good listener and capturing your story."
Once she understands her clients' vision, she uses her background as a gallery art consultant and more than 25 years as an interior designer to infuse personality and energy into their space (also taking into account scale, dimension, durability, quality, functionality, and practicality). Renee doesn't work alone, though. She emphasizes the importance of working collaboratively—in partnership with not only her clients, but her design team, the architect, builder, and landscape designer. Collaboration leads to innovative ideas and solutions.
She comments, "Together, we'll create a graceful and distinctive expression of your unique and beautiful life."
Studio photos courtesy of RLH Studio
Sarah Randolph Interior Design
Whether sourcing an 18th century door or a custom-made sofa, Sarah Randolph is fully invested in maximizing industry contacts so that her clients get the best quality, pricing, and service possible. In addition to having access to many 'trade-only' resources, she has valuable working relationships with architects, builders, and subcontractors—a key factor in helping keep projects on track, both from a timing and budget standpoint "all while coming up with creative ideas and solutions to design challenges," she says. Really, it's a creative collaboration with each client, with combinations of color, light, and texture making inspired statements about the homeowners.
"The balance between bold and subtle and stark and ornate is a frequently overlooked element in good design," she says. "It's what gives a project uniqueness and individual quality."
Randolph founded the firm in 2008 following a successful career with San Francisco's high-end residential interior design firm, Steven Volpe Design. She is just as comfortable with a historic renovation as new construction, and has designed homes on both the Artisan and Luxury Home Tours.
"I can't imagine doing anything else," she says. "This is my calling."
Photos courtesy of Troy Thies Photography
Insite Interiors and The Sale Room @ IMS
It's not difficult to find local interior designers with the artistic and technical skills needed to create beautiful spaces, but it can be difficult to find an interior designer well-versed in business acumen. As the owner and founder of Insite Interiors and The Sale Room @ IMS, offering up to 80 percent off designer quality furnishings direct to the public, Sharon Clasen is a successful designer and businessperson.
"Not only do I manage people and budgets, I manage clients' expectations while building trust and credibility," she says.
Clasen was 12 when she tackled her first "design job," ripping up the shaggy green carpet and tearing down the outdated wallpaper in her bedroom without first asking permission. "Thankfully my mom always supported my creative endeavors," she laughs, adding that her mom also taught her to sew, use power tools, and replace toilets.
Whether she's helping a client solve a design dilemma or create a plan to beautify an environment, it all comes down to trust, she says.
"You have to trust your designer's advice and professional expertise," she comments. "My clients trust me to incorporate their needs while leading them to the edge of their own vision. If I can take them just outside their comfort zone, together we can create something better than imagined."
Portrait by Becky Kelly,

 i

nterior photo by Dean Reidel, 360 VIP Photography 
By Chrissy Sarinske, special sections editor