Photos courtesy Brooke & Lou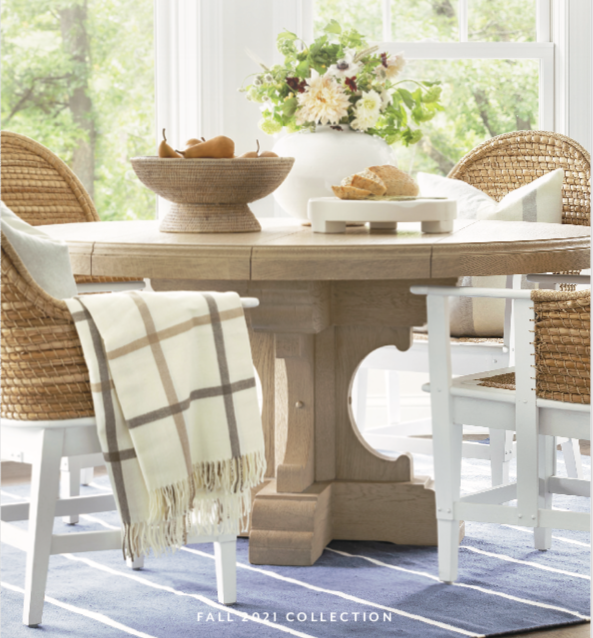 With warm summer days shifting to cooler autumn afternoons, Brooke & Lou founder Bria Hammel channeled her inspirations—the combination of natural elements and textures, she says—into the designs of this year's fall collection. "It includes mixed metals, a warm color palette, and timeless pieces that will last beyond the fall season," says Bria Hammel, also the founder of her eponymous Bria Hammel Interiors design firm. By incorporating different pieces such as throw pillows, artwork, and faux plants into your home, every space—from the kitchen to the living room and beyond—will feel a whole lot cozier and complementary to the incoming season.
"In the past, our fall collections have leaned a little more modern with a moodier color palette," Hammel explains. "I am really excited about this collection. We embraced our casual traditional roots while still incorporating those cozy fall aesthetics."
Check out some of Hammel's favorite pieces in the 2021 Fall Collection here.
Faux Maple Tree
Need a glimpse of green for when temperatures turn? "I would have to say my favorite is the Faux Maple Tree," Hammel says. "I was so excited to find this piece to offer a different option for faux plants in the home. I love the warm tones the tree adds to a space." Shop here.

Conway Cashmere Throw in Ecru
"As we slowly move to more time inside, making a space feel warm and inviting really brings all the feelings of fall," says Hammel. Enjoy the soft and luxurious feel of this throw blanket as you snuggle up this season. Shop here.
White Marble Chain
A unique piece of Hammel's collection, this white marble chain adds an Old World feel and neutral design element to your surfaces. "It's one of our favorite objects for instantly elevating a bookshelf or coffee table," says Hammel. "This marble chain is modern and sleek." Shop here.
Rattan-Wrapped Glass Box
"[A] rattan-wrapped wood frame and wide-open glass panels make a great box for shells and other artifacts while adding a classic touch of casual elegance to your styling," explains Hammel. Shop here.
Swiss Cross Pillow
Filled with a wool blend and adorned with a white Swiss cross, this throw pillow is ideal for adding warmth, texture, and style to any space. Shop here.