Photos courtesy Brooke & Lou
If you're looking to freshen up your interior spaces for the new season, make sure to check out Brooke & Lou's new spring collection of home accessories and décor. Inspired by feminine colors, fresh florals, and natural elements and curated by founder and local interior designer Bria Hammel, the collection features stylish new furniture, beautiful artwork, exclusive prints and textiles, and an entire series of kitchen items.
From a wedgwood blue wicker bar cart and charming pillows printed with cheery yellow lemons to copper measuring cups and pale pink brooms, there's something to help everyone get their homes ready for the brighter, warmer months ahead.
We had the chance to chat with Hammel about her new line and her own personal favorite product picks. Check out what she had to say below.
Tell us about the inspiration behind your 2019 spring line.
We're always inspired by our travels around the country and world—many of the colors in the spring line were inspired by a recent trip to India, while the line as a whole is a reflection of South Carolina, one of our absolute favorite places to travel. As we were choosing certain designs and patterns for our collection, the one thing we kept coming back to was lemons (yes, lemons!) which is why you'll see them in so many areas of our line.
Why lemons in particular?
Lemons have been on our design radar for quite some time as we started seeing them at market a few seasons ago. We waited for the perfect time to introduce and incorporate them into a collection, and our new spring line was an easy choice. Our lemon wallpaper and lemon pillows are a couple of our favorites—their designs are exclusive to Brooke & Lou, plus they're both made with Life Friendly materials: the wallpaper is wipeable, while the pillows are made with easy-to-clean fabrics.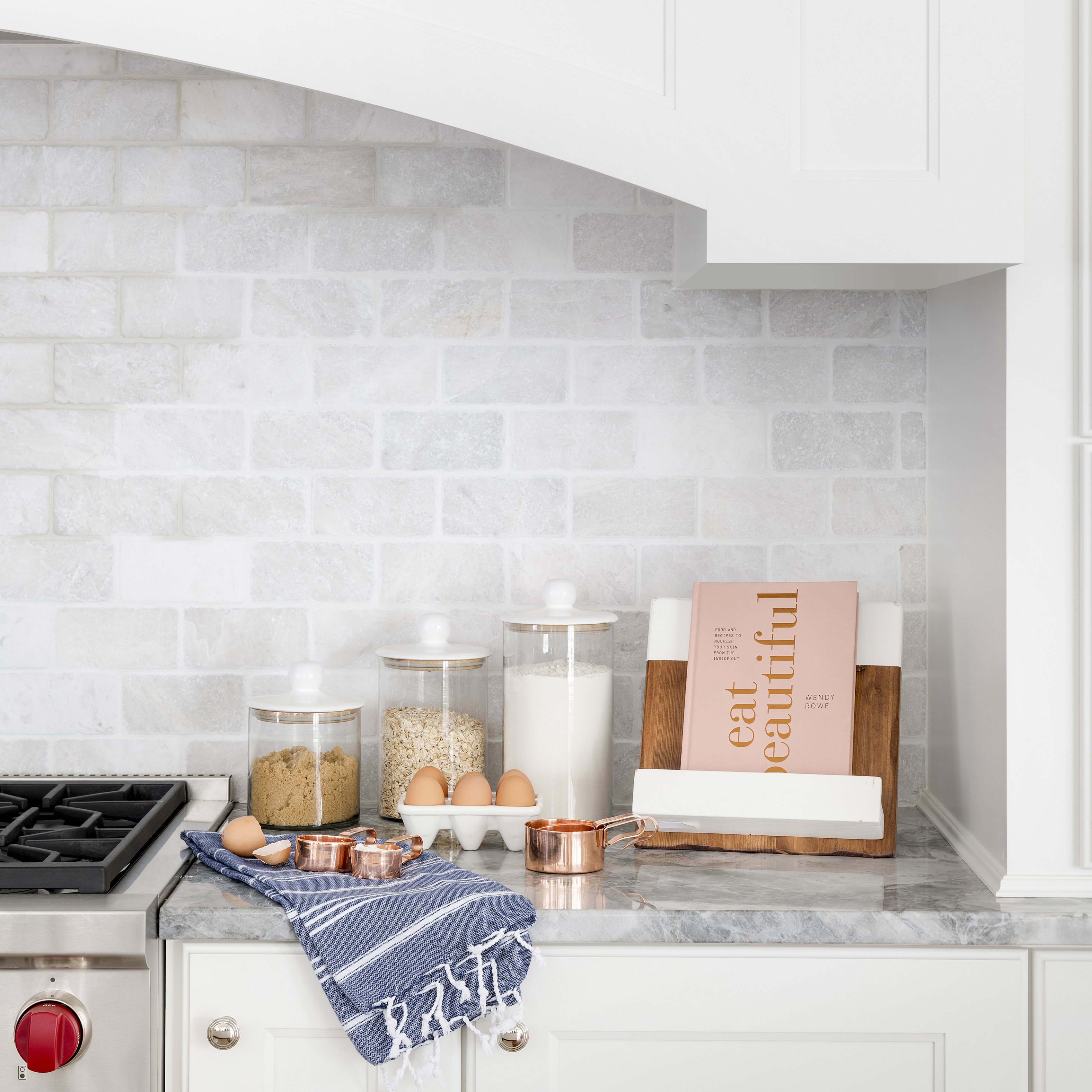 Many items in your new collection are related to the kitchen. What made you want to focus on that specific space in the home?
Offering kitchen-specific items felt like a natural next step for Brooke & Lou. Not only are our clients and customers constantly looking for unique kitchen accessories, our own team always finds great kitchen items for our own homes whenever we travel. We find that the kitchen is one of the main places where family and friends tend to gather, so bringing more Life Friendly elements into the kitchen was an obvious move. Not to mention, the kitchen is such an easy space to update from season to season, making this the perfect line to get your home ready for spring (and summer)!
What are some of your own personal favorite product picks from your spring line?
Blondie Art: The canvas itself feels rich, but its light color and pattern keep it from feeling too heavy. Blondie comes in three sizes, making it extremely versatile when it comes to incorporating this piece into your home—while it fits perfectly on mantels, shelves, and console tables, you can also make it into a bigger statement piece by hanging it anywhere in your home.
Honey Bee Jar: We absolutely love the uniqueness of this little jar. It's such a simple accessory to add to a kitchen counter, dining table, or breakfast nook, yet it adds such a fresh, beautiful, spring touch.
Fresh Squeezed Pillows: Exclusively designed in Minnesota, the fun, whimsical print of the fresh squeezed pillow fabric makes it an easy pick. Its Life Friendly qualities make it an ideal pillow for freshening up your living room, front porch, or breakfast nook bench. It's all about the lemons!
What's next for Brooke & Lou?
We plan to launch three or four collections every year. We launched our business last summer with a huge collection to get us off on the right foot—and the demand for these kinds of items truly exceeded our expectations. This year, we want to focus on showcasing products in our existing lines while also launching a few more accessible collections, including late summer and holiday lines. As we find more and more amazing pieces during our travels, we'll continue to launch new, fresh Collected lines throughout the year too!