Photos by Wing Ta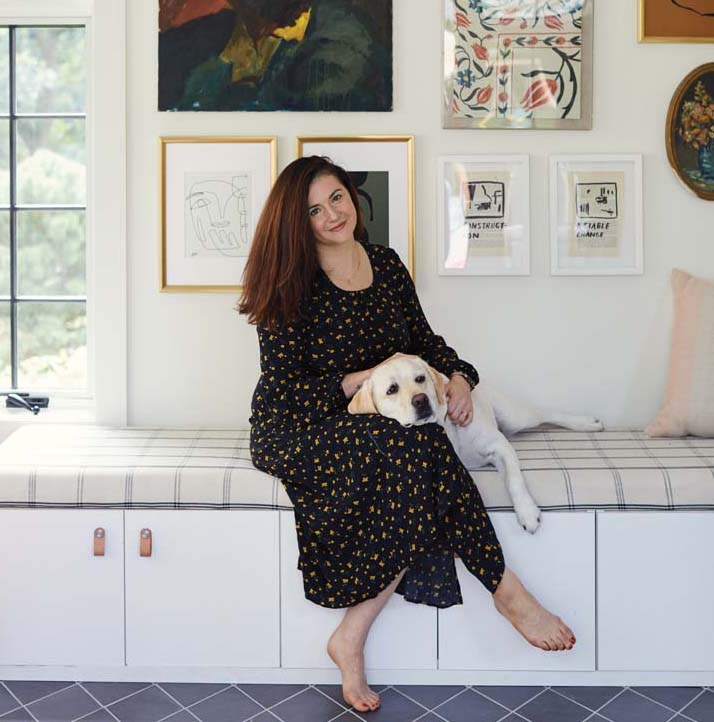 Kate Arends is many things. She's an entrepreneur, designer, podcaster, and mom, but at the heart of it all, she's a creator and storyteller who openly shares her struggles with depression and ADHD to genuinely help others. That authenticity shines through on her very popular website and podcast, Wit & Delight, where 3.3 million followers stick around to learn valuable lessons through Arends' own life experiences, including strategies that help her cope like getting enough sleep, staying off social media, reading, and journaling. Though the site launched 10 years ago as an homage to great design, it evolved into something much richer and no less beautiful. It's a lifestyle brand, but with less chirp and more gravitas than most.
Arends has great style—chic, but not aloof. She mixes classic and modern pieces with thoughtful finishing touches to create environments (whether it's on a person, in the Wit & Delight studio, or at home) that look fresh and uncontrived. She's collaborated with Target on several successful product lines, but now focuses on connecting more directly with her Wit & Delight community by creating content and designing products that serve them best. For example, her line of planners, journals, sketch pads, and other stationary is undeniably pretty to look at, but it also promotes the wellness that comes from feeling organized and exercising pen-to-paper creativity.
But her latest aesthetic achievement is also her most personal—a renovated home near the Mississippi River in St. Paul that she shares with husband Joe, two active toddlers, and the family's white lab.
The 1925 English Tudor has a modest footprint and immodest charm with mullioned casement windows, graceful archways, and exposed ceiling beams. Arends saw lots of potential when she and her husband first walked through the home, and they both loved its central location. Over the past five years, they've twice remodeled the kitchen (once before and once after the kids were born), installed pale wood floors, gutted the sunroom to create a sunny space that's now everyone's favorite room, and slowly filled the home with a mix of old and new furniture and accessories. A low-slung leather couch anchors the living room, patinated brass objects and vintage ceramics decorate shelves, and a variety of art hangs on the walls: prints, portraits, and original paintings by Arends herself. The style isn't one thing or another—it's not minimalist, not traditional, not mid-century, but a unique mix that feels organic and unstudied. A true delight.
The Influencer: Kate Arends
Where do you shop for home décor and accessories?
For décor pieces, I mostly go vintage so I can find things with character. For that, I love Chairish and Everything But The House. I think every home should have something that looks like it came from their crazy aunt.
How has your home style evolved over time?
It's become more minimal in terms of stuff, but more traditional in terms of materials. I love the juxtaposition of old and new and like to be around natural materials and things that feel like they have life to them.
 Any renovation regrets?
Putting encaustic tile in the kitchen. It's gorgeous, but it shows every drip and drop—which I don't mind so much, but it drives Joe crazy. We have wood now.
 What's your family's favorite item in the house?
The couch. It took me four years to find and we love it. It's huge and comfy and we can all nap on it together.