Photos by Wing Ta
Brad Fox says he met his wife Heather at a concert on New Year's Eve, then quickly admits it was actually a bar. "A dive bar," Heather points out, laughing. "It was helpful that I'd had a few glasses of champagne, so I had the courage to go up and talk to him." Fast forward 15 years and the couple has built a thriving partnership—two cute kids, three (soon to be four) businesses, and a little fame courtesy of HGTV.
Their show, "Stay or Sell," just finished airing its first season on the network. A sped-up TV version of their home design and renovation business, Fox Homes, it's a showcase for their organic, modern aesthetic and no-nonsense, Midwestern approach. "Carpet in the bathroom!" exclaimed a horrified homebuyer in one episode. "Well, I bet it's warm underfoot," Heather said diplomatically. (They tore it out, of course.)
Heather compares the experience to something akin to a business boot camp. "We did nine renovation projects with lots of detail really fast and quickly figured out where we were weak and made those areas stronger," she says. "Doing it has made us a better company." The show is on hiatus for now, which gives the couple a little time to relax—except they're not. "We've got a new shop, Foxwell, opening up this spring that we're really excited about," she adds. "It'll have a mix of unique home goods and gifts."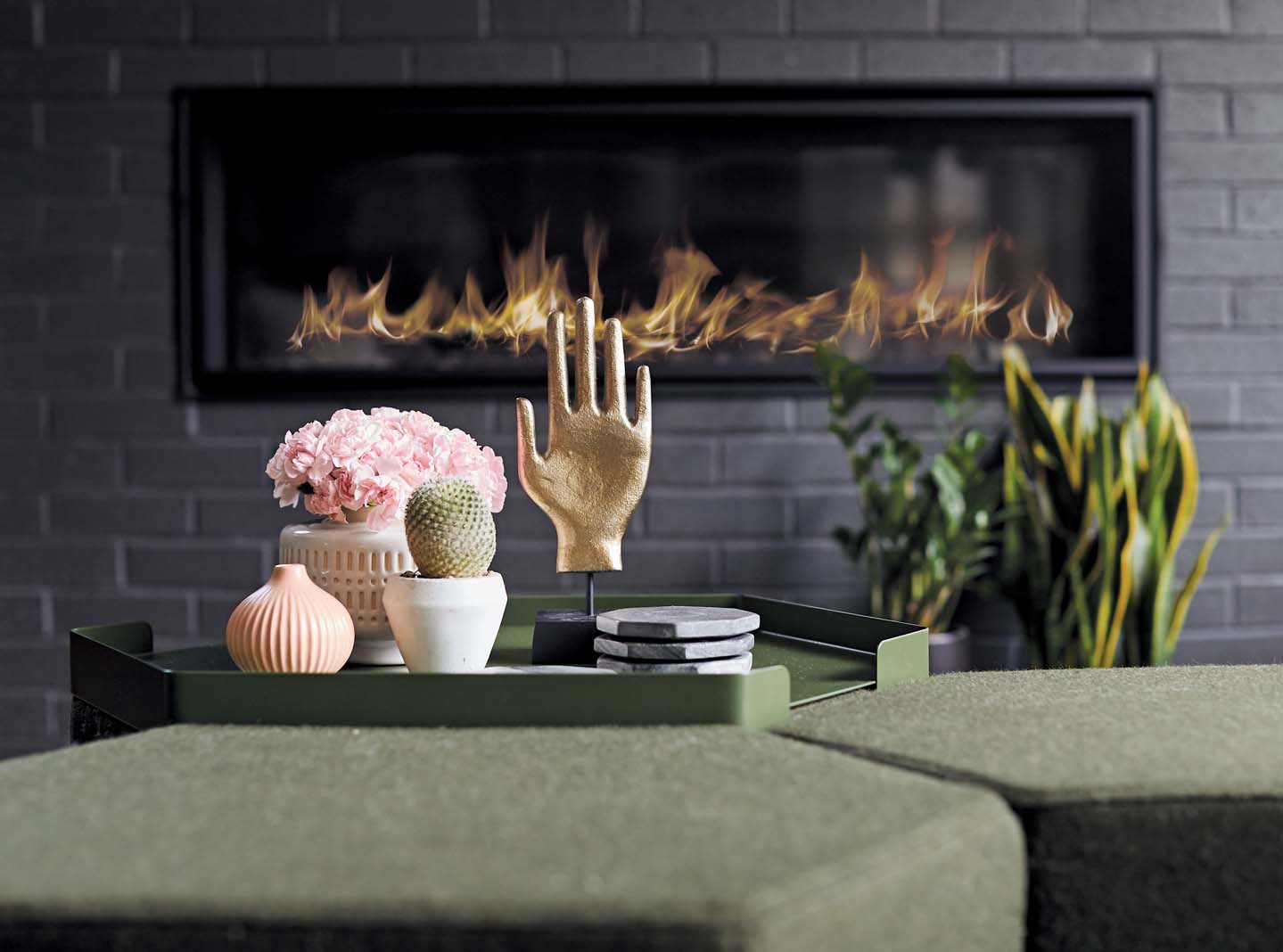 The Fox approach blends Heather's love of vintage, texture, and organic materials with Brad's penchant for strong architectural elements—often in metal. They both appreciate Palm Springs style, especially the use of clean lines and bright color. "There's such good energy in the architecture of Palm Springs," Brad says. "I think people were willing to be more whimsical with their choices."
Their own home in the Lake Cornelia neighborhood of Edina has a comfortable vibe with modern influences and plenty of happy color accents. Heather bought it five years ago while Brad was out of town doing a gig with his band, Farewell Milwaukee. "The neighborhood was up and coming but the market was hot, so I knew I had to put in an offer," she recalls. "I barely slept that night." Not only did they get the rambler, but they completely transformed it—gutting the interior and adding a second story. The main floor has an open kitchen with white cabinets, a walnut range hood and island base, and polished brass fixtures. Cheery Kelly green lockers peek out from the mudroom around the corner and a steel staircase with an industrial vibe anchors the main floor. It's Brad's favorite element, plus Heather says their sons—Graham, 8, and Wesley, 6—like it, too. "It's been the most surprising toy in our house," she says. "The boys rig up pulley systems with buckets and it's totally indestructible." Sounds like a couple of future contractors.
---
Influencers | Brad & Heather Fox
What do you two do for fun?
We love to head to First Thursdays at Northrup King with the kids. It's so much fun to walk around and see what the artists are working on and grab a bite in the area. We also have season tickets for Children's Theatre Co.'s Sunday matinees and always get lunch at Black Sheep Pizza beforehand.
Heather, you wear a lot of great earrings on the show. Where do you find them?
Earrings are like wearable art. Since I feel like I'm in a heavy coat nine months out of the year, they're also a way I can show some style. My pompom earrings are from local artist Ashley Mary. I also really like Larissa Loden.
Are you getting recognized around town by local fans?
We are, but it's Minnesota so people are really sweet and low-key about it. They give us the thumbs-up or just mouth "love your show" from across the restaurant.
Facebook Comments