Photos by David Ellis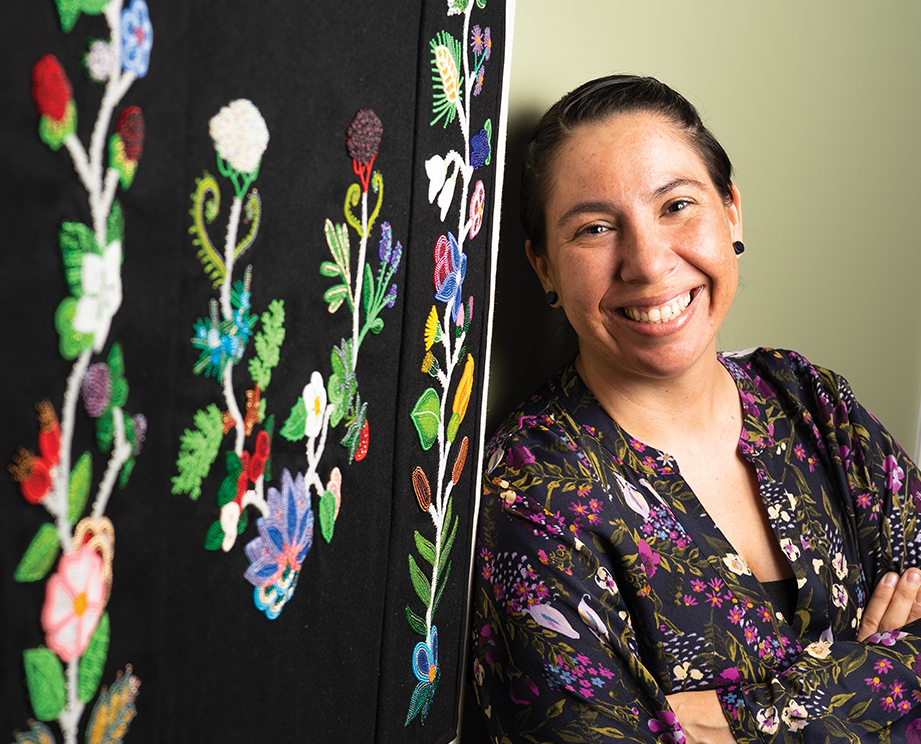 Jessica Gokey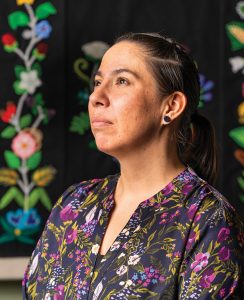 was only 16 years old when she had her first run-in with beading. Her aunt doled out a daunting task: Take apart a beaded hair barrette and reconstruct it. That initial challenge was all it took to keep Gokey—now a master Ojibwe bead artist—hooked. 
More than a decade ago, beadwork was simply a way to relieve stress, but today, it's Gokey's full-time job. The mental shift from "outlet" to "career" came after a six-month fellowship with the Minnesota Historical Society (MNHS), an experience that transformed her understanding and reverence for beadwork as a fine art form.
Her creative process and subject matter have evolved over time, and she now facilitates teaching programs that cover floral patterns, color theory, and the history of traditional Ojibwe beadwork for anyone hoping to learn the craft. Her mastery has resulted in mentorships that transcend borders and even permanent displays within the Twin Cities community, including at MNHS—the place her passion for beadwork first blossomed.
Where and how do you find inspiration?
The root of my inspiration comes from the love I have and receive from my family, plus my love for nature. I used to be a game warden in Wisconsin, so I strive to protect and revere Mother Nature. Right now, I'm starting a red cardinal beaded piece. Cardinals remind me of my grandmother, and they represent love. Similarly, one of my floral works, Spring Majesty, resembles sun rays. The piece represents the love I have for my son, whom I call Sunshine.
What are the first steps you take when starting a new piece?
I've been experimenting with cultivating my craft more. I start with extensive research to understand the color theory that should go into [it]. I make my own patterns, so initially I sketch and then draw it to scale on a drawing pad. That scaled drawing is redrawn onto sketch-and-tear paper, which is the base. After that, I layer the wool or felt I'm beading with the stabilizer material placed on top, which holds the layers in place while I bead into the primary material.
How has your artistic process evolved over the decade you've been beading?
When I started beading as an adult, I made utilitarian pieces like bags, moccasins, and things for practical and daily use. It was a hobby and way to generate income. After my fellowship, I revered beadwork as more of a fine art form. I learned about the history and beauty of it. This kickstarted the classes I teach for others interested in traditional beadwork.
Why do you think it's important to keep beadwork traditions alive?
Since I view my beadwork as a fine art, I obviously don't want it to die out. My beaded art is for everyone—not just Native American people. Like pottery, beadwork has been done for thousands of years and is found in different cultures around the globe. I hope to continue that legacy and tradition with my work. I have pieces in private collections and museums that will be preserved for a long time.
What do you hope people take away from your work?
Beadwork itself is the ability to share and teach others the skill. I'm proud to survive as a full-time artist and teach my craft. Every aspect of traditional floral beadwork is intertwined with my heritage, and I hope people can learn and appreciate the work I do as a fine artist.