Photos by David Ellis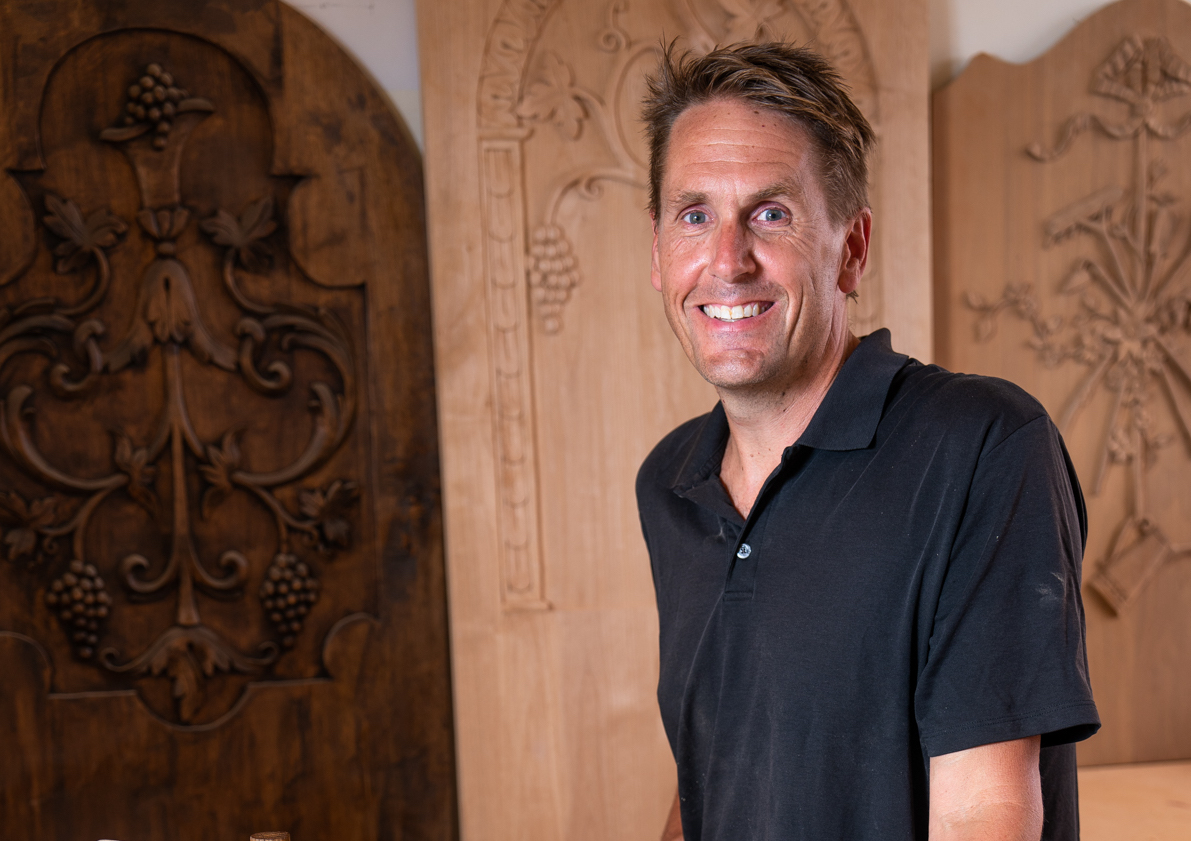 At a young age, master woodcarver Erik Wyckoff "fell in love with beautiful, personalized interiors," he recalls. "Whether it was a restored Victorian full of ornate detailing or a Craftsman bungalow decorated with handmade tiles, I felt relaxed and uplifted." He soon after realized he wanted to be around handmade and personalized objects that provided a similar feeling—not just on occasion but all the time.
"I had some scraps of wood and a pocketknife, and I started making things," he says. After earning an arts degree in fine woodworking from the State University of New York, he moved to Minneapolis and studied old-world wood carving with Greek-born Konstantinos Papadakis, who worked on Greek Orthodox churches. Through this mentorship, Wyckoff learned French provincial, Italian Renaissance, Tuscan, Tudor, and Spanish-mission styles. Moreover, he says, Papadakis taught him "how to make beautiful things very efficiently."
Working with hand tools used for centuries, Wyckoff carves sustainable North American hardwoods. He works largely on commission from his small backyard shop.
What are some of your favorite projects?
Whether an ornate French entry door on a Lake Minnetonka mansion or a simple mantel for a cherished family cabin, my drive is to expand my skills to capture a client's wishes and create a perfectly carved object. I did a pantry cabinet for a little house in St. Paul with birds and berries—it's really special to the client. With every project, I seek to make a deep connection with the person I'm working for so the piece reflects beauty and permanence.
How do you work with your clients?
After I talk with them and we have a good give and take, I create three original designs. For instance, a client wanted a buffet for a cabin.
I asked what they love to do there, and she said pick wild blueberries and make pancakes with the grandkids. I came up with a Scandinavian scrolling pattern and hid the grandkids' initials in between the leaves. It was great fun.
What is your most-loved tool?
It's a trio: a pencil, eraser, and carving gouges or curved chisels—to work on the design, revise the design, and carve the design.
What are you working on now?
I'm trying to create rustic pieces with the charm of American primitive style. There's a pantheon of techniques and visual elements I haven't yet tried, so I'm always expanding my library and expertise.
What's your biggest challenge as a woodcarver?
The real challenge is to create something that doesn't say, 'Wow, this was really challenging to make,' but still strikes your heart and gut with its beauty, permanence, and simplicity. It's elusive, but that's what the handmade can do.