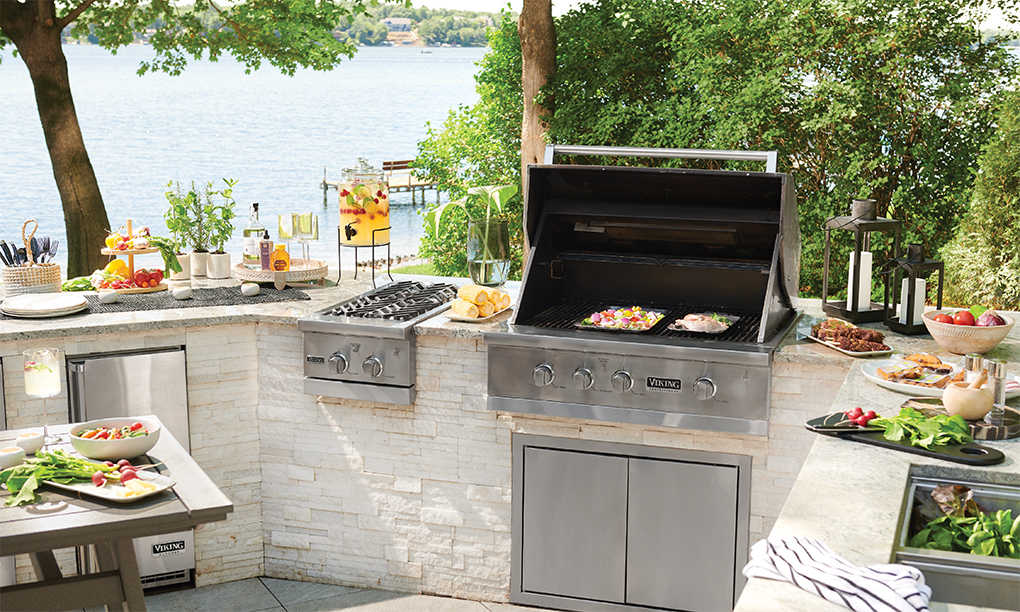 Your food prep for your outdoor summer get-togethers has never been easier thanks to this variety of grill gear at HomeGoods.
A Touch of Class
Feel fancy with glassware (eh, plasticware?) fit for royalty. Your guests will love the touch of sophistication that will take your grill-out get-together to the next level. These seemingly spendy glass look-alikes are easy on the eyes and easier on the wallet. Plastic Mod Goblet, $9.99/set of four, HomeGoods
Serve It Up
Serve your snacks, sides, and hors d'oeurves in style. A tiered serving platter is an effortless way to decrease clutter, display the noms you tirelessly (and pridefully!) prepared, and most importantly, make room for even more delicious lakeside licks.
Two-Tiered Wood Serving Platter, $15.99, HomeGoods
Dazzling Drink Dispenser
Not only does this glass dispenser look great, but it makes mixing and serving infused drinks a breeze. So, really—sit back and relax. Guests can serve themselves, and the dispenser has a limited need for refills, an easy throw-it-all-in approach, and modern appeal, making it a hosting essential. Glass Beverage Dispenser and Stand, $19.99, HomeGoods
Fab Flips
Flip with ease spatula-free. These charcoal companions can fit enough grub for up to three people and cook a variety of foods, plus they're lightweight, portable, and will save you tons of time. Gone are the days of tongs and tedious tip-overs on the grill—these baskets take the steak… eh, cake. Grill Baskets, $14.99/set of two, HomeGoods
Clean-up Crew
These tiny towels are truly a necessity—you just know the night isn't over until someone manages to make a mess. Not only do they look nice draped over the handle of your oven, they function equally as well. This trio of absorbent and durable towels will be cloth of choice for any kitchen chore. Black & White Striped Towels, $9.99/set of three, HomeGoods