With the leafy setting and dramatic pond, it would be easy to describe Doug Peine and Christine Scotillo's garden as a backyard oasis. Yet that wouldn't tell the whole story of this unique urban landscape.
Despite its city-lot size, their St. Paul garden possesses that hallmark sense of detail and destination found in much larger traditional strolling gardens where hidden delights reveal themselves at every turn.
The street façade of their smart gray cottage with black shutters and bountiful window boxes hints at what's to come. Vines frame the front deck where crisp white Adirondack chairs perch atop the tuckunder garage. To one side, a meandering path leads visitors to the backyard and the pond-side dining area and continues to a variety of seating areas and plantings, each with their own special charms.
Crafted with care, the green and peaceful retreat is the product of literal sweat equity by these two retired lawyers (who might have missed their true calling as landscape designers). Peine is the wizard behind the wood and stonework, while Scotillo, who also has a background in dance, is attuned to rhythm and flow as she choreographs the plantings and ornamental aspects of the garden.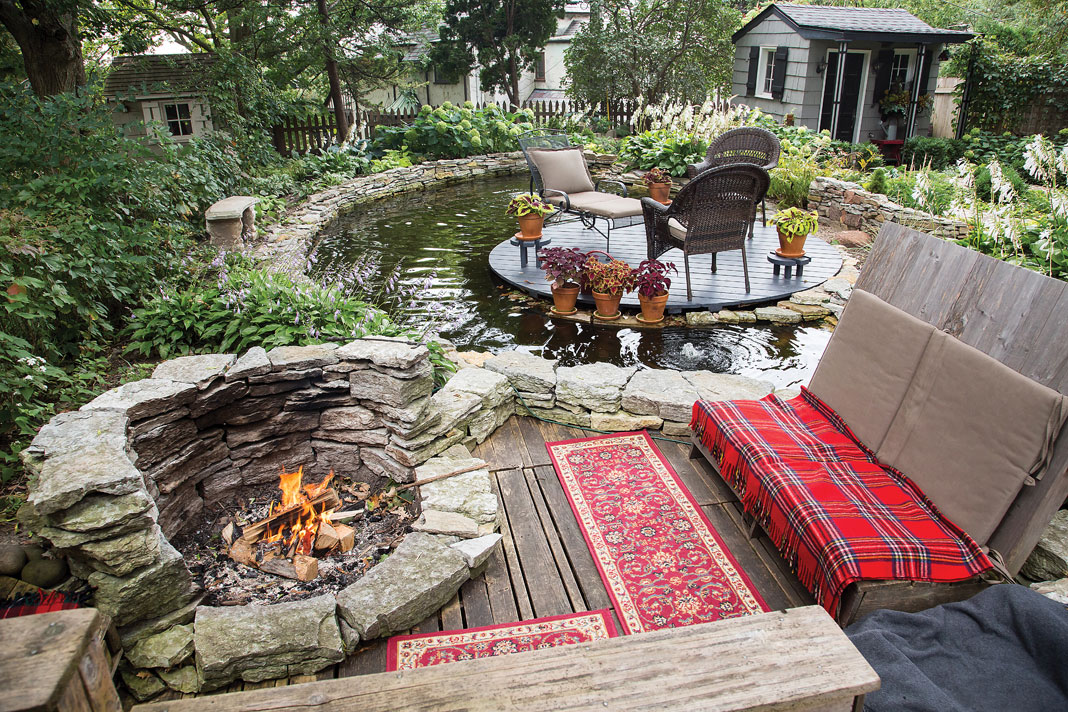 Peine excavated the 3,000-gallon pond by hand and surrounded it with what can rightly be called local stone, reclaimed from a retaining wall and foraged from the yards of neighbors who no longer wanted it. Since the area is just two miles from the Mississippi River, it has an abundance of native limestone, sandstone, and shale, he explains. "The shale is from the Decorah Shale formation, which is replete with fossils of brachiopods and other organisms alive some 500 million years ago when the region was covered by a tropical, shallow sea."
A circular deck with lounge chairs set within the crescent of the pond, almost like an island, is the perfect spot for reverie and relaxation. The pond is deep enough to sit on the edge and dangle your feet for a bit of refreshment on warm summer days.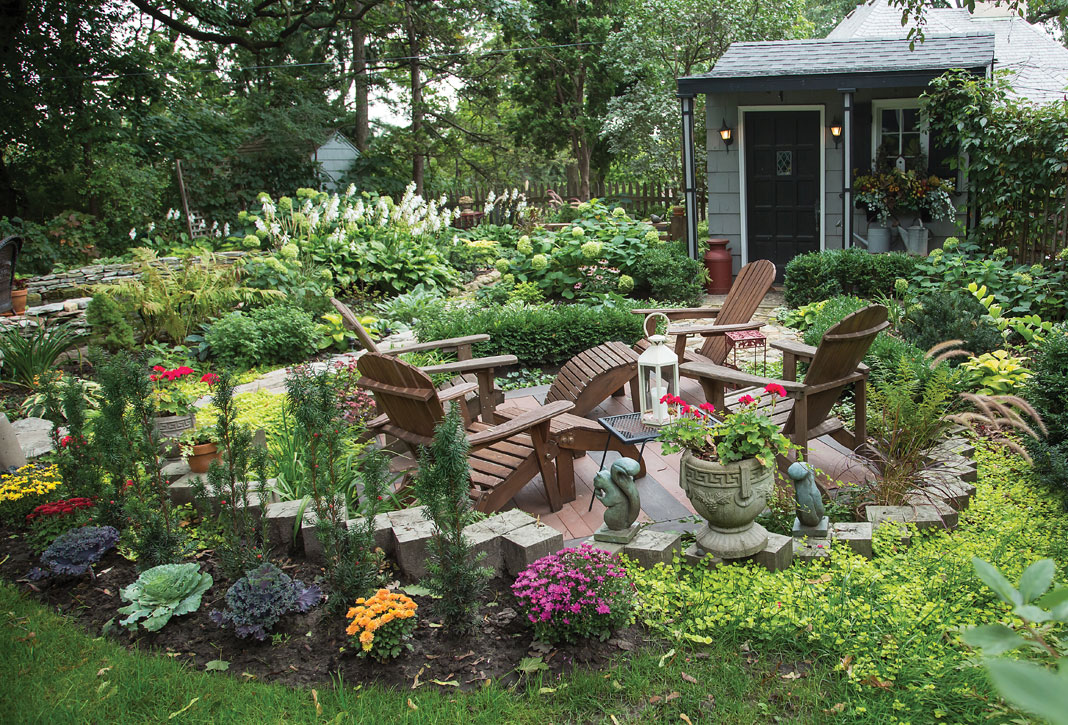 Adjacent to the pond, Peine and Scotillo fashioned a stylish fire pit with more stone and reconfigured pallet seating on three sides. Furnished with plaid blankets and patterned rugs, it's a warm and cozy place during chilly fall months.
A variety of paving materials along the path creates textural interest and the sense of journey through the rest of the garden. Mossy brick or random-cut stone paths lead to an inlaid wood platform they call the dance floor and, beyond that, a garden shed decorated to match their home. At the far end of the garden is the Mayan Temple, their name for a pyramid-shaped planter made from concrete blocks. Next to that is another seating area with red bistro chairs, anchored by a mosaic "rug" made from stone chips leftover from projects.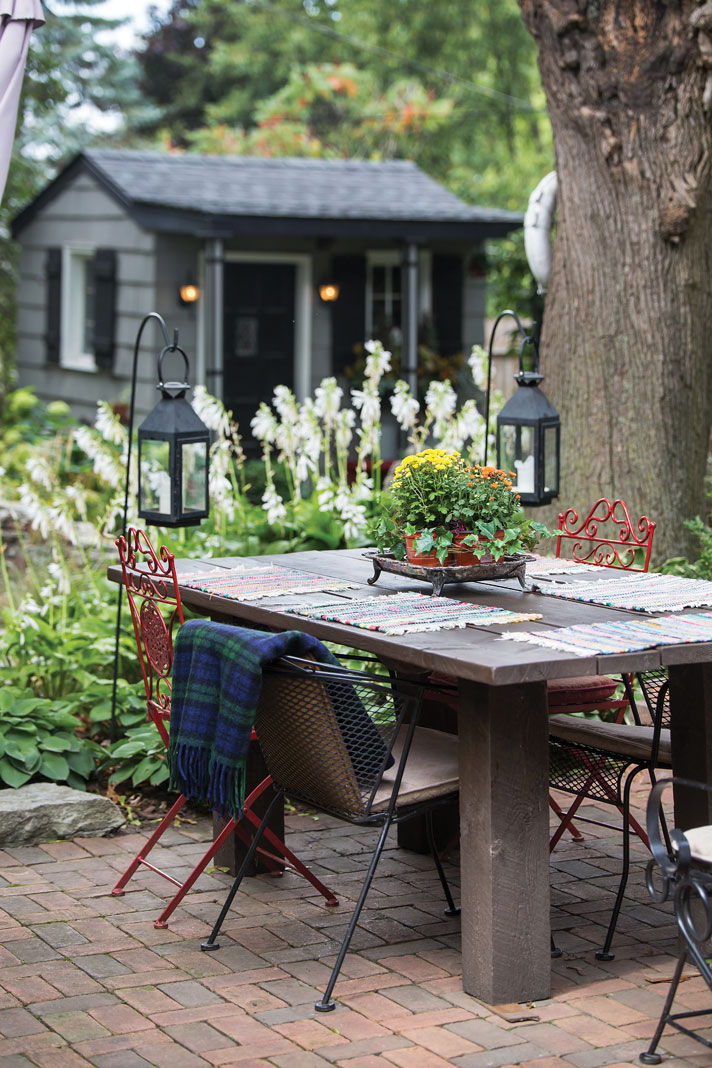 Well-tended hostas, boxwood, ferns, and hydrangeas provide a grounding framework throughout the garden. Scotillo's keen eye is evident in the composition of an ever-changing series of delightful vignettes that use statuary, vertical accents, containers, and garden accessories. The recent removal of a large tree provided for more sun, allowing her to add color to her plant palette of green and white.
The two sometimes spend all day outside and even into the night, when they light lanterns throughout the garden. That's when the white blooms of the Annabelle hydrangeas glow in the candlelight and add an ethereal atmosphere to this beautiful backyard haven.
When Peine and Scotillo aren't busy in the garden, they make frequent trips to California where their son Nick is currently working on the NBC sitcom, AP Bio. Upon completion of the pond, a talented stand-up comedian and actor dubbed it, "Lake Inferior." While you can appreciate his spot-on humor, it is anything but.