St. Louis Park is one of the metro's oldest suburbs with the heart of a scrappy upstart. Combining mixed-use developments with newer condominiums and townhouses, neighborhoods full of charming one and one-and-a-half story bungalows, street level stores, bike trails, and sidewalks, sidewalks, sidewalks St. Louis Park plans to remain relevant, healthy and attractive to current and new residents. Here's a few of the ways they're staying ahead of the game.
Neighborhoods
St. Louis Park's (SLP) roughly 7,000 acres is divided into 36 distinct neighborhoods. Why is that good? Because neighborhoods are manageable units that tend to encourage connection among residents. Most in SLP have their own association, their own NextDoorforum, and the ability to organize and respond to the needs of the community—be it a community garden, improve waste collection, plan a fall festival, or address safety issues. They strive to engage their residents, and engaged residents make for a healthier city. City Hall knows this and encourages, supports and is responsive to neighborhood activity.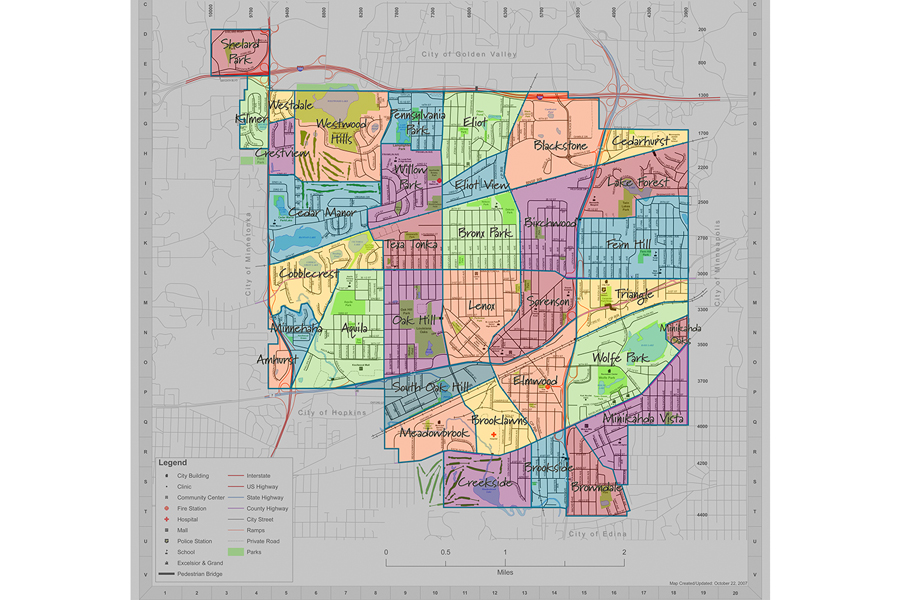 About Those Sidewalks
Yeah, they're really serious about making the city walk and/or bikeabale. Connect the Park is St. Louis Park's 10-year plan to add more sidewalks, trails and bike lanes throughout the community. Developed with input from the community, work began in 2015. Who likes that? Millennials, retired people, bike-commuters, families with young kids in strollers, pet owners—in other words—everybody.
Downtown
You won't find a historic downtown in St. Louis Park. City offices, the post office and police station are located on the east side of the city, but most shops and restaurants are clustered around Excelsior & Grand and West End, both relatively new housing/retail/entertainment developments, as well as a few older, but active, strip malls, such as Miracle Mile and Knollwood.
Blue Ribbon Public Schools
St. Louis Park has the distinction of having each of its six public schools recognized as a "Blue Ribbon School of Excellence" by the U.S. Department of Education. The award is based on overall academic excellence or progress in closing achievement gaps. There are four elementary schools (including a Spanish Immersion option), one middle school and one high school. The schools reflect the culture of responsibility SLP residents have, to each other and to the future, according to Mayor Jake Spano.  "In the last election, our school district had two referenda on the ballot totaling over $100 million. For a city of nearly 50,000 people, that's no small ask—but both referendums passed with more than 80 percent voter support, even though only 12 percent of St. Louis Park's residents have school-aged kids! What that says to me is that our residents feel a responsibility to prepare other people's kids for an increasingly complex world, that they see the value of public education, and they are willing to invest in our community's future." That's putting your money where your mouth is.
The ROC of SLP
Driving by this curvy, tented, concrete structure you might ask, "what is that?" That, is the new Recreation Outdoor Center or ROC. It's a multi-use outdoor recreational facility located next to the city pool and indoor recreation center. It's a stylish covered ice rink in the winter for hockey, open public skating, broomball and special skating events such as Disco Ball Ice Skating with lights and a DJ. When winter thaws it can be converted to a covered, turfed field for baseball, softball, soccer and lacrosse.
Diversity
The city has a welcoming attitude to people from different ethnic, economic and religious backgrounds and, as such, has a diverse population. St. Louis Park has long been home to a sizeable community of Jewish people who came to the area to escape housing discrimination in Minneapolis in the 1950s and 60s. There are several synagogues in the city and one school, Heilicher Jewish Day, a P-8 school. St Louis Park is also home to lots of people from other faiths, including Catholics, Muslims and even Lutherans.
Good Eats And Crafty Drinks
Beer and wings stalwarts Bunny's and Park Tavern might be the oldest and most storied bar/restaurants in St. Louis Park. There's also Mill Valley Kitchen City offering healthy northern California cuisine and Yum! Kitchen and Bakery cafe which packs them in all day, every day for Patti Soskin's scratch comfort food and desserts. And no hip town would be complete without a brewery.  SLP has one—Steel Toe Brewing, plus a craft spirits maker, Copperwing Distillery, who craft their own non-GMO gin, whiskey, vodka and something called "vodsky." And in the spirit of the community, they also host public forums with the Mayor and a weekly mixology class with live music.
Park Nicollet Methodist Hospital
One of the biggest employers in the city is the sprawling hospital and clinic located on Excelsior Boulevard where it has been since 1892. Today is provides a wide range of medical care and is recognized for its innovative care in the areas of eating disorders and LGBT health care.
Reasonable Housing
Established neighborhoods with modest, well-tended homes predominate the housing scene in SLP. The median home value is $258,200, but smaller one-story houses and condos can be found around $200k, and larger, newer or substantially remodeled houses sell in the $400k and $700k levels. And while the area is in demand, there's a desire to keep the housing stock reasonably priced. You don't see a lot of tear-downs in the neighborhoods (though there are some). Susan Melbye is a real estate agent who has lived in SLP for 25 years and says one of the reasons buyers are attracted to the area is because it's so walkable, close to everything (downtown, lakes, Uptown, airport) and has well-regarded schools. "St. Louis Park is an extremely welcoming community—to all kinds of people—and the neighborhoods are active and really have a sense of community. People tend to stay and I often sell multiple homes to the same family as they move-up to accommodate their family." There's also a fair amount of senior housing within walking distance to parks, shops and restaurants.
Great Trails
St. Louis Park has the Cedar Lake Trails for bikers and walkers which link SLP to downtown Minneapolis, making it a doable cycle commute for residents who work downtown or are heading to Target Field for a ballgame. The regional trail goes as far west as Chaska.