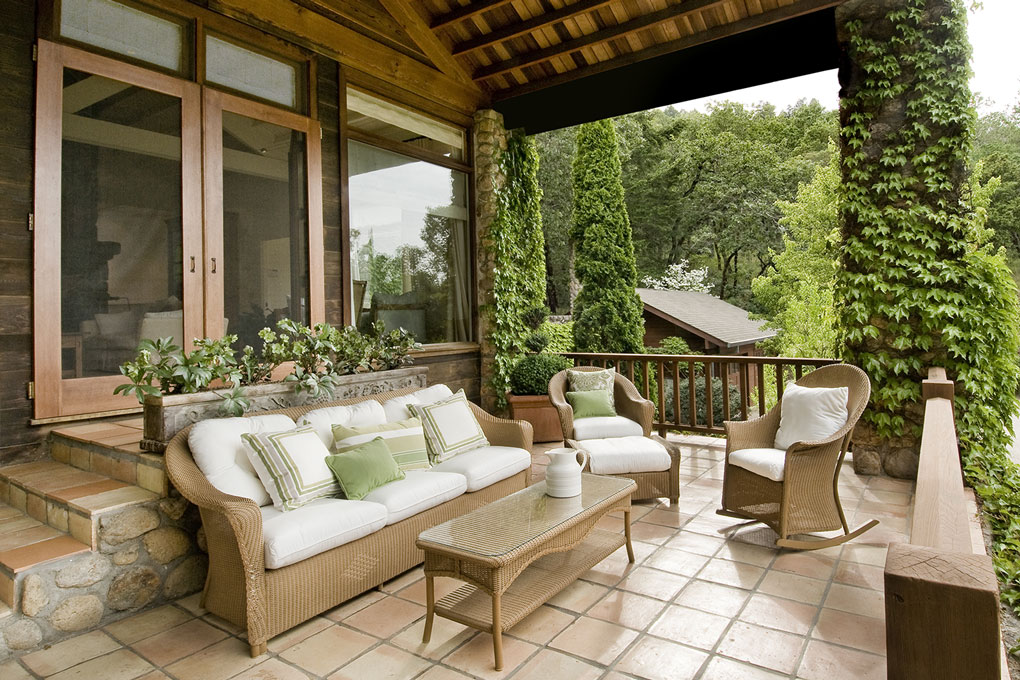 Blame the weather, or blame the years of wear and tear that have made your outdoor furniture look drab and weary. It doesn't matter how it happened—torn-up, stained, and far-too-old furniture can be the biggest outdoor eye sore. Well, no more. Get out of the city and enjoy the drive to these (still nearby) suburban sellers that will restore and revamp your outdoor patio space. (Because not-so-shockingly, not everyone wants to attempt Mission Impossible in our traffic-jammed, construction-filled Sister Cities.)
Yardbird
Faux-weathered teak finishes, deep-seated plush cushions, and rust-proof aluminum frames may sound a tad bit grand scale, and it is, because Yardbird provides a streamlined offering of industry best-sellers. The catch? These stylish and high-quality furniture sets are 100 percent recyclable, sustainable, eco- and budget-friendly. With nearly 10 outdoor collections, you'll be sure to lay back in luxury with the best looks around.
8215 Highway 7, St. Louis Park, yardbird.com
Paddy O'Furniture
Where is customer service unparalleled? We may not know for certain, but we're confident you'll find Paddy O'Furniture first in line. The family-owned and -operated outdoors furniture store has exterior designers on-hand and in-store to offer free consults and help you make the best choices for your patio or deck. If you're not seeing exactly what you want, they'll place a special order to suit your needs (and even better) deliver it to your doorstep. Stop in for their 25th Anniversary Sale happening now.
12500 Plaza Drive, Eden Prairie, paddyofurnituremn.com
Wissota Outdoor Living
Made in our own backyard, the furniture at Wissota Outdoor Living is as local as it gets. Customize and complete your look with unique products like wood and fiberglass pergolas, electric fireplaces, outdoor kitchen islands, and more typical outdoor gear, too— like fire pit tables, weather-resistant gas fireplaces, and of course, patio furniture. But be prepared—with unmatched quality comes the need to cough up some cash, and this furniture is no exception.
3262 County Rd. 42 W., Burnsville, wissotaoutdoorliving.com
Schneiderman's Furniture
Schneiderman's doesn't just carry the outdoor furniture you love: They provide the accents and décor that pull it all together, complete the look, and make it truly part of your home. From end tables and umbrellas to outdoor lamps, floral pillows, and hammocks, the company can customize items to reflect your personality and quirky or subtle style. Other places hand off your pieces and send you on your merry way, but Schneiderman's? They provide the total-package, picture-picture, just-stepped-out-of-a-magazine look—all from one, convenient spot. Not twenty.
1955 County Rd B2 W., Roseville, schneidermans.com
By The Yard
Confidence in quality shines bright when a company boasts a 35-year no-crack, no-rot, and no-splinter guarantee on every single one of their 300-plus products. By The Yard builds outdoor furniture designed to be ideal in any climate (snow or sunshine or tsunami) and is recyclable, UV-stabilized, and never painted. All their products are available in nine contemporary, earth tone colors, like white, brown, green, gray, weathered wood, redwood, black, coffee, and sandstone. Not only can you choose your color, but take a pick at your preferred height, seat width, and other product-specific details.
3283 Bluff Dr., Jordan, bytheyard.net
2nd Shade Patio Furniture
With a booming outdoor furniture retail industry, 2nd Shade needed to take a stand against competitors and make a big splash in a small pond. Inside their spacious, 40,000-square-foot showroom, you can find 19 high-quality brands (including their own), pre-owned, lightly-used, and traded-in furniture, and even in-house storage, rental, and financing options. Cannonball.
15102 Minnetonka Industrial Rd., Minnetonka, 2ndshade.com
Plants & Things USA
With more than 11 acres of outdoor furniture, we've come to a strong conclusion that this is all we have to say about Plants & Things USA: Arbors, deep seating, gas fire pits, pavilions, pergolas, sheds, bird baths, fountains, gazebos, lighting, dining tables, statues, and much more. Oh—and that comfy stuff you sit on, too.
13745 Sunfish Lake Blvd. NW, Anoka, plantsandthingsusa.com
Patio Town
Maybe it's not your furniture that needs the revamp, but your backyard landscaping instead. PatioTown does it both. Now, you can upgrade your outdoor furniture and the landscape you've been putting off for nearly three summers now. Take out the hassle, hone in on your dream deck, and hire their designated design team to take your concept to completion.
8500 Jefferson Ln. N., Brooklyn Park, patiotown.com
Facebook Comments