Photo by Spacecrafting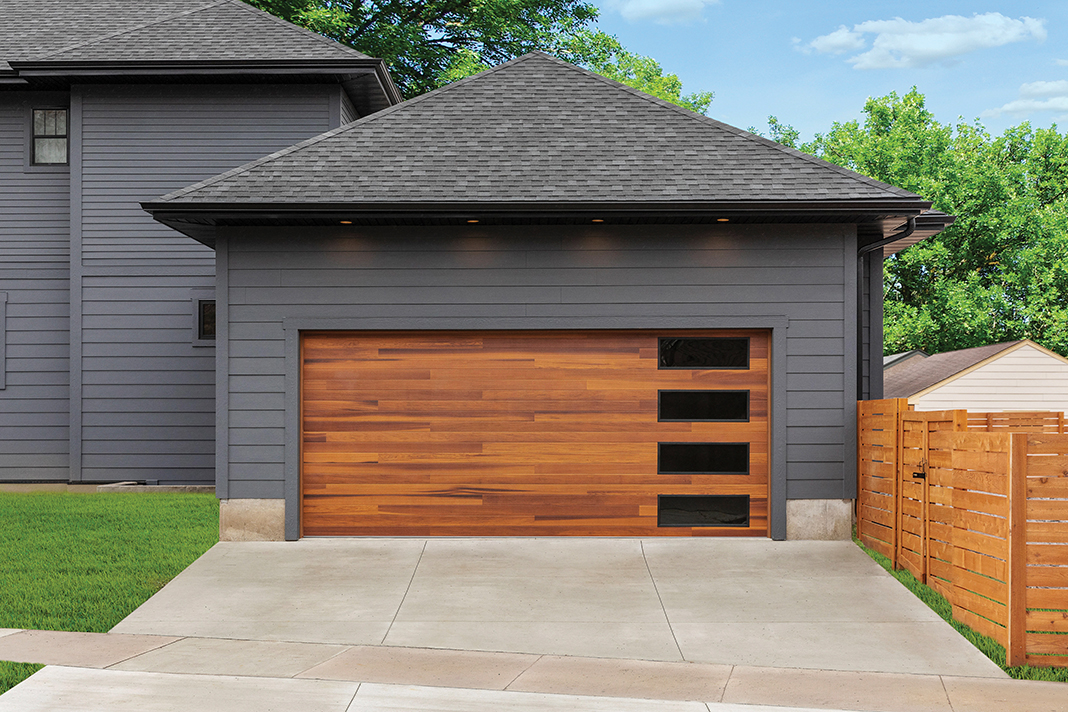 Stephanie Goldfarb, founder of The Divine Living Space, says her clients often desire the aesthetic and beauty of a real wood garage door, but seek options that conserve energy and are easy to maintain. Insulated and with loads of customizable options in dimension and appearance, these stainless-steel "wood look-a-like" garage doors feature a faux grain in a nonrepeating, textured pattern that feels organic, timeless, and just as realistic as authentic wood.
MH: What is the appeal of stainless-steel garage doors?
SG: Durability and energy efficiency! Did you know your garage door opening is one of the largest "windows" into your home? If your garage door isn't doing a good job keeping cold air out, you're losing a lot of energy. Not only are these doors beautiful, but they are also extremely durable and [sustainable]—which is so important given our Minnesota winters. These doors are for the homeowner who wants to invest in a unique and beautiful product that will last for years to come. From an aesthetic standpoint, anyone looking to improve their [home's] curb appeal should consider these gorgeous doors.
What are the perceived pros and cons?
Pros? The accent wood tones are made from steel, which is a far superior material than wood, vinyl, or even aluminum, and is much more durable in terms of everyday wear and tear. They also come in two different R value/thermal performance options, which are rated "better" and "best." That way, you can choose which one best suits your budget and lifestyle. Cons? It costs more to get the elevated look of real wood, [but it's] a great return on investment. Just a fair warning, though: If you're considering these doors, lead times are often considerably longer than your traditional door.
Are there certain home styles this look is better suited for?
These doors are available in seven different wood tones, plus a variety of styles and glass options, which make them a great fit for many different types of homes. The carriage and sleek styles of doors are perfect for both a modern and more timeless and classic style of exterior.