Photos provided
Ever wonder what next-level gardening and farming looks like? Conservatory Craftsmen has the answer with its Deep Winter Greenhouses (DWG), which are sustainable growing spaces that allow for plant growth during the cold winter seasons.
While cold weather can be an obstacle to growers, Deep Winter Greenhouses use groundbreaking technologies that allow for year-round cultivation. These in-unit glass structures are an alternative for home growing, eliminating an otherwise intensive and costly process that is often less efficient. Instead, thermal technologies simultaneously take advantage of heat from the sun and storage capacity from the earth to create a largely self-sustaining environment, even in the depths of winter. While reflective surfaces capture sunlight, the earth below acts as a "heat sink" that adds additional warmth. Solar collectors and storage batteries can also supplement in more extreme climates.
We asked Evan Cohoe of Conservatory Craftsmen to give us a run-down of how these projects work and how they may impact the future of winter growing.
Can you explain the history of Deep Winter Greenhouses and how they're most often used?
DWGs have been used in more of a rural setting to extend the growing season. You can start your crops and season sooner, and it's a more economical way than just a hoop house with plastic because you're using more traditional building materials such as two-by-four construction. You're also using environmental properties such as ground-to-heat transfer and solar.
Who can use Deep Winter Greenhouses? In other words, what audiences do these structures appeal to?
Well, it's shifting. Not only have we designed a DWG that's attractive and looks good in any setting, but it's also the "grow your own" cultural movement [that's] really pushing toward ideas like this on how to grow your own, extend the growing season, and harness natural energy from solar, ground-to-heat transfer, and ventilation. And with the technology, things are changing quite a bit where you aren't in a traditional setting as a farmer who wants to extend their growing season—they have to be there 24/7. If you're a homeowner and you're looking into a DWG, you have the option of installing an automation system that will oversee your environment and your plants. So, technology is changing things a lot.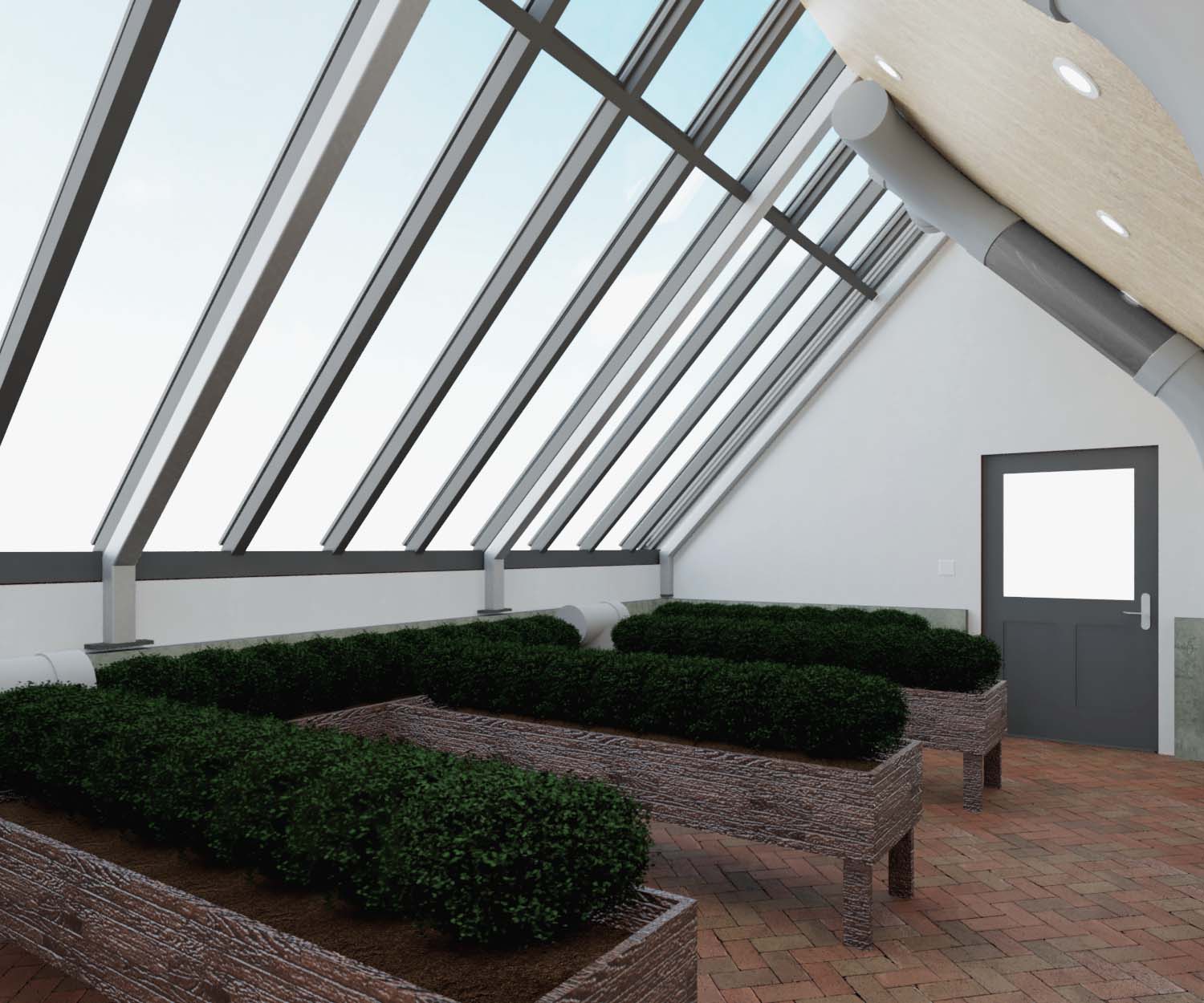 Your website mentions that a goal of the DWG is to reach a net energy of zero. What would that look like?
There are different techniques you can [use] to be completely net zero, starting with the ground-to-air heat transfer or geothermal to keep the environment comfortable. With the geothermal system, you can then disperse your energy from there and maximize your gains in things such as in-floor heat—and, on the flip side, in the heat of the summer with ventilation and cooling properties to keep the room cool. There are also things to consider when you're growing in the environment, such as water-pumping. How are you going to pump the water and keep that economical? And humidity? How are you going to keep the right amount of humidity? So, there are all kinds of things for consideration to harness that energy efficiently. Most of our clients get there—not necessarily zero, but close. There are some projects we do where they harness the energy in Tesla batteries for electrical components. We use boiler systems quite often, so you need a lot of energy. And to harness that energy from solar gains, we found Tesla batteries are the way to go—and they can [cost] as much as a car! But there are other ways to be practical with ventilation [and] automation, so you'll get close.
What is your vision for the future of the DWG? What have you accomplished thus far and want to expand on?
Well, we're getting inquiries every day! Right now, what I feel I'm doing the most is educating the market on a DWG, because it's such a cool, buzzy phrase, especially in Minnesota right now. But when you get down to the actual planning and construction, it's a project. What we do, at least, is not DIY. So, I spend a lot of time educating people on the construction aspect and planning and getting ready for their project. The owner, Jim Hewitt—who's also my dad—his background and his passion is in growing and controlling environments, so he can really speak to his clients on how to be successful. Because at the root of it all, the common denominator [is that] they're all plant people. They want to grow whatever: flowers, salad, etc., so he does a lot of educating on how to be successful in what crop you choose. He does a lot of Q&As on hydroponics. A lot of DWG people are into [hydroponics] just to conserve space.
So, the main goal right now is to educate people on the options available?
It is. It's an option, and it's doable. Like I said, most of the inquiries I get are just education. It's a new thing to most of us that wasn't attainable maybe 10, 20 years ago. I just feel like changes in the industry, cultural changes, material changes, and technology are like 'Wow, this is something we can do.'
For more information, check out conservatorycraftsmen.com/deep-winter-greenhouse.