Photos by Tracy Walsh
Even though she fondly remembers her Italian grandfather's terraced vegetable gardens, her grandmother's "little glass greenhouse" for growing begonias and fuchsias, and her mother's love of Japanese-style gardening, Katherine Tane admits she didn't continue the legacy until she and her family moved to St. Anthony Park in St. Paul. The yard was all shade, she adds, "so, that's where I got into foliage, texture, and shape, because that's pretty much all you can have in shade."
Raised in California, Tane became so enamored with gardening in Minnesota she took an afternoon job at Highland Nursery. That's where she met Scott Endres and Dean Engelmann, years before they would launch their own venture, Tangletown Gardens. 
In 2002, Tane and her husband purchased a new home with more space for gardening and their two growing sons. The yard, she says, "was a volunteer garden" and "by that, I mean the previous owner let anything grow anywhere. It was a big lot with weird stuff sprouting everywhere." 
The first order of business was getting rid of 17 diseased spruce trees—which opened up magnificent views to the south and the river valley. Next, Endres and Englemann began "creating a canvas for her to work with," Endres recalls. The pair had just opened Tangletown Gardens and were engaged in a few landscape projects for people they knew. 
"Katherine wanted a base layer to work with," Endres explains. "We came up with a beautiful parklike design with bigger groves, groups of plants, and interesting combinations of trees and shrubs that move cohesively from one area to the next, and would evolve and improve over time. Texture, shape, and tone: That's the way we go," he continues. "Flowers come and go, but foliage is constant and creates a garden that's soothing and tranquil." 
Here's a snapshot: At the front of the house is a semicircle of Prairie Fire crabapple, followed by trees with various shapes and bark textures. Nearby, different shades of green among fuzzy foliage, bladed leaves, lobed leaves, and evergreens come into view. White pine, Russian cypress (a beautiful matted lacy evergreen), and mounds of catmint, prairie dropseed, lamb's ears, white peonies, ligularia, oak leaf hydrangea, and azaleas round out her plantings.
"It's peaceful, unlike gardens where you're jumping from flower to flower," she says, adding that she loves planting swaths of the same material. "[It] lends a calmness to the garden. I use blue-greens and sage-like colors, with reddish-orange foliage as a contrast." In autumn, the grove of aspens, for example, "sheds its red leaves like kimonos."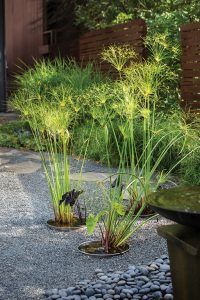 The backyard includes a Korean maple and stacked bluestone with nodding onion and yucca. Stone steps through the lawn lead to the bluff, where gravel pathways wind among swaths of Monardia (bee balm), Ninebark tree shrubs, and more ligularia. There's a pagoda dogwood, a Burr oak, Maackia amurensis, and specimen pines "like Uncle Fogy for its shape," Tane says. 
"A highly collaborative design process made it a very personal garden," she adds. One of her key collaborators was the late Steve Burzynski, a young landscape architect Tane met when she was later employed at Tangletown. ("Ha, yes! To get the discount for the plants!" she says.)
"Steve spent 17 years developing the garden with me," she adds. Burzynski not only built the stone walls, steps, and patio, but he also designed the hardscaping and corten steel containers. "He would discuss plans, designs, and plants with me," Tane says. "He's the soul of this garden." 
"Gardens are never really finished," Endres says. "They're always in constant evolution. Katherine's garden, 20 years later, shows that by starting with a good master plan and base layer, you never have to take too many steps backward." 
While Tane promises her husband every year that she's done, this year she thinks she really is. "The garden reflects my growing up in California, so it's not the typical Minnesota perennial garden. Rather, it's an ornamental garden made up of plant shapes, foliage colors, and textures with not that many blooms. It conveys a very restful, soothing feeling of retreat." But, she adds, "If I discover a new plant, I have to try it!"