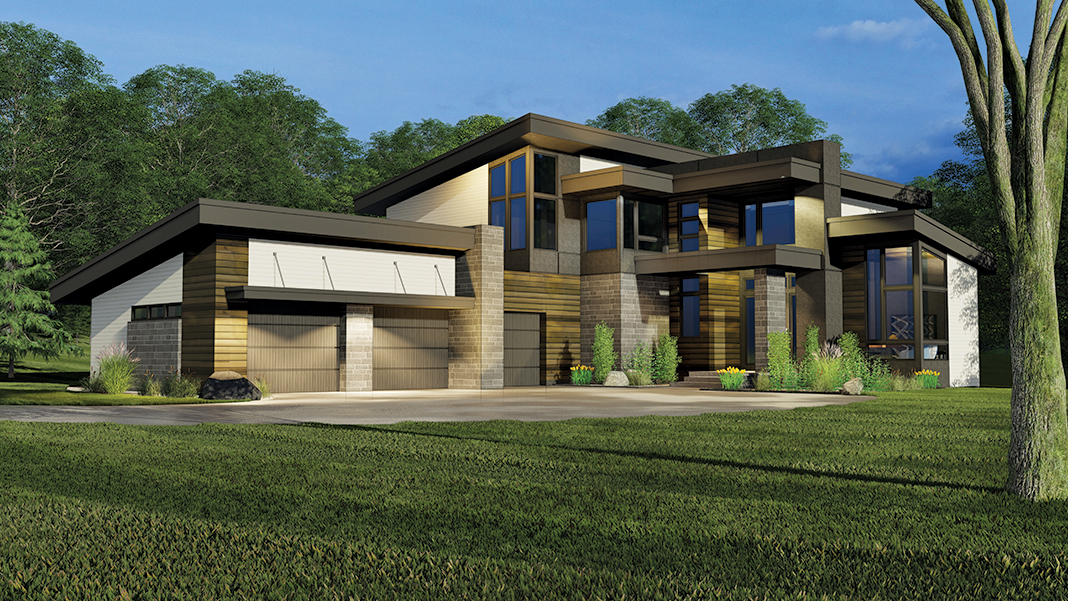 6701 Cheyenne Trail, Edina, MN 55439
From MN-62 West: Take the Gleason Road exit. Turn left onto Gleason Road. Turn right onto Cherokee Trail. Turn left to stay on Cherokee Trail. Continue onto Indian Hills Road. Turn left onto Cheyenne Trail. Home will be on the left side of the street.
---
Sustainable 9 Design + Build creates every home using the timeless, aesthetic design theories that make up its self-proclaimed "Minnesota Modern" style. With this home in Edina, the team also took extraordinary measures to incorporate personal touches specific to the homeowners' interests and needs.
Take the underground sport court—"Even with a 20-foot ceiling, it's tucked perfectly below the huge three-car garage and off the lower-level family room and bar area," state Chad and Ryan Hanson, the brothers and partners behind Sustainable 9. Other prime examples include the open family room with a 100-inch TV, attached bar and kitchenette, and the outdoor entertainment space with a walkout screen porch, kitchen, patio, and cozy firepit.
Sustainable 9 is known for working with clients from start to finish, and this home was no different. To make the clients' vision come to life, the team brought in partners such as David Charlez Designs for the architectural design and Bria Hammel Interiors for the interior design. DWELL44 provided the Crystal Cabinets throughout the home and the high-performance, triple-pane windows from H Window, and In-Focus Systems' centralized automation system controls the lighting, audio, video, and security.
When everything came together—the flow of the rooms, the majestic windows and views from the bedroom and bath, the modern kitchen with its slatted ceiling—the home not only fulfilled
the homeowners' hopes but also the company's desire to create another sustainable luxury home to add to its legacy. The homeowners can now enjoy their forever home and explore the serene Indian Hills neighborhood for years to come.
Market Price: $2.49 Million
Square Footage: 5,394
Number of Bedrooms: 4
Number of Bathrooms: 5
Style: Sleek and sustainable
612-234-4194 | Sustainable 9