M&M Home Contractors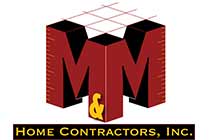 M&M Home Contractors
mandmquality.com
952-797-3720
How did you get your start in this business? I started out as a draft engineer creating everything from foundation types to commercial buildings, highways, and high-rises before moving into the construction industry.
What about this industry appealed to you? It's exciting to connect with people and help bring their visions to life.
Why should someone build with you? We have a hands-on approach. (As the owner, I'm personally very involved throughout the process.) We're experienced, and we do exceptional quality work. I'm a perfectionist and that comes out in every project.
How are your homes constructed? We use some of the most innovative and energy-efficient products and technologies on the market today. We're a design-build firm and do most things in-house, such as drawings, design, spray-foam insulation and framing (to name a few). For homeowners, this means one source to hold accountable, more efficient scheduling and cost management, and a faster project completion.
In order of importance, what are the top three things you look for from a supplier? Good communication skills, attention to detail, and quality and cleanliness of their work.
What communities do you primarily build in? The Twin Cities and surrounding area.
How many luxury homes do you build annually? We build anywhere from six to eight luxury homes per year.