Photos by Spacecrafting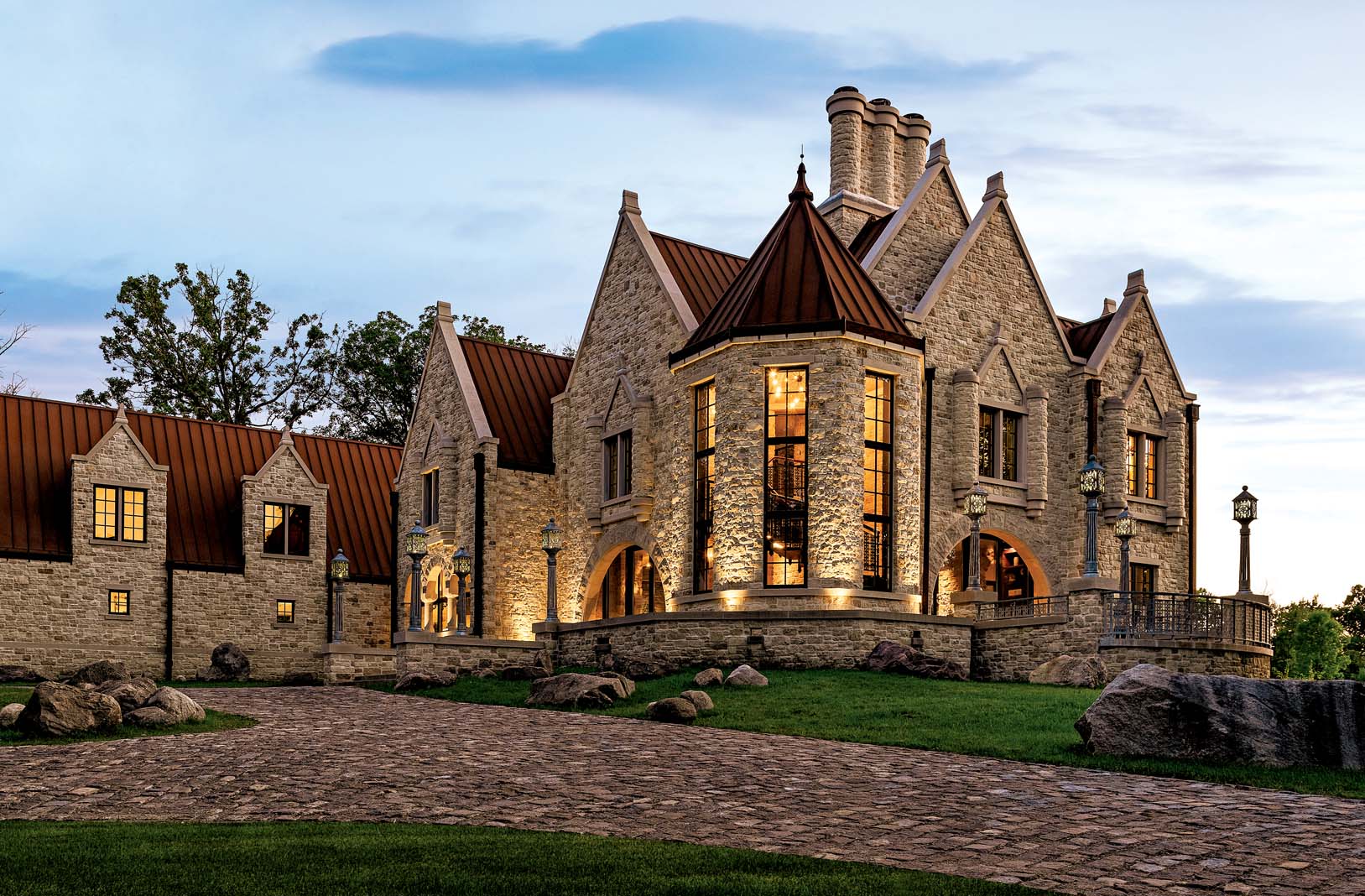 A winding cobblestone driveway leads guests up to Huntington Manor, the majestic 7,774-square-foot fortress known as the modern-day castle in Orono. Designed by architect James McNeal of James McNeal Architecture & Design and third-generation stone mason Luke Busker of Masonry Builders, the stately four-bedroom, seven-bathroom home was not built for a particular client, but rather a passion project meant to showcase what the two could create using steel and stone.
"Stone has a permanence to it," says McNeal. "It's such an ancient yet dynamic material, but I never like when it's used as simple veneer or decoration—I like it to be substantial, a major part of the project." Thus, the manor's 10 exterior arches aren't built with thin, six-inch-thick pieces of stone, but solid portions cut, carved, and two- to three-feet-thick in places.
Inside, the home feels more like a glass box, with an open floor plan, floor-to-ceiling windows that let in plenty of natural light, and sliding glass doors in the main living area that open onto a large covered porch. Custom-designed wooden doors with steel accents are found throughout, and a spacious kitchen containing an icebox-like wall of storage, walk-in refrigerator, and butler's pantry looks out over a trio of arches that frame views of the surrounding woods.
Although McNeal designed the home in a regal Richardsonian Romanesque style, the science fiction fan also added a unique steampunk-inspired twist through subtle design touches. One such element is the main-level entertainment system, which features a steel door operated by a pulley and hand crank that opens to reveal a high-tech television.
"I liked the idea of the simplicity of the human touch with the old industrial gears combined with the modern technology of today," says McNeal.
Both visionaries emphasized how the home's decoration is not applied, but rather a purposeful part of its overall design.
"You see a lot of applied aesthetics in homes, but almost all the details in this home are integrated into the actual building," says Busker. "This mentality of building functional custom components really forced us to go to the very best of our abilities." For example, the manor's main circular floating staircase features an intricate railing system that was designed as both a decorative element and the support of the entire structure. Likewise, the spiral staircase on the other end of the home also acts as a three-story vertical atrium, complete with built-in irrigation for easy watering.
Downstairs, you'll find a custom bar complete with LED mood lighting and glass-encased, temperature-controlled wine storage along with a series of three clean-burning bioethanol fireplaces—the result of design inspiration McNeal credits to the hit HBO show "Game of Thrones."
To round out the manor's many offerings, an unfinished additional space above the three-car garage can easily be converted into an entertainment space or additional bedrooms for its future owners. Space was also added and designed for the easy installation of a swimming pool, tennis courts, or additional garages.
"The manor is meant to be an estate, and a place of privacy," says McNeal, who, along with his partner, can't be more pleased with the result of their labor.
Busker adds, "There was always a concern with the castle feeling cold, but the way this home is designed and put together makes it amazingly warm and open. It appeals to everyone who's been inside."
---
Home Details
Check out more new builds featured on our 2019 Luxury Home Tour here.