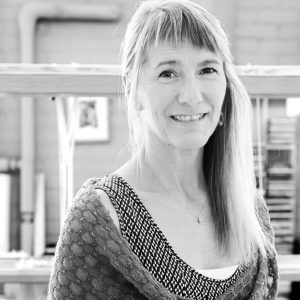 Before Kelly Marshall's designs even hit the loom, they are first infused with her joy and passion for textiles. There is a timelessness to the work she produces—a quality that honors the past while bringing relevance to modern homes. At first glance, it may be the color and pattern that draw you in, but once you approach and touch the textiles, they come to life. While materials and weaving techniques have not changed for centuries, Marshall pushes the boundaries of textile design by combining traditional craftsmanship with her modern, abstract sensibilities. 
This style was refined while learning textile design at the University of Minnesota and studying abroad in Sweden. Today, Marshall produces a line of signature patterns and products that includes rugs, tabletop runners, and home décor, but ultimately, it's about the collaboration between weaver and client—one that allows her to tell untold stories through the woven thread.
Various rugs, placemats, and tabletop runners in myriad sizes are available to purchase for $55-$389.
---
Midwest Home features local makers in each issue via The Collective. Find more on midwesthome.com/thecollective. Curated by Jerrod Sumner, founder of Brandtabulous, a Minneapolis-based marketing and brand storytelling agency that specializes in promoting American makers, including the one featured on this page.