Photos by Rubinski Visual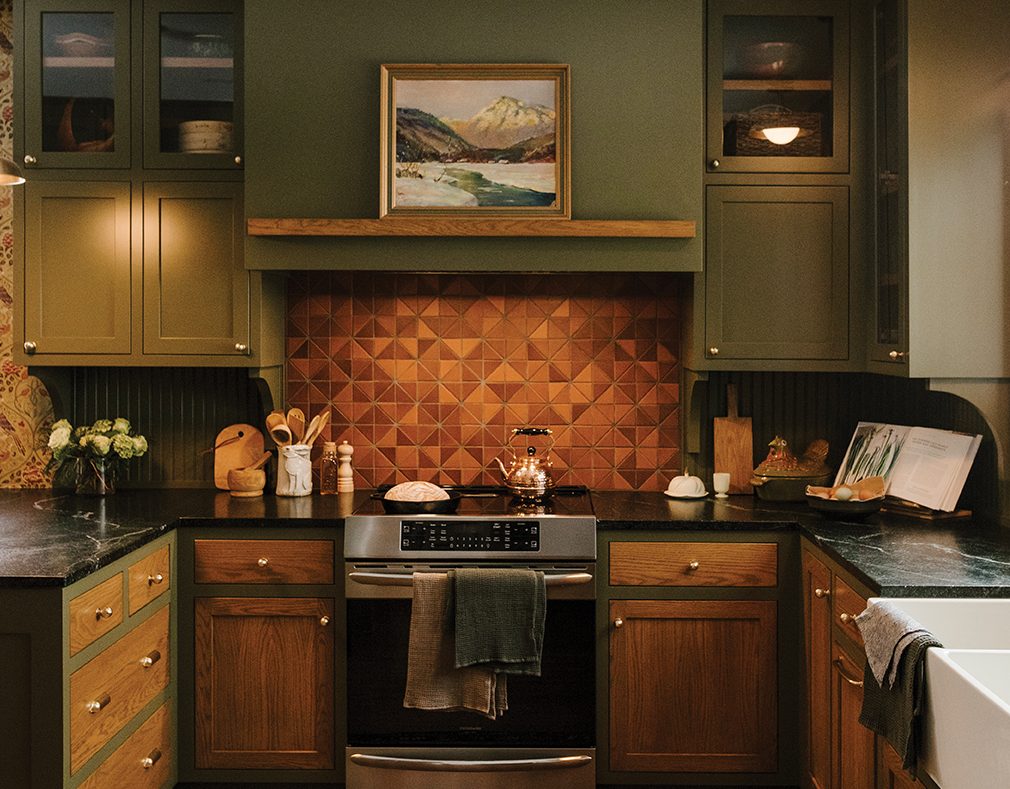 Step into the enchanting world of Diane Galatowitsch and Libby Due, two lawyers who recently embarked on a journey to revamp their outdated 1914 kitchen. Fueled by their passion for art and need for a more functional space, they approached Emily Pueringer of Emily Pueringer Design Studio to transform their St. Paul home's central hub into a dreamy culinary haven that reflects their personalities and love of forests and the outdoors. Step one was nailing the new configuration.
"They wanted to love their kitchen like they loved the other rooms of their home," Pueringer says. "It made no sense where things were placed. It honestly was a nightmare of a kitchen. There were so many goofy things—it was just comical."
After successfully navigating a pesky challenge with varying ceiling heights alongside collaborator Quality Cut Design | Remodel, she nixed the custom cabinetry (originally quirky and nonsensical) and bid adieu to a confusing peninsula that divided the kitchen into two awkward spaces. The team also replaced a small window with a far larger one behind the sink for additional light and rearranged appliances to capitalize on the room's smaller footprint.
Aesthetically, Pueringer set out to achieve a harmonious balance between tradition and modernity, ultimately delivering a kitchen that exudes warmth and charm. From the very first conversation, the homeowners knew they wanted a space brimming with character and natural bold colors, and as ardent collectors of art and textiles, it only made sense that the team's shared love of a textured, hand-painted William Morris wallpaper would serve as the starting point for space's new, colorful look. "The wallpaper is what solidified exact color choices," Pueringer explains of the selection, which features an intricate, nature-inspired pattern, lush colors, and delicately drawn birds. "[The homeowners] knew they wanted a punch of color. These guys were not afraid of [it]! Once we found the wallpaper we fell in love with, we chose a green shade that has a yellow undertone."
That hue, Palm Leaf by Sherwin-Willaims, evokes a sense of playfulness while blending seamlessly with the home's historical essence and architecture. The cabinetry's clever two-tone design—with wooden lower cabinets nestled within the vibrant shade—further showcases Pueringer's fearless approach to color. "It's just me pushing the limits," she says when asked about the inspiration. "I like to think more is more."
She also brought in unique elements like beadboard and brackets (reminiscent of traditional craftsmanship), an eye-catching oversized hood that became the centerpiece above the range, and a terra cotta-toned Fireclay backsplash that adds an artistic flair to the kitchen's main backdrop. A black, white-veined soapstone countertop, scallop-edged soapstone details behind the sink, Rejuvenation light fixtures, and a carefully curated mix of J. Atelier accessories complete the bespoke look.
The homeowners also are particularly fond of the desk nook in the adjacent dining area, where they can peruse cookbooks and catch up on daily tasks after days at the office. Even the smallest details, like the clutter-concealing storage cabinet Pueringer jokingly calls the "hidden mess zone," add value and functionality to the project's design.
"It's very timeless and traditional," Pueringer says. "It looks like it could have always been there. It's very in keeping with the bones of the house, but it has an edge to it—just like this couple." Ultimately, this kitchen transformation serves as a beautiful reminder that breaking away from the norm can lead to spaces that are as exceptional as the individuals who inhabit them.