Photography by Natasha D'Schommer Photography
With autumn well underway, St. Paul resident Monya Kampa's warehouse overflows with boxes filled with all manner of nature-inspired home décor. Now in her twelfth year of business, the owner of local retail company Plush Pumpkin is used to the fast pace of fall, and no wonder—her elegant and adorable pumpkins, acorns, and flowers make perfect centerpieces, and both local customers and out-of-town guests know it.
Kampa (unknowingly) began her company in 2002 after noticing some decorative pumpkins in a shop and thinking to herself, "I can do that. I can do better than that." Inspiration sparked, she bought some silky rayon velvet from nearby fabric store Treadle Yard Goods and created her first pumpkin, finishing it off with a real stem. When friends noticed her new home accessories, she began making them for others, and for the next several years she kept busy with her newfound hobby.
Eventually, she standardized her sizes and began bringing her creations to nearby shops, and soon the little pumpkins began flying off the shelves. After participating in a trade show in Dallas, Texas in 2010, word spread, and today, her pumpkins can be found in more than 50 stores around the country. Available in a range of colors, sizes, and styles, each one is carefully made by hand, every step in their creation carried out by Kampa herself or members of her talented team. "The velvet is hand-cut, hand-sewn, and hand-stuffed, and then tucked and folded into the center," Kampa explains.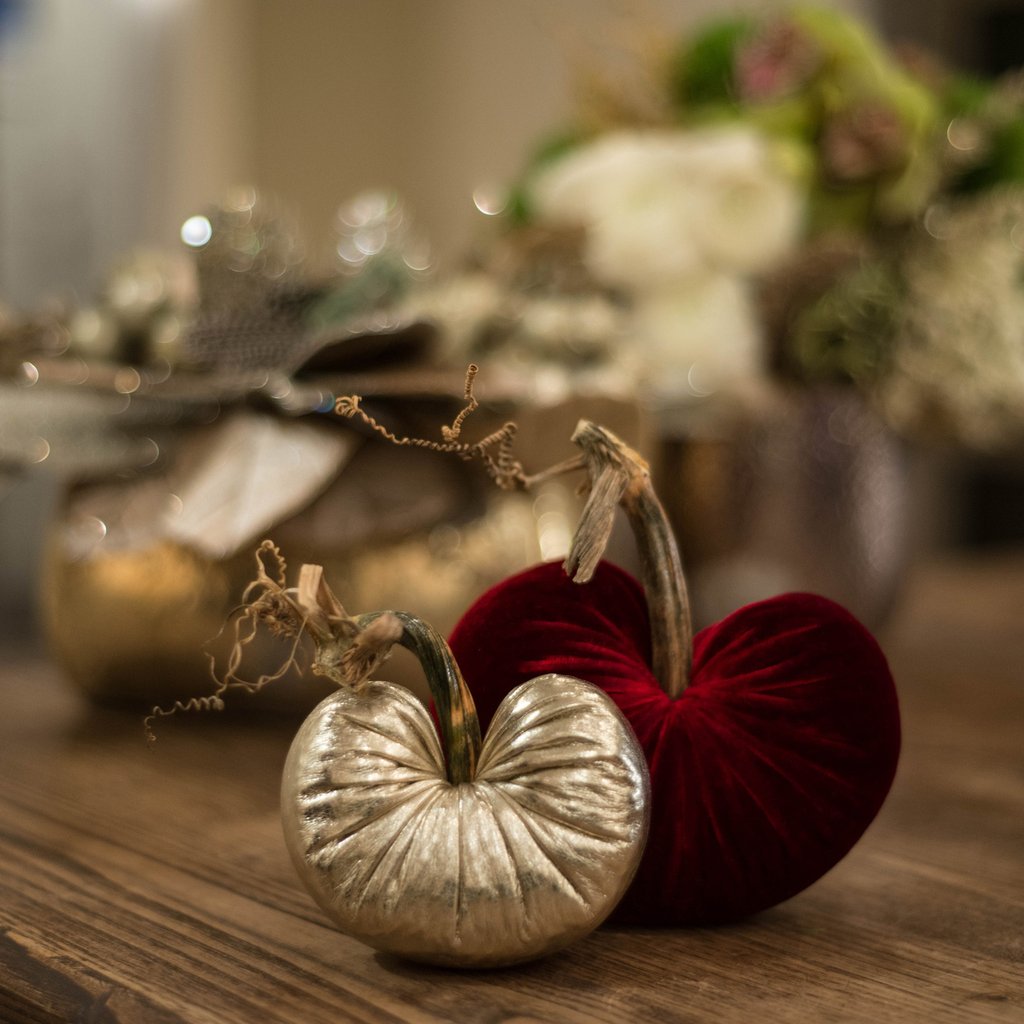 And those pretty, decorative stems? One hundred percent organic, and gathered by hand as well. "We used to get our stems by begging and pleading with local farms," Kampa laughs, "but now we're able to stockpile them a year in advance through our partnership with Stoney Brook Farms in Foley. They grow the exact variety of butternut squash—with the curled stems—we like to use. The ones we collected this year will be used next season, since we have to dry them, brush them clean, and spray them with finishing spray."
With sales increasing every year, Kampa began expanding her collection in 2010 after a customer from Duluth specifically requested a pumpkin fashioned in the shape of a heart to give to his wife. "I told him I'd try," Kampa says, "but it actually turned out really well and I ended up putting together a little basket of hearts, and they were really popular for Valentine's Day."
Next, Kampa turned her sights to a more modern, upscale model and added her Italian lambskin line, featuring pumpkins in neutral and metallic shades, followed quickly by her elegant metallic linen line. Three years ago, she partnered with textile designer Kevin O'Brien to create a special line of pumpkins featuring rich, hand-painted velvet fabrics. "The whole line really breathed new life into the company," says Kampa.
The best part about her job? The employees. "Sometimes I get overwhelmed with how busy we are, especially during the fall, but I know it's worth it when I see my employees," says Kampa. "I love watching them become so skilled ­­­­—it takes a good year to get every aspect of making the products just right, and then becoming efficient at it. I love them like my own family, and they do such a great job."
Most recently, Kampa announced her newest products for the season: emerald-green velvet and red, green, and blue plaids, which will be available at Ampersand Shops in Edina's Galleria, her number-one selling store in the country, and at PlushPumpkin.com.