Houseplant sales are booming as homeowners see them with fresh eyes as a way to liven up spaces, bring the outdoors in, and improve indoor air quality. You can find plants in all sizes, shapes and forms—from tall tree-like varieties with giant tropical leaves to delicate wispy looking things and everything in between. There are plants for people who want to fuss over them, and plants for people who will probably forget about them. The right care is important, but so is displaying them (it's surprising the number of plants that are brought into the home and left in their cheap plastic garden pots). The right vessel can make a gorgeous plant look even better, and add just the right accessory to all kinds of home decor. Here are a few to consider:
This pleasantly round and celestial looking planter looks like concrete, but is a more low-back-friendly mix of fiberglass, cement and sand, so it's easy to move. 24″ height x 22″ diameter with a 13.75″ opening.
A charming brushed metal tripod pot is a clever way to display a unique plant such as this highly Instagrammable Ric Rac Orchid Cactus (sometimes also called ZIg Zag Cactus). 18″ height x 10″ diameter.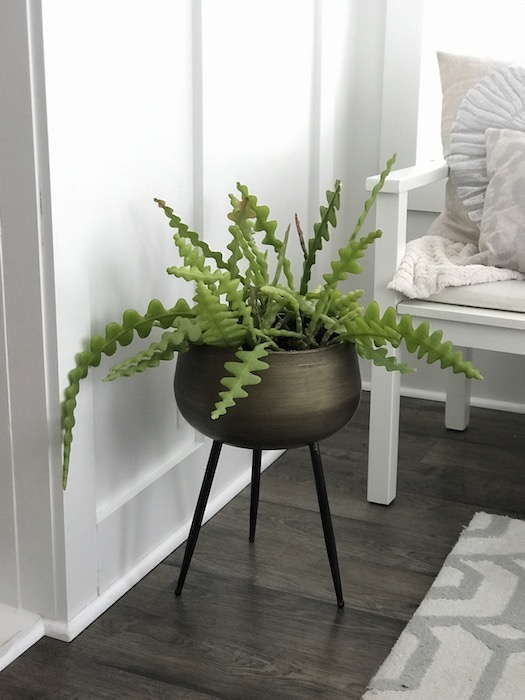 Talavera is the Mexican interpretation of Spanish Majolica design and features floral motifs and colors that are classically Mexican. Hand painted, this striking planter would add energy to any room. 14 1/2″ height x 16 1/2″ diameter.
Natural rattan gets a modern slash of style with a clean diagonal swipe of white. A hidden liner makes it watertight too. 13″ height x 18″ diameter.
Made of wood from fast growing (i.e., sustainable) Paulownia trees, this set of planters have a soft, raw look that would be at home with modern, Scandinavian or minimal style. Set includes one small: 12.25″ height x 10.25″ diameter and one large: 15.75H, 13.5″ diameter planter.