Pinners, rejoice! One of the world's largest home decor platforms, Pinterest, has integrated the worlds of augmented reality and shopping with Try On for Home Decor. The new augmented-reality (AR) tool, powered by Lens, launches more than 80,000 shop-able pins, allowing users to envision home decor and furniture in their home before they buy from the premier launch partners.
"Customers look to Crate & Barrel and CB2 to find unique pieces built to last a lifetime," says Joan King, SVP, eCommerce & International Operations for Crate & Barrel and CB2. The retailers are among those participating in the new app. "We understand that the path to purchase is not always linear, especially when it comes to furniture. Pinterest's Try On For Home Decor tool is one of many examples of how our brands are exploring innovative solutions to make this journey as intuitive as possible by bridging the gap between virtual commerce and reality."
How do you use Try on for Home Decor?
While you're browsing home decor on your phone using the app, three dots will pop up in the top right corner of "Try On enabled" pins.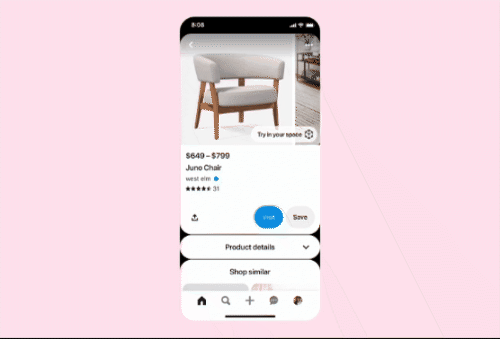 Click the pin and "Try in your space" to see the virtual product through your camera lens.
Place the products in your space to see how they'll look. You can also browse product information within the pin for details, including price.
To shop, click the pin to be directed to the checkout page on the retailer's site.
Retailers using this "try before you buy" feature also include Macy's, Target, Walmart, West Elm, and Wayfair.