Photos by Wing Ta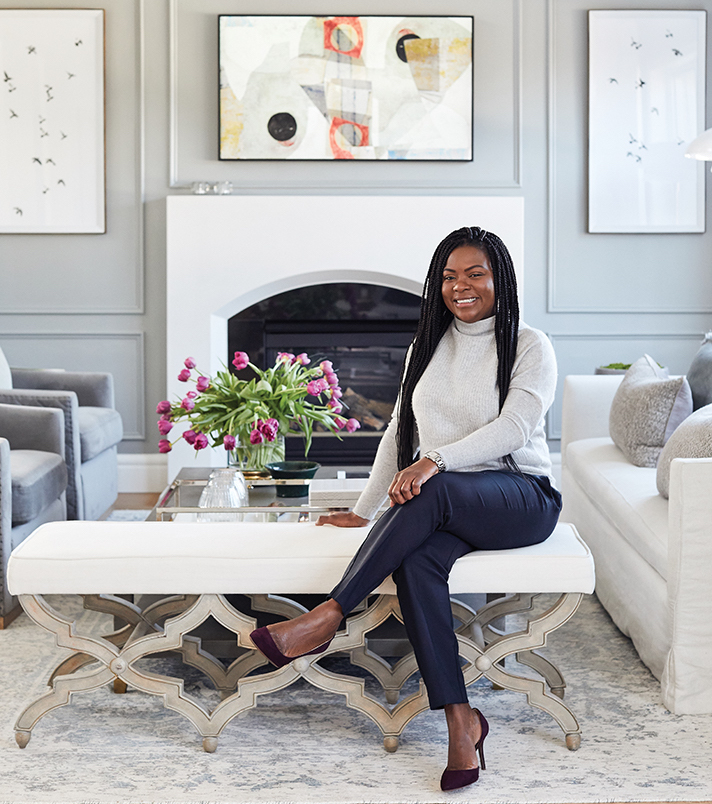 We could all use a dose of Victoria Amegno. In fact, if her demeanor could be bottled, it would likely be in the shopping cart of every cabin-fevered, supervising-kids-in-online-school adult around the world.
A native of Togo, a small French-speaking country in West Africa, Amegno moved to Minneapolis 15 years ago to begin a career at Wells Fargo. When her position was eliminated after a restructuring in late 2019, she had the unique opportunity to reassess where life could take her. She decided to follow her heart and soon started a business designing interiors—something she had already been doing on the side for friends and family. "I went into the corporate world because my parents' work inspired me," she says (her mother owned clothing and luggage stores; her father worked at the U.S. Embassy), "but I was always drawn to more creative pursuits." Amegno's volunteer work with Habitat for Humanity also influenced her passion for design, particularly after she staged houses for the nonprofit.
Her own Shakopee home that she shares with husband Lambert (her design firm name, Victoria Lambert Interiors, also bears his name) and daughters Benycia, 13, and Ericka, 11, reflects her serene nature and refined, layered style. The couple remodeled the home recently, bringing in panel moldings and a limestone fireplace mantel to add architectural interest to what had been a spacious but bland new build. Today, classical music swirls through the home and the effect is soothing—like walking into a yoga exhale. "My dad was big on music, so as soon as we woke up, it was on," she says. "Now, I do the same thing. My kids used to ask me to 'turn off the sad music,' but now they like it."
Throughout the home, one of Amegno's favorite motifs—birds—appears in art photography and sculpture, while books by designers who have shaped her aesthetic, including Victoria Hagen and Thomas Pheasant, are stacked tall and on display. "I'm primarily self-taught and rely on books and magazines over social media to stay current and get a deeper understanding of how design choices are made," she explains.
As a result, Amegno has learned a thing or two about beautiful spaces and her own design style: Glass vases are a go-to accessory for the touch of simplified sophistication they bring to arrangements; she finds some of her favorite home furnishings at Habitat for Humanity's outlet store, ReStore, and various antique shops in Minneapolis; and the layering of lights is her design indulgence—especially with picture lights and sconces, she says. "Not many clients want to do them because they require additional electrical work, but they create such a nice ambience." Almost as nice as the tranquility, Togolese heritage, and rising talent that all perfectly define Victoria Amegno. 
INFLUENCER | Victoria Amegno
You're busy with two children and a business, but when you do have free time, what do you like to do? I enjoy gardening and find the plants' continuously evolving nature so peaceful. Our backyard has been three years in the making, and I'm especially proud of our vegetable, herb, and flower gardens.
Besides family and warm weather, is there anything from Togo you wish you could have here? Certain foods such as fresh palm oil, African yam, and jute leaves. I tried growing them myself but wasn't so successful. I'm not giving up!
What are friends back home surprised to learn about Minnesota? That it's close to Canada, the weather stays cold eight months out of the year, and we haven't moved away yet.
Dream project? I'd love to design a showcase house where there are fewer design constraints, and I could be as creative as possible.