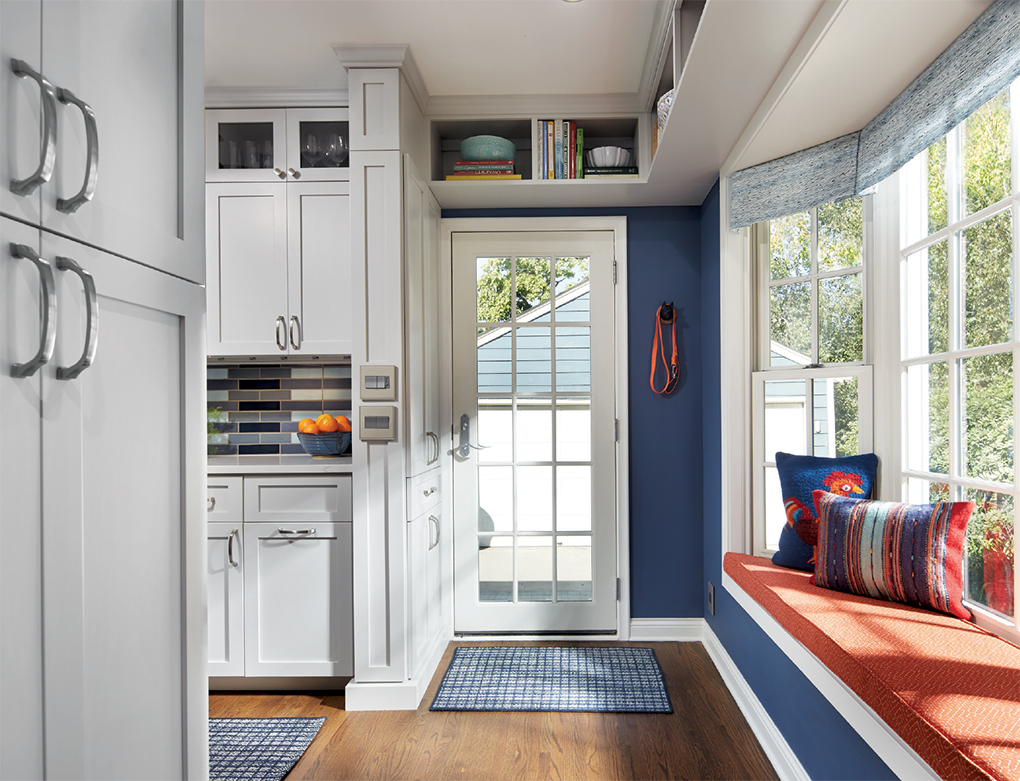 When Heidi and Michael were in search of a rightsized home, they found a 1938 bungalow in St. Paul that was the perfect fit. They fell in love with its walkable Highland neighborhood, its cozy size, and its vintage charms. Its kitchen? Not so much. "When we looked at the house, we knew we'd be doing the kitchen right away," says Heidi.
The existing kitchen was tired and dark. The original countertops had been replaced with granite, which did nothing to address the meager counter space and lack of storage. The dishwasher, added at some point, was across the kitchen from the sink—a configuration further hindering the work flow.
They waited 18 months before diving into the kitchen remodel, tackling a bathroom first, while they lived with the clumsy, claustrophobic space. The experience confirmed their needs and wants: They wanted to open up the kitchen, make it more efficient, and add a modern flair—all without compromising the innate character of the house, adding to the footprint, or breaking the budget.
Since Heidi is a cook—the real deal—her kitchen gets a work out. She loves drawing on seasonal ingredients for Italian and French country dishes, and hosting small dinner parties. She needed lots of storage in her small kitchen. She didn't want her cookbooks, small appliances, canned goods, and miscellaneous kitchen wares stashed away in other rooms or the basement.
She wanted everything close at hand and accessible.
She also knew whom to call for help: LiLu Interiors in Minneapolis. Principals Lisa Peck and LuAnne Silvia had already transformed two kitchens for Heidi and Michael in previous homes, so both designers and clients were in familiar territory. Still, Peck and Silvia listened closely to what the couple wanted: more storage, more work area, and a more open design.
First, LiLu removed the wall between the dining room and the kitchen, adding a breakfast bar while giving both spaces some much-needed breathing room. Crown molding and recessed lighting create visual height in the kitchen, and custom cabinetry by Lake Country Cabinets & Trim lines the wall here and in the back hall.
Space planning began with a checklist of storage needs, an important step even more critical in a small kitchen, says Peck. That's how Clara, the couple's German Shepherd, came to have her own pullout drawer for her dog food and bowl. Her owners also have customized storage in the back hall that includes a docking drawer, places to hang keys and sunglasses, and to store shoes, boots, coats, and gloves.
The color palette drew inspiration from the blues Heidi prefers, but the designers kept the cabinetry a light, airy gray. The striking backsplash of Fireclay Tile features four different blues and adds a modern element. Painted walls (Benjamin Moore Indigo) get a pop from lively orange accents, including the cushion on the window seat and woven throw pillows Heidi bought in Santa Fe.
LiLu's truly cunning storage solutions are mostly concealed in the cabinets. Next to the stove, alongside the standard pullout for spices, is a 9-inch-wide column end transformed into a pullout loaded with compact, vertical storage for everything from pots and pans to dry goods and cooking oils. This is one of the features Heidi shows off with evident satisfaction. In another cabinet hangs a compact step stool for reaching upper shelves. A custom cabinet also hides the mixer when it's not in use. And around the top of the kitchen is shelving that holds cookbooks and more.
"Lilu did such an amazing job making use of the space," says Heidi. "We're just thrilled with the kitchen and, when people come over, they love it too. The difference is remarkable."