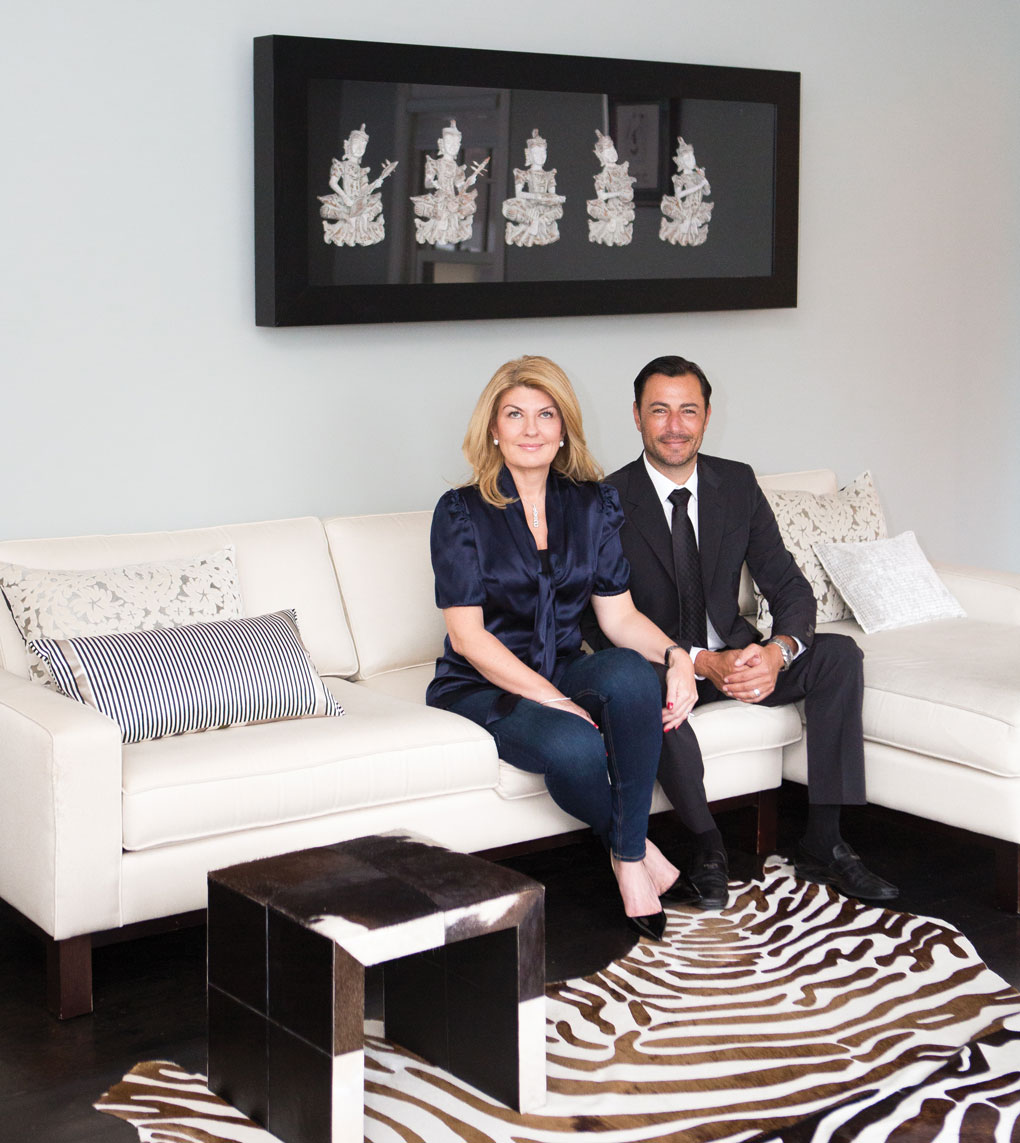 Upon stepping into the home of Daniel and Jane Green, their love of travel is clear. Antique finds from Thailand, Singapore, and Hong Kong decorate nearly every surface, from a pair of antique carved-wood sculptures from Bali purchased 22 years ago on their honeymoon to the series of Thai clay figures encased behind glass in their living room.
"We just love that area of the world," says Daniel, "so we wanted to try to recreate a little bit of that in our home."
Daniel's career as a chef often brings him to Asia, where he's developed dining programs and menus for the Hong Kong airline Cathay Pacific as well as hotels including the Shangri-La, Mandarin Oriental, and the Dusit Thani hotel groups. He's also a presenter for Eden Prairie–based home shopping channel Evine, a regular guest on the Food Network, and author of 12 cookbooks. Jane recently sold her longtime designer clothing consignment store in London to focus on her growing property rental business in Minnesota.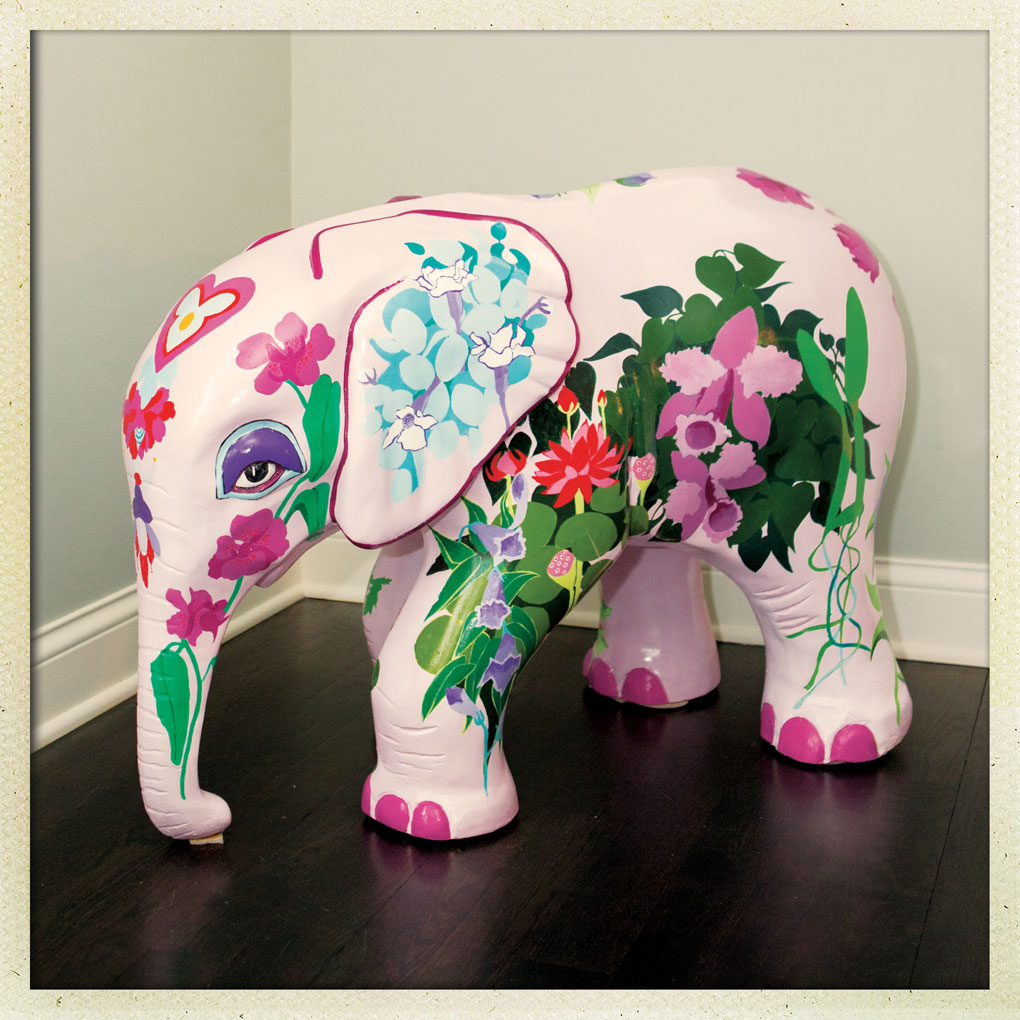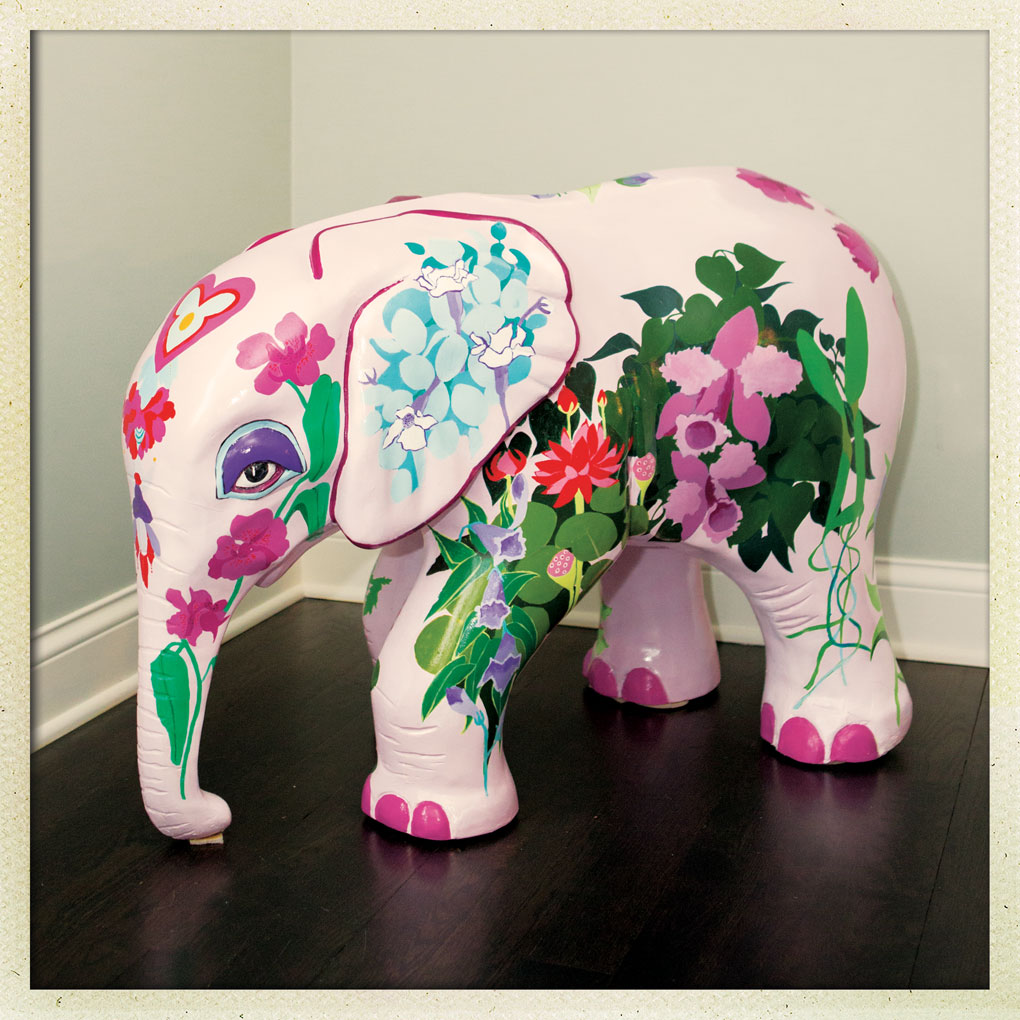 A hand-painted elephant created by Daniel's mother
When the London natives purchased their Edina home seven years ago, they used its sleek, clean lines and modern layout to counter their expansive collection of Asian antiques and reproductions. Exotic touches such as a zebra-print rug, cowhide ottomans, and a bright pink elephant sculpture (hand-painted in an Asian motif by Daniel's mother) give the living room a globetrotting vibe, while a chandelier and a pair of antique silver candle holders that belonged to Jane's grandmother add a sense of glamour to the dining room. "Jane goes for more traditional styles, while I go a bit more white and minimalist," says Daniel, "though it's hard with a 4-year-old to keep anything clean."
In their master bedroom, they've combined modern elements, including an Art Deco–style chandelier and a purple-and-gray color palette, with Asian accents such as textiles by Thai silk company Jim Thompson and antique artwork from a trip to Thailand, to which they added a new frame to give it a more current feel.
The Greens took inspiration for the bedroom's design from Thai hotels such as Bangkok's Shangri-La. "A lot of hotels have gotten away from that old-style, traditional Thai look recently," says Daniel. "They've made it much sleeker and more modern, but still with that Asian influence."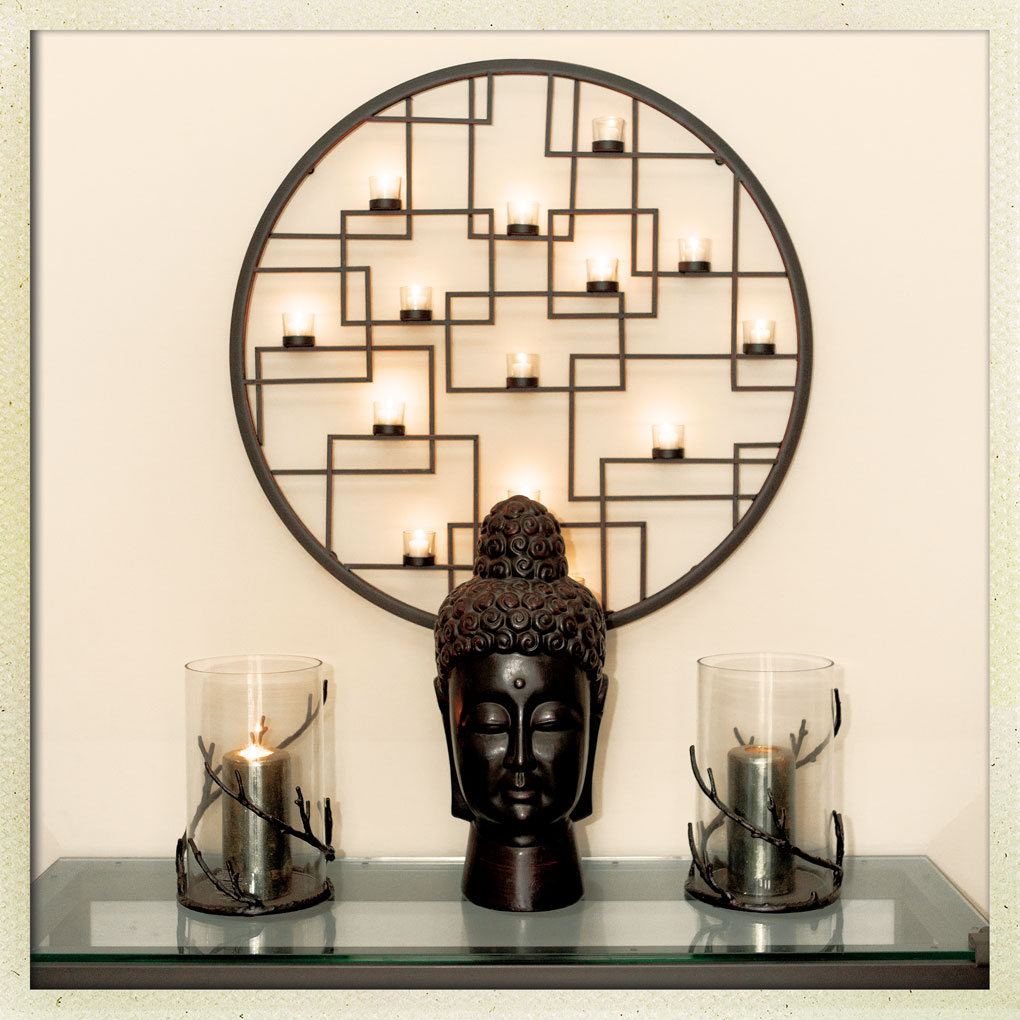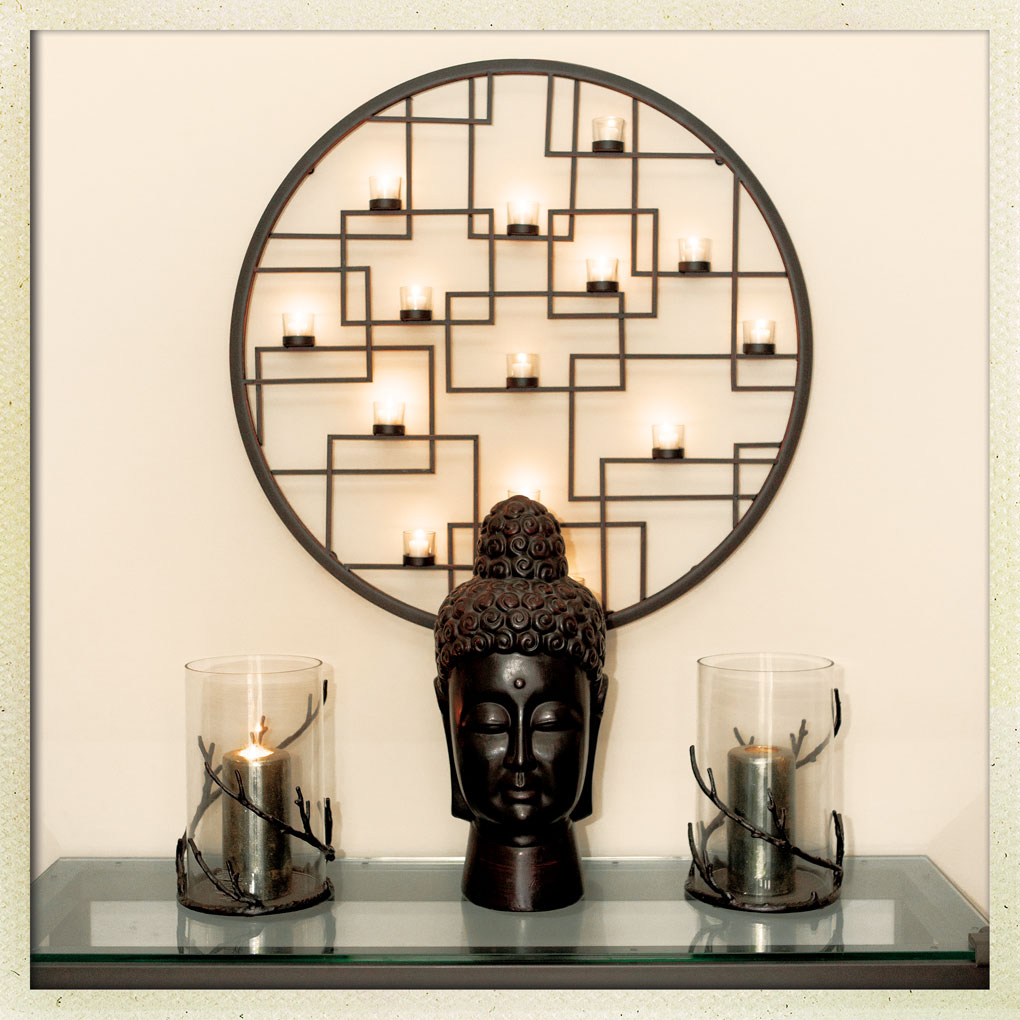 A tea-light candle sconce and Buddha head welcome guests at the Greens' entryway
Their home offers a calming base for their travels and busy work schedules. "This is one of our favorite places in the house, just to sit and read," says Daniel, pointing to a bay window seating area outside the master bedroom. "We seem to be very adventurous on our travels, but here we stick to a lot of the same."
And, thanks in large part to Daniel's cooking skills, Jane adds, "We entertain a lot more than we go out."
The Influencers: 
Daniel and Jane Green
Where do you shop for your home?
"I love Ciel Loft & Home—the owner imports from Asia and he travels everywhere," says Jane. "He's very good at picking out pieces that match your style." Other go-tos include Arhaus at Galleria and Gabberts.
Where can we find you wining and dining?
"I love Seven for sushi, and Salut always does a good steak tartare," says Daniel. Jane loves Tilia and Cafe Maude: "They're cozy
neighborhood spots, and the food is just really good."
How does daniel enjoy the flavors of Asia at home?
"I used to go to Hong Kong and bring back all this food only to get stopped  in customs," he says. "Now I get my Asian fix at Shuang Hur Oriental Market on Nicollet Avenue—they have live seafood and great sauces."
By Jahna Peloquin. Photos by Wing Ta