Erin Kate Duininck, son River, dog Sufjan Stevens, and the living room gallery wall that displays favorite artists from the Golden Rule, photos, framed maxims, and mementos.
In 2008, Erin Kate Duininck was looking for a home to share with her then-fiancé and daughter. A confirmed Minneapolitan, she didn't expect to end up on a former apple orchard in Excelsior.
Duininck first came across the 1920s, farmhouse-style home through a friend. "He said, 'My house isn't for sale, but I think you'd like it. It's a teardown on two acres.' I was like, 'Why are we going to see a teardown?'"
But as soon as the couple drove down the driveway, she realized, "That's my house! I'm home. We loved it, and we knew it was right."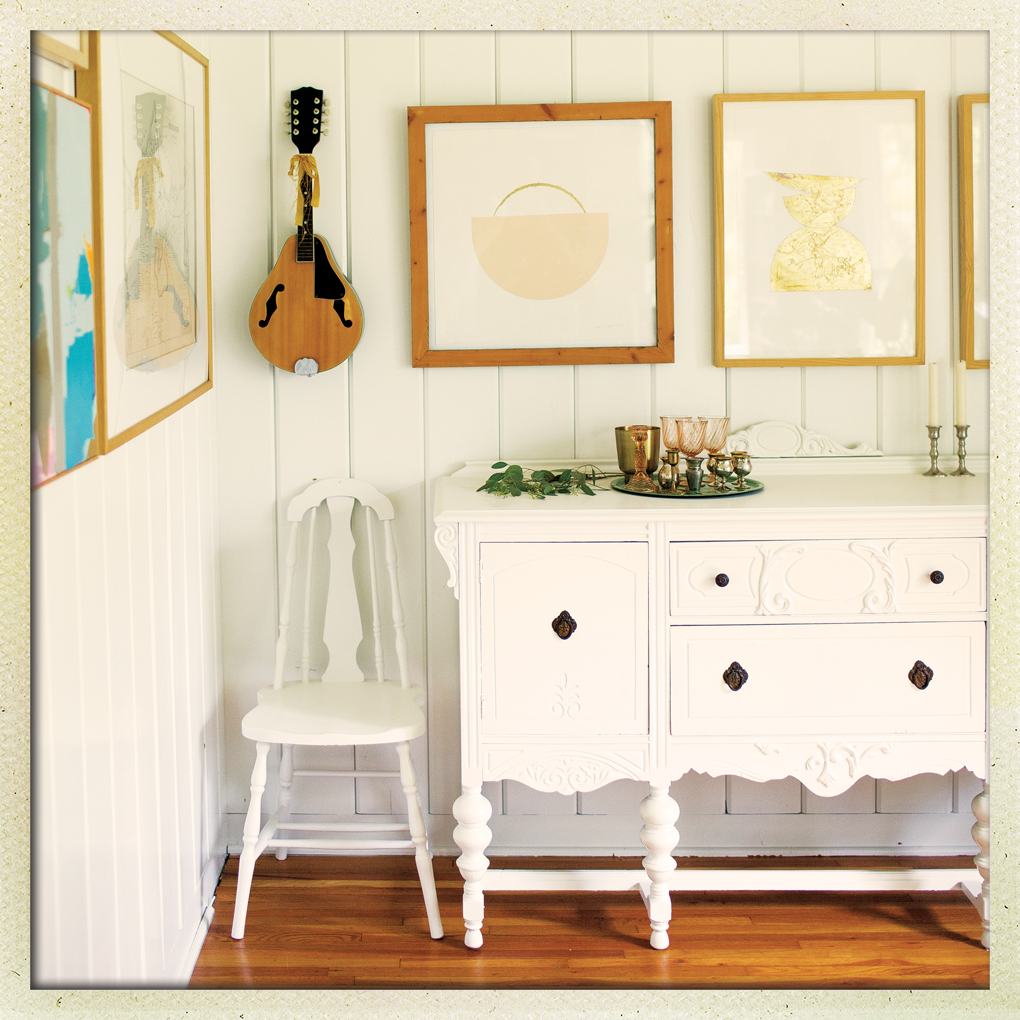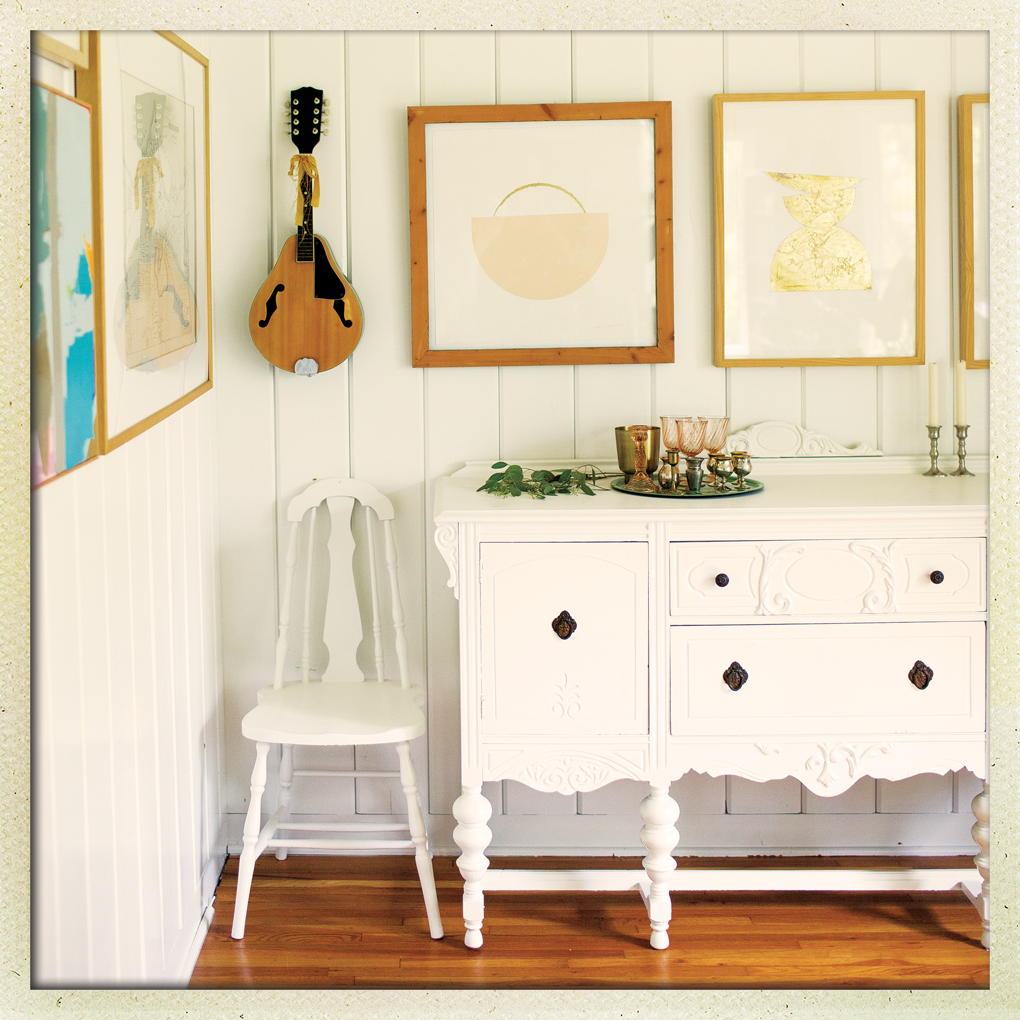 In the dining room, a mandolin keeps company with more artwork.
Instead of knocking it down, the couple made improvements while maintaining the home's vintage charm—eliminating walls; redoing the kitchen; and constructing an addition that holds a master bedroom with vaulted ceilings, large windows to let in plenty of natural light, herringbone wood floors, and a row of large, industrial pendant lights from Ikea.
Her collection of vintage tableware is right at home in the farmhouse kitchen.
Duininck's home brims with thoughtfully arranged artwork by local artists, including Ashley Mary, Siri Knutson, and Missy Monson—favorites from her Excelsior boutique, the Golden Rule—as well as framed personal mementos, portraits by her mother, and sherbet-hued vintage tableware stacked in open cabinetry.
Unexpected color pairings abound: A  hunter-green wood Hamilton type cabinet the couple had retrofitted into a kitchen island—a find from an antique store in nearby Buffalo—is surrounded by mauve walls and ivory marble countertops. A pair of Room & Board emerald green velvet armchairs complements a dusty-rose velvet couch in the living room. ("I hated pink until recently," she quips.)
A bookcase serves as another trove of nostalgic keepsakes including framed song lyrics written for her by her dad.
Nostalgia and family are central themes in Duininck's décor. Nearly every surface of her home displays fragments of her life: black-and-white photographs of her parents and grandparents on the mantel, framed song lyrics her dad wrote for her when she was in the womb, instruments in tribute to her professional-musician parents, a childhood handwriting sample from a former mentor, and a cherished drawing by her daughter. "I like to keep all my experiences close," she explains. "It makes my memories more real and ties me to the rest of the world."
---
The Influencer: Erin 
Kate Duininck
Where do you like to shop for home goods and gifts?
"My favorite place to shop for gifts if I don't make them myself is the Foundry."
Who are your favorite designers to wear?
"I love Hackwith Design House and Winsome Goods, which are both local. And I love Portland designer Lauren Winter, which I carry at the Golden Rule. Her stuff kind of makes me feel like a middle-aged art teacher. That's my vibe right now."
What are your favorite excelsior spots?
"I go to Gray Home + Lifestyle a lot. For dining, I love 318 Cafe, Lago Tacos, Victor's on Water, and Coalition. I like to get ice cream with the kids at Tommy's Tonka Trolley, which serves Sebastian Joe's; Licks Unlimited, a mom-and-pop ice cream shop; and Adele's Frozen Custard."
Save
By: Jahna Peloquin
Photos by: Wing Ta