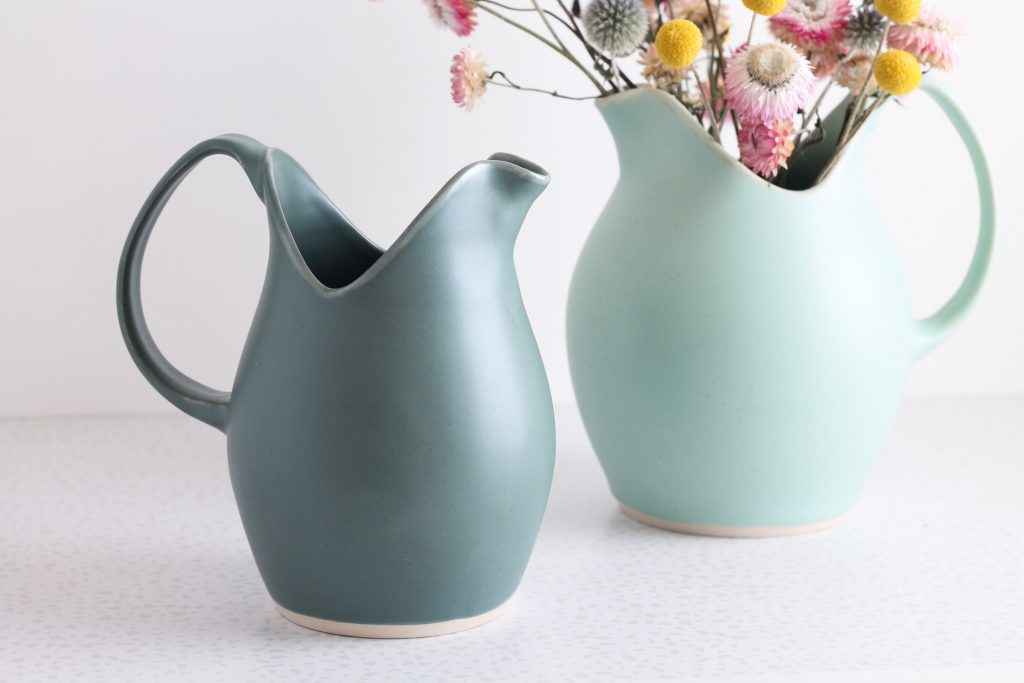 Have you ever wondered about the faces behind your favorite mug or set of plates? Here, we peek at five ceramicists dipping in and out of the kiln to make beautiful, functional pieces in Minnesota.
A MANO
The name says it all: Louisa Podlich is dedicated to making each of her pieces by hand. A MANO's collection of small, decorative, and functional pieces varies from napkins and jewelry holders to spoon rests. The pieces may be small, but they pack a punch with color and design. Bright neon colors, confetti-like glaze work, splatters of gold, and rainbows are just a few examples of what A MANO has in store. Podlich's impressive pieces can be seen and purchased from her website and Instagram account.
Adam Gruetzmacher
When it comes to pottery, Adam Gruetzmacher does his homework. With a fine arts degree from the University of Wisconsin, Gruetzmacher was set on the right track to pursue ceramics. This St. Paul-based artist takes on an industrial, yet geometric style with iron-rich stoneware to make stunning bowls, mugs, canisters, and more. Gruetzmacher applies hand-cut geometric designs to much of his work to add a more playful element. Jeff Gruetzmacher's pottery can be purchased from his Etsy shop and showings in the Twin Cities area. Check out more of Gruetzmacher's Jeff's work on his Instagram page and website here.
Fringe & Fettle Ceramics
This one-woman show is an example of how doing what you love really does pay off. Joanna Craw's dedication to subtleness and form is seen all throughout her porcelain pieces, including colanders, mortar and pestles, gravy boats, and more. Craw's color palette consists of pastel greens and pinks, bright whites, and charcoal grays to allow the porcelain to be the true star of the show. Craw's items can be purchased from her Etsy shop and marketplaces within the Twin Cities area. Keep up with Fringe & Fettle on Instagram and its website.
Jeff Burger Pottery
No one does it quite like Jeff Burger, whose talent and skill make his woodfired pottery pieces stand out. Working out of Farley, Burger began his pottery career for himself—aiming to make pieces he would personally want to use. Burger's signature stoneware consists of bright and lively mugs, mixing bowls, and canisters. However, Burger doesn't stop with only tableware—he also uses metal, wood, and clay to make home items like ukuleles, stoves, and more. Burger's work can even be found at various art shows throughout the state. See what Burger is up to on his Instagram, or see when his next showing will be on his website at Jeff Burger Pottery.
Sandwich Ceramic
Sandwich Ceramic launched when artist Francis Pineda-Fischer's passion for ceramics blossomed in 2018. This Minneapolis-based artist now combines his minimalist aesthetic with everyday items, as seen in his mugs, planters, and plates. Each piece is made with careful attention and focus, along with in-house glazes and locally produced stoneware clay. Follow Sandwich Ceramic on Instagram here, and check out more of work on his website at sandwichceramic.com.