Clean lines, open spaces, black-framed windows, and natural wood accents add up to create what we all know as modern farmhouse. Through the influence of celebrity designers like Joanna Gaines of HGTV's "Fixer Upper," the modern farmhouse aesthetic boomed in popularity starting around 2015 and has continued to appear in homes across the country. In May of this year, wallpaper designer Hovia labeled modern farmhouse as the most popular design style in the U.S., which has since been echoed by numerous interior designers, builders, and architects.
As a style that emphasizes simplicity through every element, there seems to be a strong divide between people with an affinity for modernity and a strong dislike. While often described as classic and timeless by fans of the style, others beg to differ that its white, modern elements lack personality. In a recent New York Times article, it is argued that the modern farmhouse aesthetic is the defining style of the era, and one that is here to stay. We asked local designers of Happy Place Interiors, Emily Pueringer Design Studio, and Kate Roos Design to weigh in on this argument, and to see if modern farmhouse truly is timeless.
Are you surprised by this argument?
Emily Pueringer (Founder & Designer, Emily Pueringer Design Studio): I think the modern farmhouse style is here to stay because of its versatility and widespread appeal across all social classes and income levels. Whether it's a starter home or a million-dollar mansion, it's a style that fits all sizes. The beauty of it is in its customizability—it allows people to embrace a broader range of colors beyond the conventional black, white, and gray palette. Mixing traditional elements with contemporary, clean lines adds a unique charm.
Kate Roos (Owner/Kitchen & Bath Designer, Kate Roos Design): The argument the New York Times makes does not surprise me. The impression of modern farmhouse is relaxed and uncomplicated—it reminds you of farm life with a gentle breeze and fresh-baked pie. I think modern farmhouse has become more of a catch-all term for design that is clean, modern, and approachable. There is a simplicity to it that resonates with people because it contrasts with the busyness of everyday life.
Do you personally like the modern farmhouse style, or are there certain elements that you appreciate?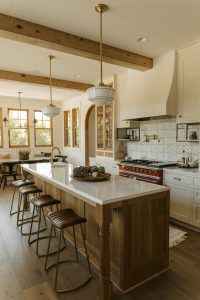 EP: Personally, I find myself drawn to the modern farmhouse style—especially one with a touch of European influence. I like to call it "modern cottage." I see a modern cottage design as one that incorporates graceful, curved arch elements and intricate moldings to add an extra level of charm and character.
KR: I can appreciate the grounding feeling that modern farmhouse evokes. However, for all its simplicity, it's a style that can easily be overdone. Randomly placed dormers, inconsistent roof pitches, and equal parts lap siding, black, and wood accents might water down the effectiveness of the design. Interiors can be overly stark, generic, and lacking in personality. In my opinion, the most successful designs are keeping with the clean, modern, and approachable elements.
Melanie Zaelich (Owner & Designer, Happy Place Interiors): There are lots of elements I appreciate—clean lines, open spaces, black windows, and wooden/natural elements. These elements are here to stay because they are classic and have always been here. Now, they're used in a new way.
Where are you seeing this aesthetic appearing most?
EP: I am seeing modern farmhouse in exteriors and kitchens, especially with shaker-style cabinets and subway tile. But I must admit that I'm not particularly fond of the traditional white subway tile with gray grout. Let's start adding more color and charm!
KR: We often get requests for the modern farmhouse style, but we are finding the true goal is simply thoughtful design—something that feels warm, inviting, and functional. This is usually requested throughout the home in kitchens, bathrooms, living areas, and the exterior.
Do you think the New York Times is right? Is modern farmhouse truly the defining style of the era?
EP: Without a doubt, the modern farmhouse style has established a strong presence in the world of interior design. Its popularity leads me to believe that it is here to stay.
KR: This may be true, but I'd say that more than the aesthetic itself, modern farmhouse is defining in terms of a 21st-century lifestyle. Having an escape from the weight and noise of everyday life, slowing down, simplifying your personal space, and creating ways of gathering with the people you love are the themes we see in design requests.
MZ: I agree with the New York Times that modern farmhouse is the defining style of today. Trends seem to have shorter lifespans since social media overtook our lives. The modern farmhouse style is nearly oversaturated, and once it is saturated enough, people will want to see something new. I can't imagine people cruising Instagram looking at 25-100 pictures of modern farmhouse everyday over the course of the next five years and not being completely exhausted by it. Our attention spans are shorter and our need for new is greater.
What other styles do you think are here to stay?
MZ: Transitional (or updated traditional) and modern are definitely here to stay. These styles have been around for decades. Each generation puts their own spin on the style, whether it's color, a specific wood species, or a type of pattern, but the essence of these styles is timeless.
So, what can we conclude? Modern farmhouse has its place, and most likely always will. While not everyone is in love with the style in its entirety, it seems that everyone can appreciate some of its elements being incorporated with other styles. That balance is what keeps things interesting: Combining the clean, modern feel of modern farmhouse with other untraditional elements and color creates a unique, one-of-a-kind personality for a home. With that in mind, we think it's safe to say (in one way or another) that modern farmhouse is indeed here to stay.