The living room fireplace is a cozy gathering spot for a vintage otter, goose, and exotic white bird. (Wing Ta)
Christine Ward and her husband Rick Haase have built their popular Patina stores around the idea of discovery—shopping there is a pleasurable wander and you never know what you might find. Their house is a lot like that, too.
A classic red brick colonial overlooking Lake Harriet in southwest Minneapolis, it holds more than a few surprises that reflect the creative sensibilities of the couple who met in a studio art class in 1989. They share the home with their two teenage daughters, the occasional exchange student, and a Chinese crested dog named Polly.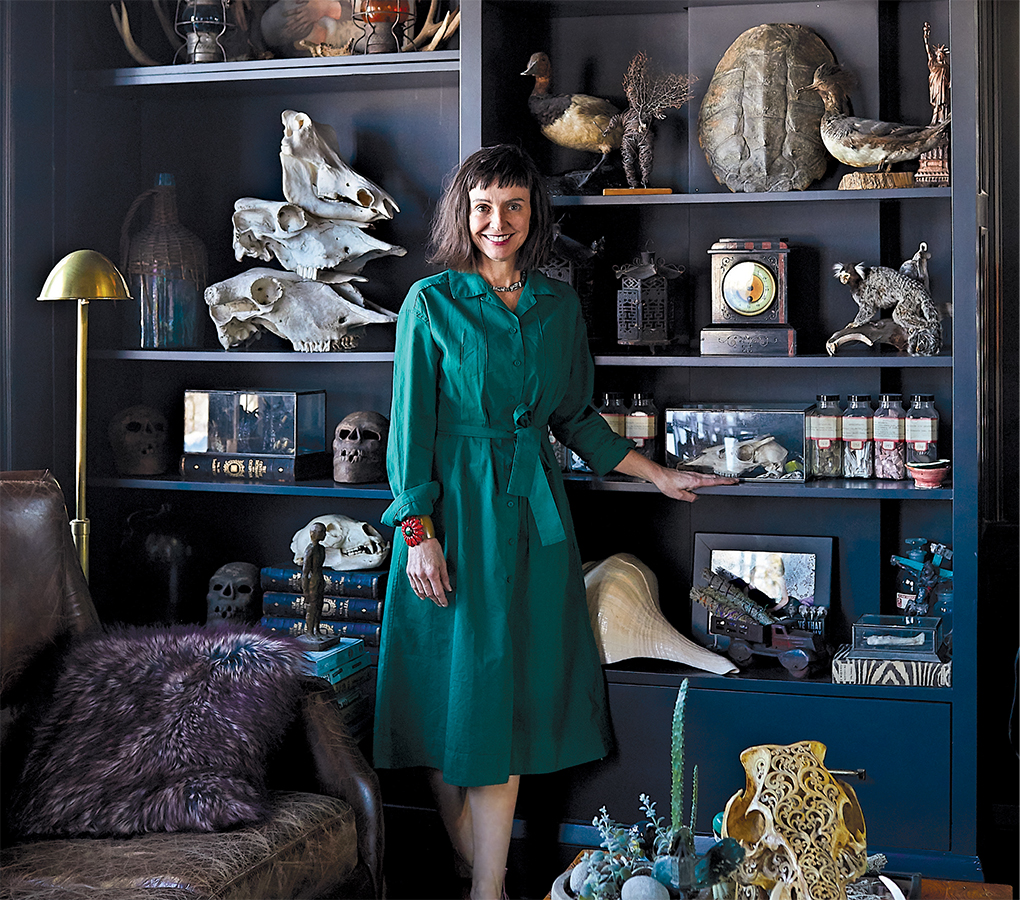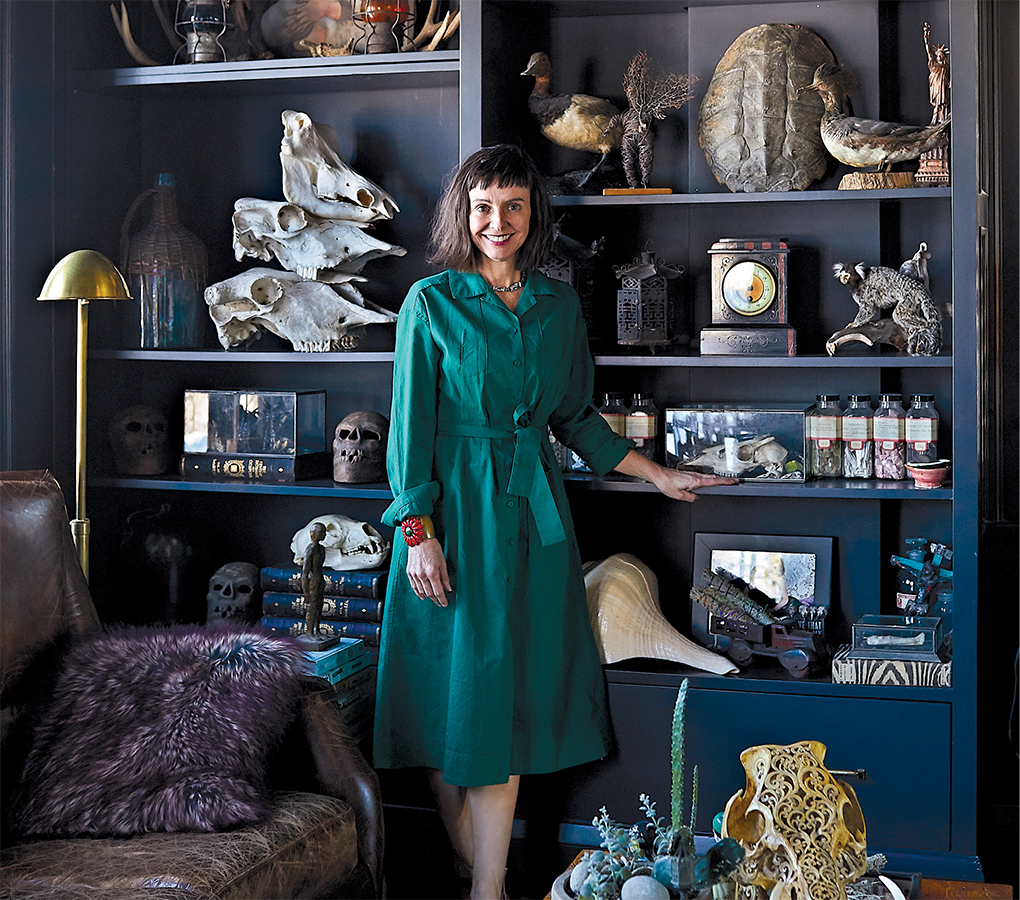 They purchased the house in 2007 taken with its lake views and location in the neighborhood they had come to love (their first store was located about three blocks from the house). And while Christine wasn't entirely charmed with the interior, she recalls "it was kind of like a puzzle that needed solving and we like a project." Although they both could see the potential of the house, Christine led the charge while Rick kept his focus on the stores. Among the challenges were a very 1980s kitchen and a labyrinth of poorly laid out rooms on the first floor. But with her clear vision, defined aesthetic, and attention to detail, the pieces of the puzzle came together and the result is a chic and soulful home.
Filled with eclectic fixtures and furnishings set against a black and white canvas, the interior feels fresh while staying true to its traditional pedigree. Christine's fearless use of black paint on the first floor adds unexpected drama. "The black felt warm and our things play well against a dark canvas," she explains. Their "things" are a remarkable series of vignettes that show off Christine and Rick's love of vintage objects that they've collected over the past two decades—taxidermy, religious icons, portraits, and tramp art (which is distinctive furniture and decorative items made from carved pieces of found wood that are layered to create intricate geometric designs). The displays are mostly Christine's compositions; Rick's creative energy goes into merchandising for the stores. They are sprinkled throughout the house like mini galleries, showcasing old things to advantage and giving them new reason to shine. Patina indeed.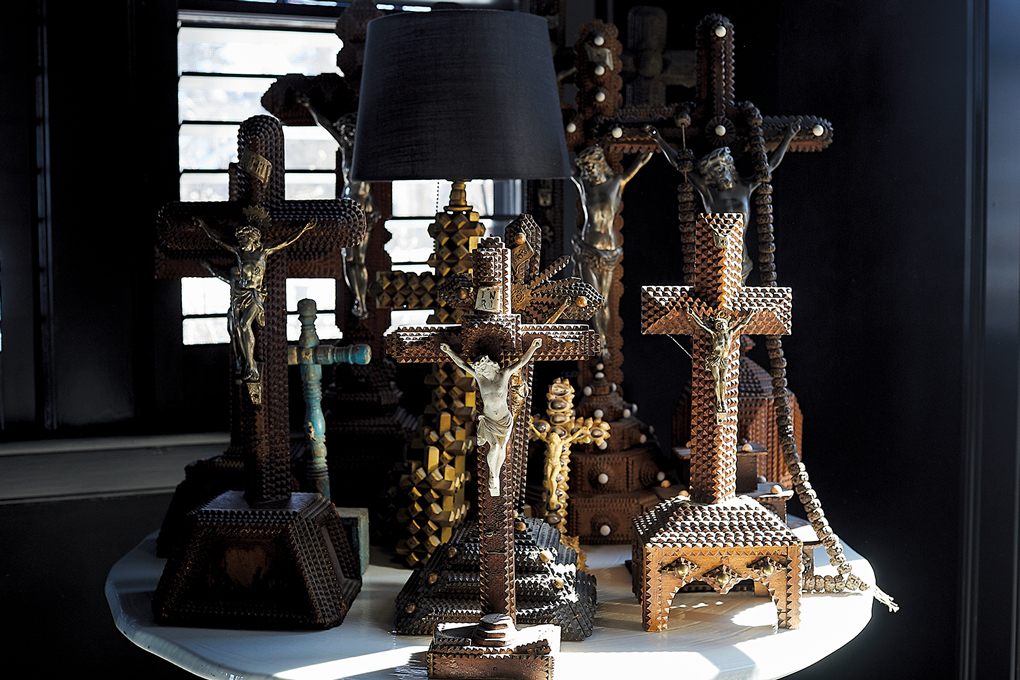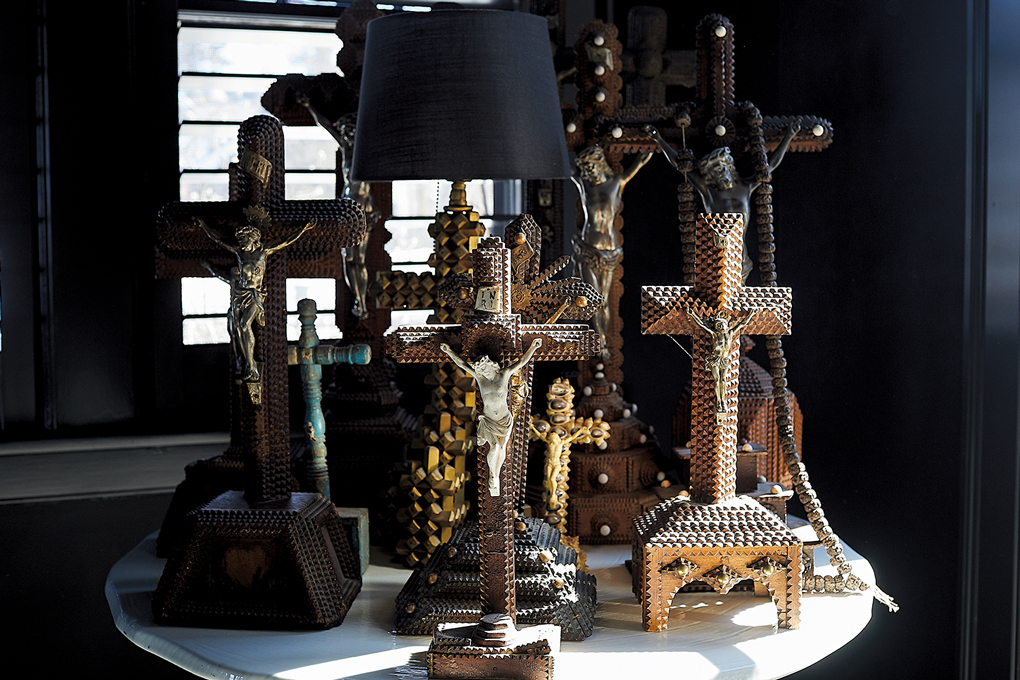 ---
The Influencer: Christine Ward
Do many items from your store find their way
into your home?
"Absolutely. Sometimes it's an item we took a gamble on that wasn't a hit with our customers and sometimes it's things we just love—right now, it's sparkly crystals, geodes, and these cool chunky amethysts that have great color and texture."
What are some of your favorite neighborhood
shops (besides your own)?
"I like to check out Hunt & Gather and Victory, which are both close. They always have interesting things."
What's your greatest indulgence?
"Escaping to the cabin for a day by myself! I love getting away from the city, and being at our cabin surrounded by nature helps me refuel."