If Jen Biswas were a season, she would definitely be spring. Petite and energetic with big blue eyes and a bright smile, she is a picture of optimism and reinvention. That same spirit permeates her popular lifestyle blog and Instagram feed, Paisley + Sparrow, where she explores fashion, home style, parenting, and female entrepreneurship.
One day she might post on how to propagate spider plants or reveal her home office makeover, and another on what the Hindu ceremony of Annaprashan is all about (Jen's husband Rishi is Indian by way of California), or profile a local entrepreneur she admires. The common thread is fresh, approachable style and a can-do attitude.
She lives in the Fulton neighborhood of Minneapolis with Rishi and their two under-two's—Roy, just rounding his second birthday, and Penelope, 11 months. They bought the newly constructed cottage shortly before getting married. "It checked all the boxes," Jen recalls. "Open layout, room to grow, and it was within walking distance of stores, restaurants, and coffee shops."
The house was a blank slate the couple could put their stamp on; perhaps more slowly then first anticipated because the kids came in pretty short order. But they wouldn't have it any other way, and room-by-room the house has come together with a mix of chic, kid-friendly furniture, colorful textiles, antiques Jen's scored from neighborhood shops like Clarabel Vintage—one of her favorites—and lots of plants, her go-to home accessory.
Pink, in a variety of hues from champagne to fuchsia, seems to have found its way into most rooms in the house. Jen laughs when asked about it. "Rishi started it with the dining room rug," she says. "It's probably the pinkest thing in the whole house and we just went from there."
---
The Influencer: Jen Biswas
How do you refuel and get inspired?
Stay off all electronics and either get outside or page through magazines, preferably in a hot bath. We also like to try new restaurants, many of which have really cool design.
Where are some places you like to go with the kids?
In the winter, we love going to the greenhouses at Bachman's or Tonkadale. They're always warm and a little humid and it feels so good to roam among all the green plants.
Favorite piece in the house?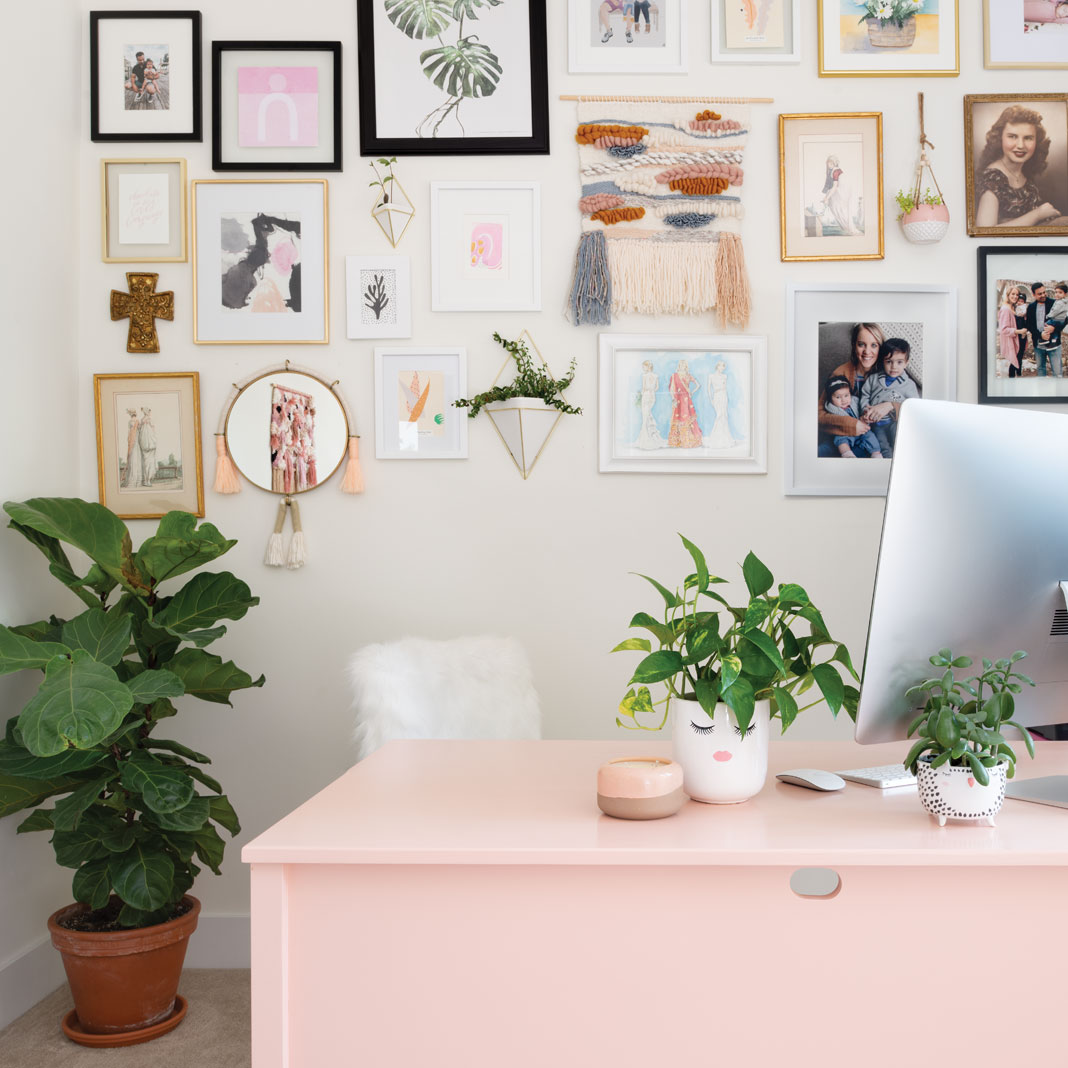 My desk. It was custom made by Justin at Midwest Woodcraft. It's the perfect size and has the right storage for my camera equipment and office supplies.
Any blogs or Instagram feeds you admire?
Lots! I love Carrie Bradshaw Lied for fashion, The Everygirl for lifestyle, and a local company, J Kath, for home design. Katie and Jesse are friends of mine and they have great style.