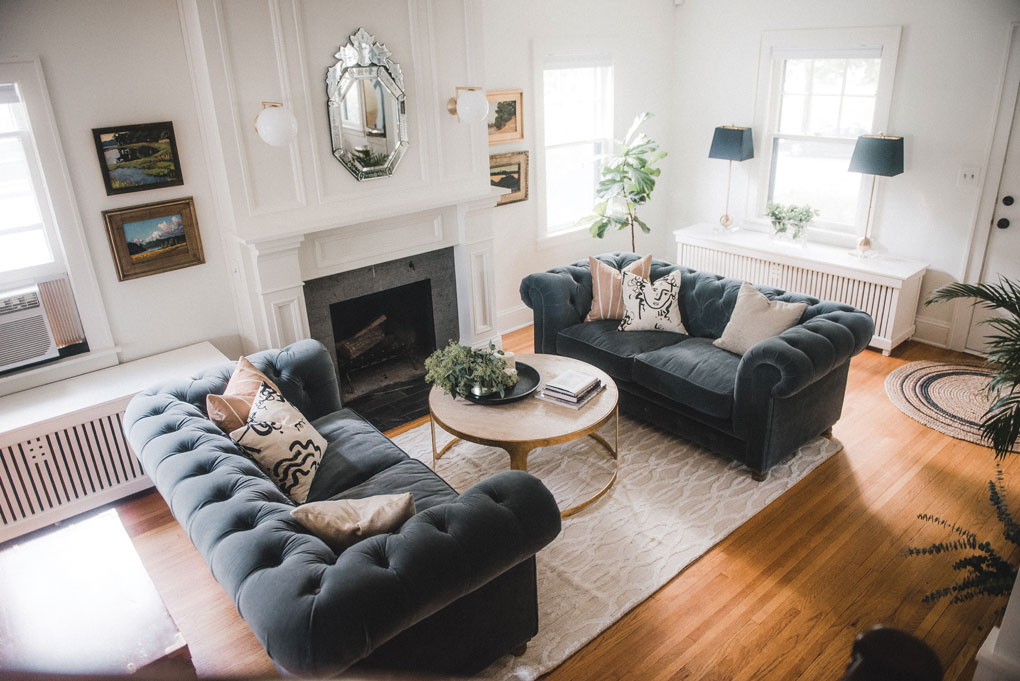 Facing Chesterfield-style sofas, an updated fireplace, and glass globe sconces give the living room a more formal feel.
Nancy and Mike Zeis had recently kicked out the back of their 1925 Tudor in south Minneapolis to gain more space without having to move. While they loved the additional light, much enlarged kitchen, and extra room they got from the expansion, they found the addition wasn't working as well as they'd hoped. They now had seating at the kitchen island, but they wanted a table for family dining and a better space for entertaining adults. The formal dining room was so inconvenient to the kitchen—at the front of the house—that the family used it more for storage than for meals. And their living room design just wasn't conducive to comfortable entertaining.
The couple hired interior desiger Victoria Sass, principal of Prospect Refuge Studio in Minneapolis, to transform their main floor into the fun, functional living spaces they desired. They wanted their décor to reflect their love of Florence and the French blog Mimi Thorisson's Manger. Her direction clear, Sass began mapping out her design recommendations.
The little used dining room before being repurposed as a den. 
One of her first moves: Repurpose the little-used dining room as a den. Then she removed a sectional couch from the large, new addition to the kitchen to make way for a casual dining area. With eye-catching, floor-to-ceiling mullioned windows on two walls, this part of the kitchen is now an enticing place for the family to sit down for a meal together instead of gathering at the island.
The dining room after being repurposed as a den.
Sass built on existing kitchen elements such as custom white cabinets, a white marble island, black granite countertops, and festive yellow chairs to create an inviting space. She added a black, rift-sawn oak dining table with a steel base to reflect the kitchen's urban loft vibe. Now the area functions equally well for family suppers and larger gatherings, and a comfy chair in the corner is perfect for curling up with a good book.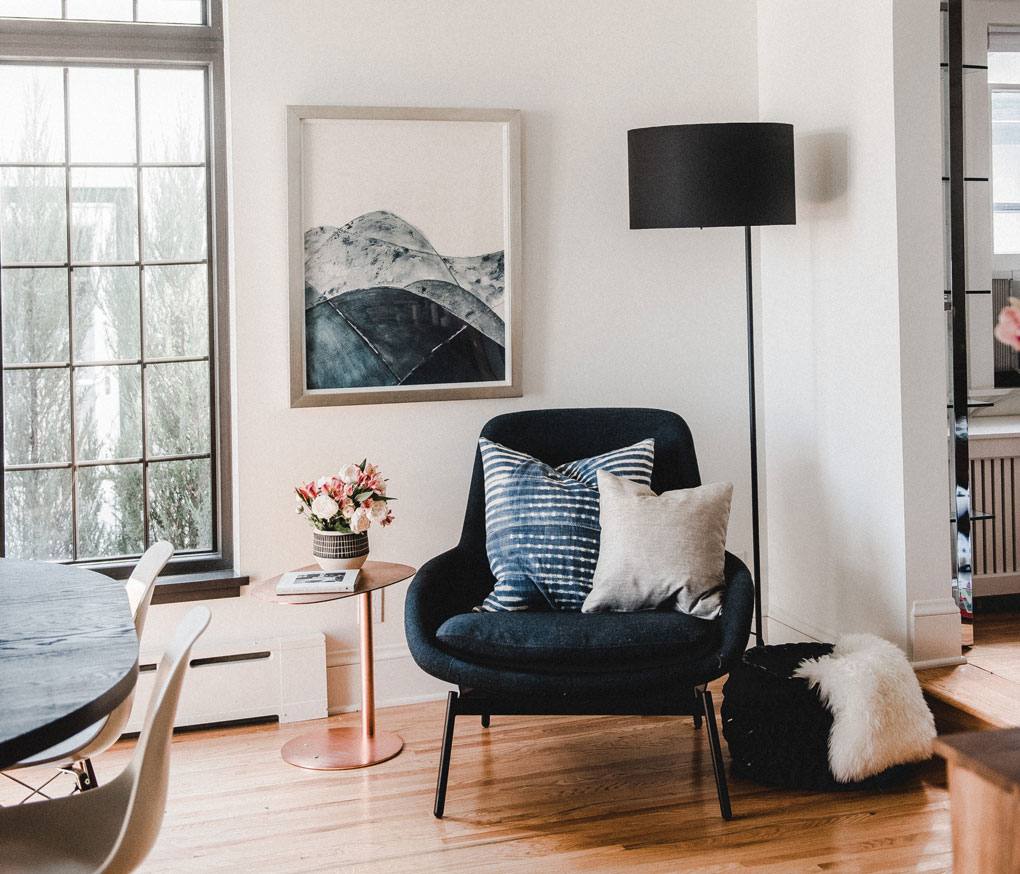 The kitchen's new dining area includes a cozy corner.
In the living room, Sass transformed the fireplace, which had a typical brick surround and oak mantel, into a sleek and sophisticated focal point. Matching the existing molding, she designed a more formal, architectural white surround that stretches to the ceiling with both honed and etched graphite marble for the hearth. Two glass globe sconces and a display of local artists' landscape paintings (including those by Mike Zeis) add to the room's symmetry and formality without being stuffy.
The living room before the fireplace was updated and the room given a more formal feel.
Sass also painted the taupe and yellow walls in the living room, den, and kitchen white. This simple, but significant, change unified and brightened the space, giving it a more youthful feel while letting the design elements and artwork shine. The blue and white décor—interspersed with pops of color from the unlacquered copper chairs and tables, custom geometric pillows, and modern lighting—combine to make a home that can dress up for company or relax when it's just family.
She added a rift-sawn oak dining table with a steel base in the spacious, recently remodeled  kitchen to create a casual dining area.
"They have a fun, playful style," says Sass, who points to surprises like a bold, blue floral wallpaper leading upstairs. "We tried to give each room a different personality while keeping the overall space tied together with the same color palette."
It fits the couple perfectly. "With our kids being older now, we wanted to live in an adult house without all of their toys all over the place. We wanted traditional styling but with an open look that comes from modern design," says Nancy Zeis. "And we wanted our kids to enjoy living here, but not have to worry about them breaking things. Victoria helped us find the balance between adult and homey in space that was more cohesive."
The couple is thrilled with the completed project. "It seems so much bigger," say Nancy. "We love having people over now!"
By Suzy Frisch. Photos by Amanda Schwinghammer