If you ask Kate Bispala, there's no place like Minnesota in the summer.
"My friends always ask me, 'Where are going for the summer?'" she says. "My response: 'Why would I leave Minnesota?'"
Over the years, her extended family has made plenty of memories at their lake cabin near Hibbing. But with demanding careers (Kate is getting ready to open a yarn and handmade gifts shop, and her husband, Brian, is a software developer) and three extremely active children (Sydney, 13, Aidan, 10, and Libby, 8), the couple found themselves craving more lake getaways but without the nearly four-hour drive up north.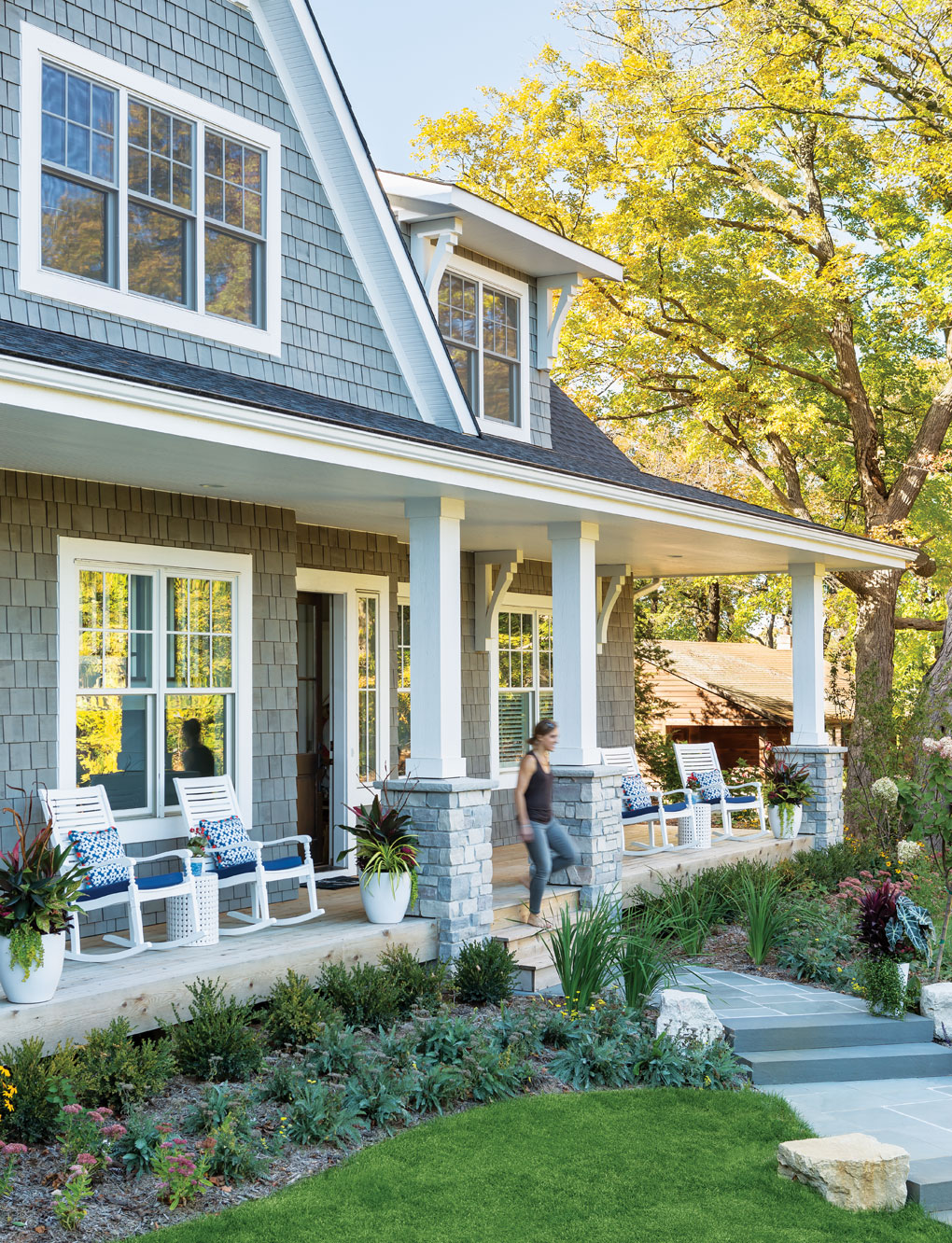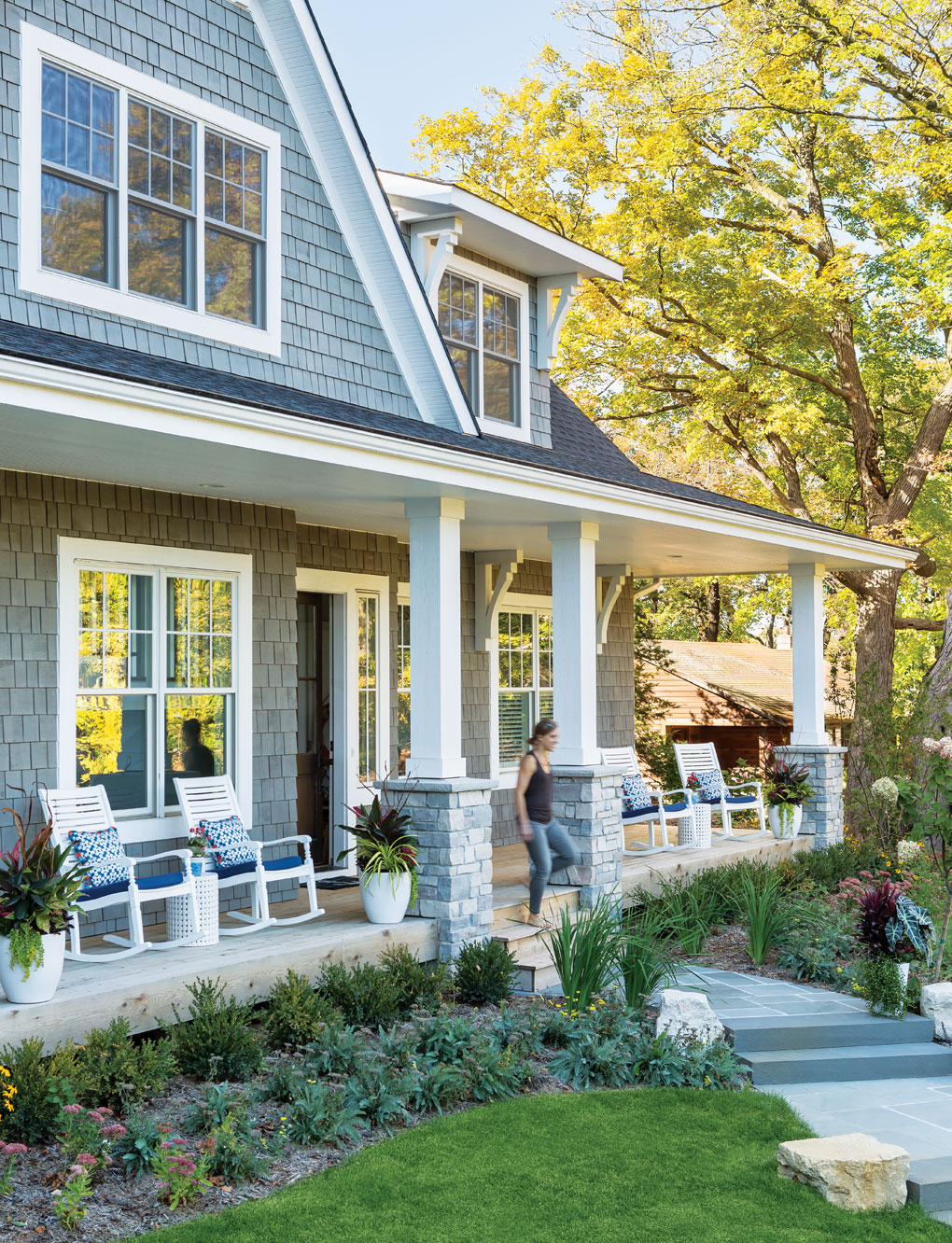 So, they decided to take a plunge, building a custom lake home on the west side of Lake Minnetonka. The commute? About 30 minutes from their Minneapolis residence.
"It allows us to keep up with our busy family schedules—the kids and all their various activities, and us with our jobs," says Kate. "This way, we're still able to take in the lake life and enjoy it without going so far away."
The couple enlisted Vine Hill Partners to construct the five-bedroom, five-bathroom, shingle-style East Coast-inspired home. With gorgeous views of Lake Minnetonka, and a large patio and screen porch with fireplace off the kitchen, the house is designed for relaxed, outdoor living. It features custom millwork throughout, a vaulted master bedroom, a kids' bunkroom above the garage, sport court, and sauna. A bedroom is situated on the main floor for grandparents, so they don't have to navigate stairs. It also includes an adjoining bathroom with a walk-in shower.
"There's a lot of wonderful detail in the millwork," says Vine Hill Partners' Cory Lepper. The house has crown molding, enameled bead board, and wainscot trim details throughout, and beamed ceilings on the main level.
After construction was completed early last year, Kate recalls being overwhelmed as she attempted to pick interior paint colors. "I'm used to my Minneapolis house where every room is a different color," she says. "Everything in the new house was so open—I didn't know where one color would start and stop."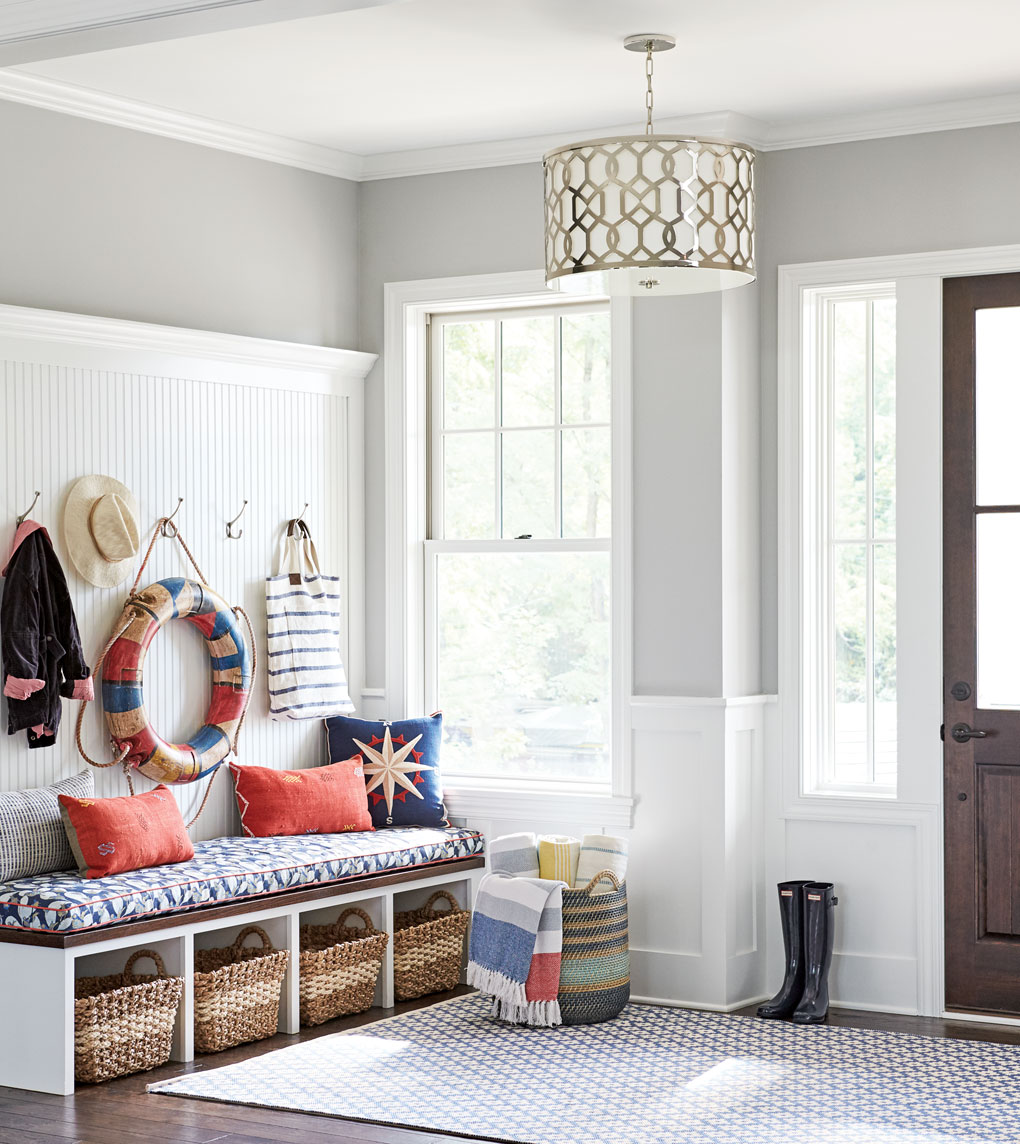 And while she loved the look of Pottery Barn and Restoration Hardware, she didn't want the lake house to look like a store showroom. She turned to Minneapolis interior designer Brooke Voss for help.
"It felt super coastal, so I was really inspired by that," says Voss. "We established early on that Kate loves navy blue and wanted to accent it with red. She wanted a classic color palette with pops of color."
With a fun, but not overwhelming, nautical nod to lake life, Voss brought pieces in from multiple sources including antique stores, International Market Square showrooms, local art galleries, and popular home stores. While each room is adorned with vintage finds, Voss was most excited by a "treasure trove" of items packed away in the Bispala's attic, including an American flag from Kate's maternal grandparents.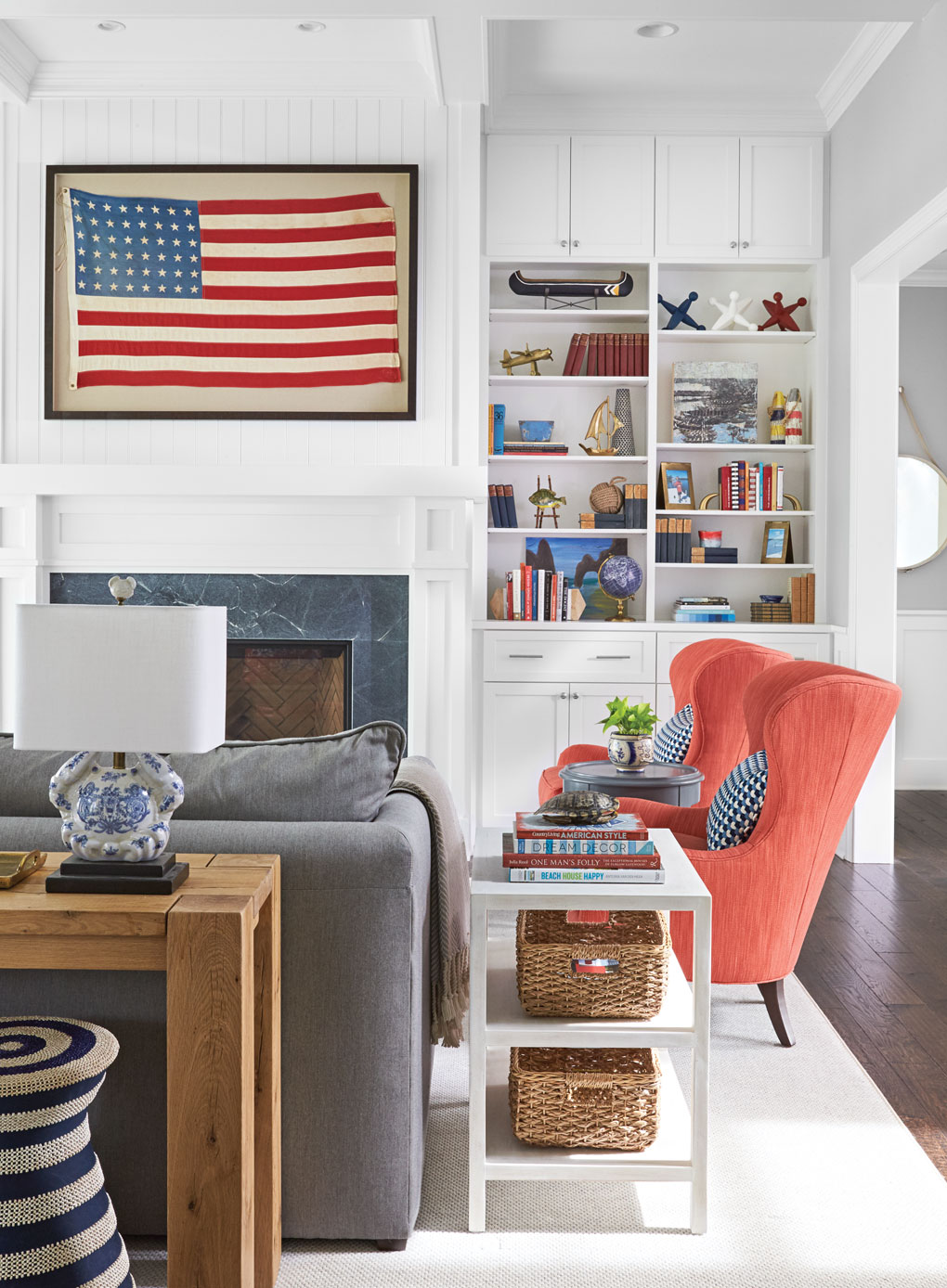 "That was the most special to me," Kate says. "My grandfather was a prisoner of war during World War II, and he had given me the flag when we had moved into our first house. It has 48 stars on it and a section where my grandma had repaired it because it ripped. It also has some paint splotches because my grandpa was painting the porch and the flag blew into the wet paint. I just never had a place for it, and so I carried it with me everywhere. Over the family room fireplace is the perfect spot for it."
Kate's paternal grandparents inspired some special wall hangings in the lake home, too.
"I had a cute little red bikini with a floral pattern that my grandparents had brought back from Hawaii for me when I was a toddler," says Bispala. "My mom had it packed away in her cedar chest. I also had been collecting some antique swimsuits and caps. We put them in shadow-box frames, and now they're scattered around the house."
As far as practicality goes, Voss used indoor/outdoor materials for the rugs and many of the furnishings, including the family room sofa and ottoman.
"What's really dynamite about the sofa and ottoman is they feel nice and soft, but if one of the kids is out in the lake and they come in with a damp swimsuit on and sit on the sofa, nobody's going to freak out," says Voss. "Kate didn't want anything to be too precious or fussy. If they were going to have a party, or a house full of kids and dogs and friends, she didn't want to have to panic about anything being too fragile."
A large farmhouse table in the dining area provides a seat for everyone at family get-togethers, and the inviting entryway offers visitors a warm welcome. "When guests come, they can just drop their beach bags right there, hang up their hoodies and everybody can take a basket from the bench and toss their flipflops and sunscreen in there," says Voss. "It's really comfortable for guests."
Kate's favorite part of her new lake home?
"I love the family room," she says. "I'll sit there in one of those red chairs and have coffee in the morning while looking out at the lake. I just love it."
The Bispolas won't give up trips to the family cabin in northern Minnesota anytime soon, but the ease of heading out to their Lake Minnetonka home can't be beat.
"We're just adding to our lake time," says Kate. "We're not taking anything away
from it."