Photos by Spacecrafting
There's a certain house in Prior Lake with a pink front door, and if you happen to be driving by, the cheerful color is bound to capture your attention. Accentuated by crisp white trim and slate-blue siding, the soft blush hue is indicative of what you'll find inside—light, bright spaces full of chic style, which is worlds away from how it looked only a year ago. 
After moving from the crowded city of Los Angeles, the owners wanted their new home to be distanced from their neighbors, and they found a prime spot in Prior Lake on a secluded 2.5-acre lot nestled among tall trees. While the location was perfect, the existing house was not. It had a nice open layout, but the early-2000s-era interiors—dark walls, heavy woods, a thick black countertop in the kitchen, and carpet in both the office and living room—were far too masculine for the wife's tastes. 
"We had come from soaking up the California sun to living in a house with dark walls and overcast Minnesota weather," Mary, the homeowner, reminisces. "The first week we lived here, it was dark even with the lights on, and I looked around and thought, 'It's so sad in here!'" 
With a vague plan of brightening the interiors with fresh paint, wood floors, and new furnishings in mind, Mary reached out to Martha O'Hara Interiors and connected with lead interior designer Gabriela Laboy. Like many main-level remodels, the original plan was to start small, but the spaces continued to turn out so beautifully the remodel soon spread throughout the rest of the level. 
With three teenage daughters, Mary wanted her new home to be elegant and sophisticated—yet durable enough to withstand raising a young son as well—so fabrics and materials were chosen for comfort, livability, and appearance. The kitchen was the starting point, and Mitch Shepheard from MDS Remodeling joined the team to help with what began as a small update by installing a new backsplash. In reality, it ended up being an entire tear-out due to the installation and location of new appliances. "The refrigerator went out during the remodel, as well as two burners on the stove," Mary says, laughing. "So, after that happened, we decided to commit and do the whole thing." 
An outdated bar was removed and transformed into a coffee station with a gourmet Miele coffee maker and warming drawer. New paint, cabinets, counters, a floral-patterned marble tile backsplash, and two full-size dishwashers completed the dream kitchen, perfect for the family who loves cooking together. 
Next, the team moved forward with the living room and office, favorite spots of both designer and client. After living on the West Coast for years, Mary was partial to its airy and colorful Bohemian style, and the living room's new colors, patterns, and textures perfectly reflect her preferences. Existing built-ins were replaced by cane-style storage consoles. Earth tones and touches of wood add warmth while the new fireplace's black mosaic tile and herringbone stone provide contrast. Laboy also selected a mix of seating with a camel leather loveseat, sofa and wing chair in different fabrics and shades of blue, and hair-on-hide footstools.
"I love how cozy the living room is. The mix-and-match of colors and textures we chose were a definite hit," says Laboy, who accessorized the space with modern and vintage pieces, botanicals, and Turkish textiles. "Boho style can be tricky—I don't like when people describe a space as 'Boho' and think they can throw anything in and it's fine because it's 'eclectic'—it loses all meaning. My main focus was choosing things that go with the Boho style but making sure to keep the space sophisticated." 
While the office wasn't originally a priority, Laboy encouraged a remodel due to its prominent location near the main entrance. With cabinets painted blush pink and a custom desk topped with sparkling white quartz, the refreshed space is now delicate, feminine, and exactly what Mary wanted.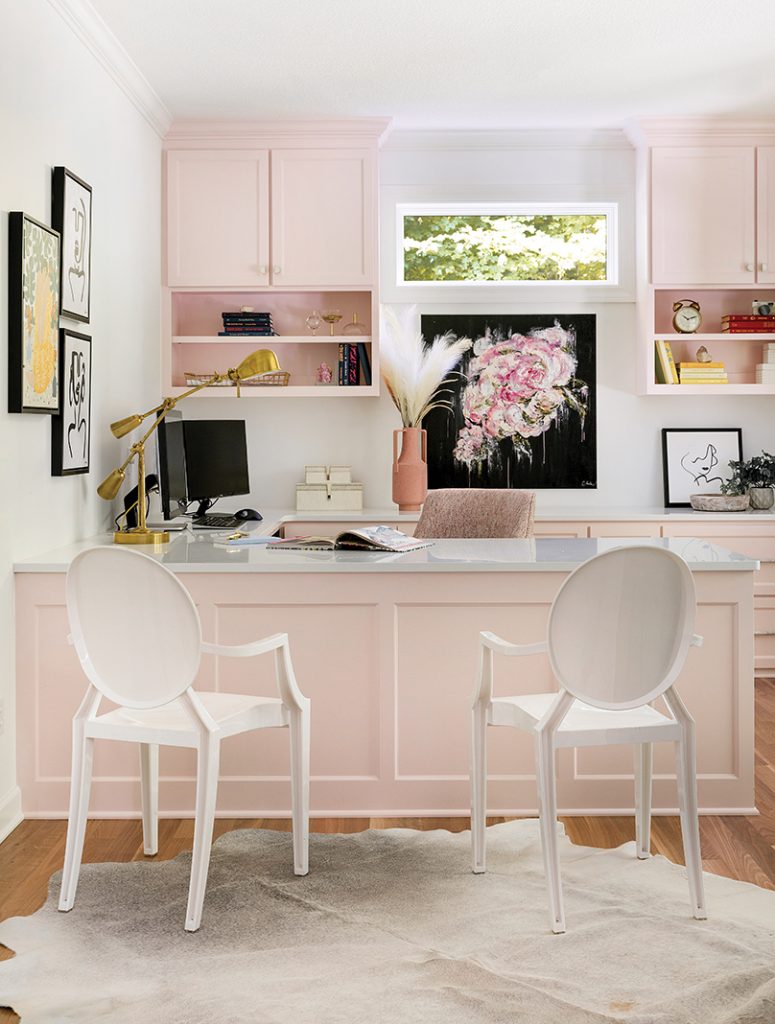 "When I first met with Gabby, I asked, 'Is this a safe space? I love pink!'" says Mary. Throughout the rest of the main level, dark taupe walls were painted, wood enameled, and floors stripped of their dark stain and refinished to highlight their natural Australian gum wood. A powder room received a facelift with funky and bright grasscloth wallpaper, new life was breathed into an outdated staircase to create an airy entryway, and the screened-in porch is now a favorite place to relax. The remodel even reached the exterior, where new paint and furniture—including a spacious lounger swing—create the perfect finishing touches. 
"After the inside turned out so well, we wanted the outside to reflect the beauty within, so we came up with the colors and pink door," says Mary. "It's really fun to see other people's reactions and our neighbors love it!"