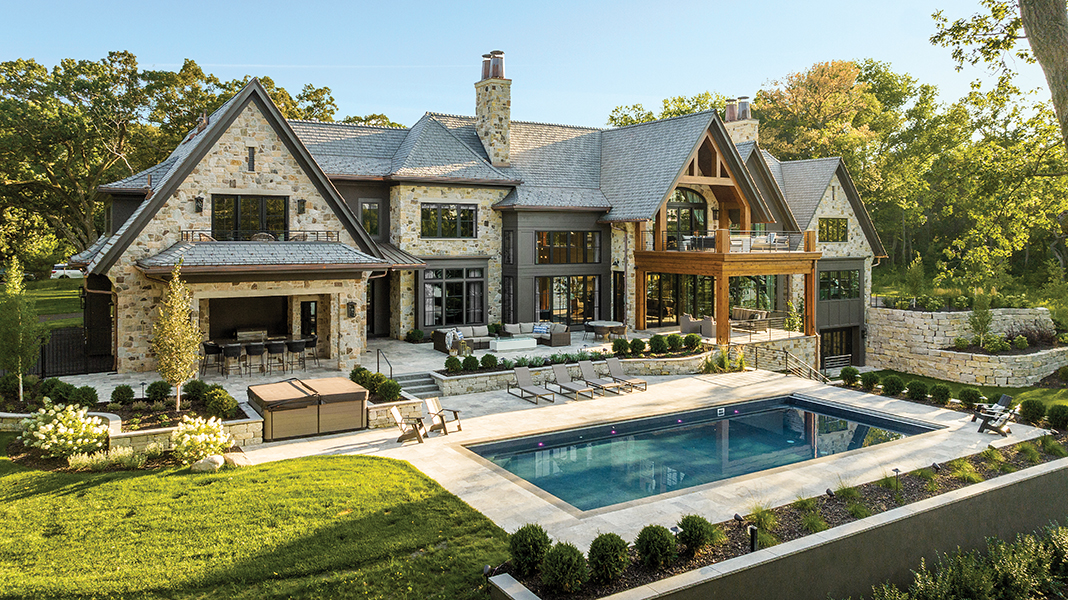 When this homeowner sought a fun, family-focused environment that doubled as a high-style home, he turned to college friend and Twin Cities home-building mogul Rick Hendel, owner of Hendel Homes, to build this 10,000-square-foot dream estate on two private lots on Pleasant Lake. Right away, his team (spearheaded by Amy Hendel, principal, and rounded out by Joe Dzurik, senior project manager; Allan Voight, site superintendent; and Molly Zwettler, project manager) united with Eskuche Design Group, Vivid Home, and Yardscapes Inc. to bring the North Oaks residence to reality.
The project ultimately came down to three Fs: function, feeling and, most evidently, flair. The homeowners desired a five-bedroom, eight-bathroom home with large spaces in which the family of five could not only live comfortably but also entertain and host big gatherings—all while maintaining an approachable, down-to-earth vibe. The interior is described by Danielle Loven, owner of Minneapolis' Vivid Home, as "casually elegant with a modern twist" and features "a mix of stone and metals melded into cleaner lines for a sophisticated, casual aesthetic," Amy adds.
"We were simply trying to avoid it looking new," Peter Eskuche, owner of Eskuche Design Group, says. "The architecture has the unexpected aesthetic [the clients] love and embraces an Old World home while being functionally modern."
Beyond the typical features within a luxury new build, the clients' desires culminated in outdoor entertainment areas, top-of-the-line indoor amenities, and kid-friendly spaces and selections tailored to family life on the lake.
"[It's] truly designed for a family to live in," says Loven, who collaborated with Amber O'Brien, senior interior designer, on the project. "Everything isn't delicate, nor does it have to be perfect. You can jump on the couch, but you can also have a high-end dinner party. Our rugs and fabrics—things that are touched on, walked on, lived on every day—they look beautiful, but they can also be spilled on and cleaned," she continues. "Pillows and drapery fabrics really bring that refinement without the worry. … Then, we got into the details."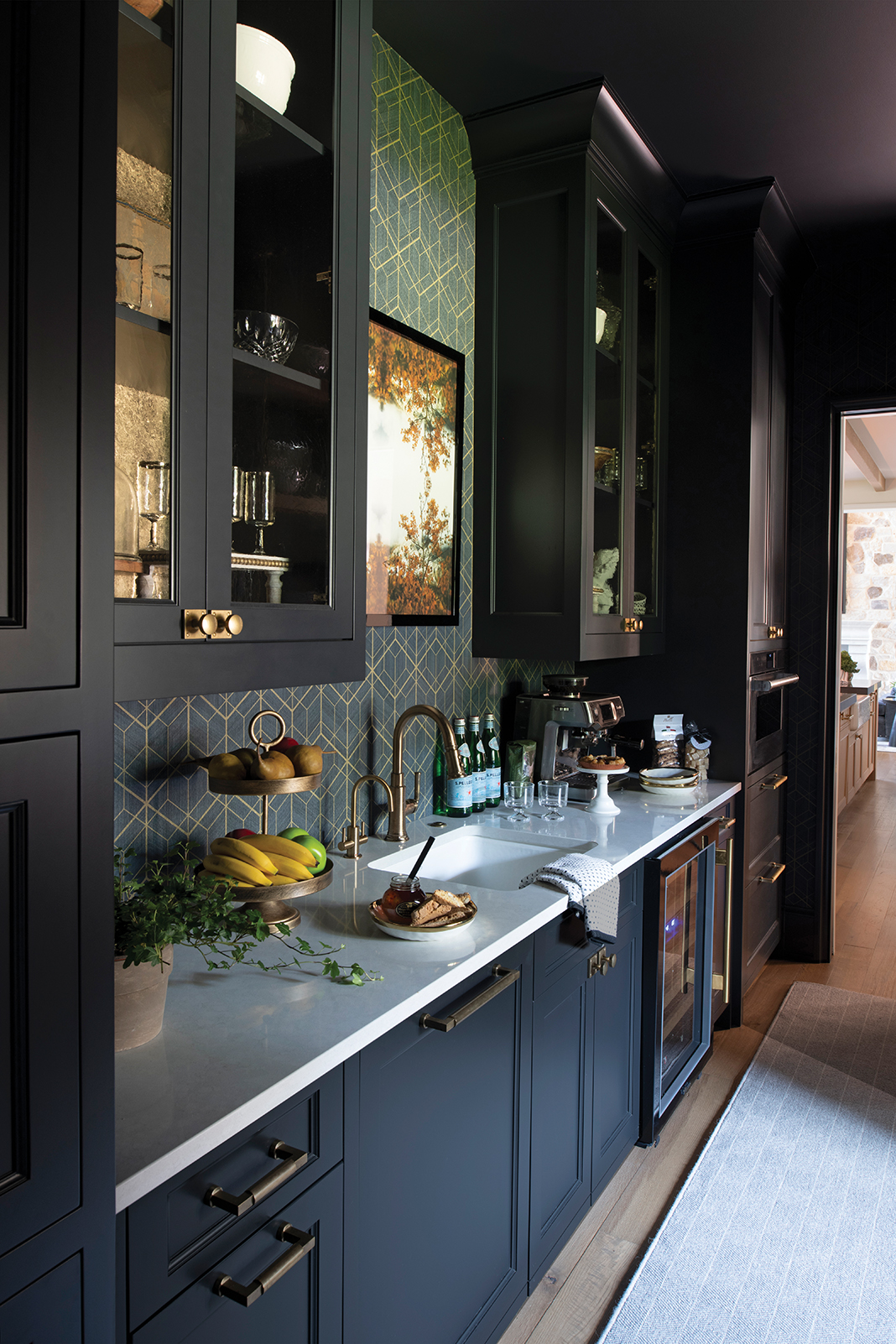 These details are reflected through a high-contrast color palette that leans modern, yet still echoes an air of timelessness. The designers selected their go-to neutral Benjamin Moore shade, Silver Satin, for the walls because of its versatility and "chameleon-like" quality. This simple base allowed the more dramatic color choices to shine while maintaining a cohesive, organic, and high-quality look throughout the home.
That impression continues to the exterior and landscaping. "We were trying to create more of a kept, timeless look around the house with the hydrangeas, upright junipers, and greenery," says Lincoln Danforth, landscape designer at Yardscapes Inc. "On the perimeter, [the client] wanted to capture the old feel of North Oaks and create a wooded effect from the street, so we planted a wide variety of native trees to feel more closed off."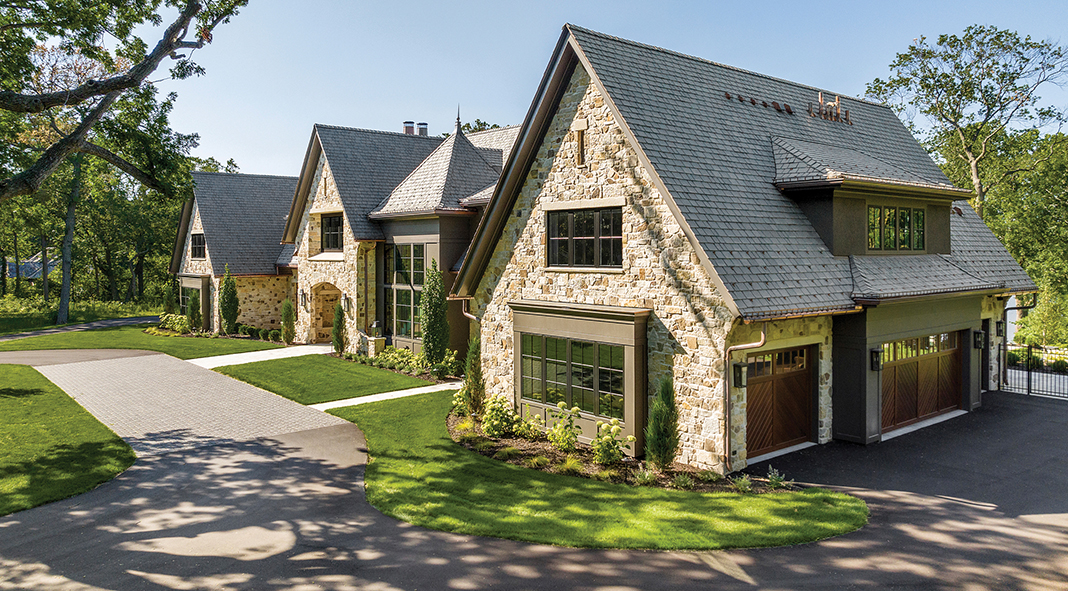 Whether the homeowner and his guests opt for margaritas at the pool or cups of coffee on the patio, his custom home embraces the power of connection—and a good time!—with both family and friends of the past. "It's a cool story," Amy says. "Who knew back then in college that this would happen and Rick would build his dream home?"