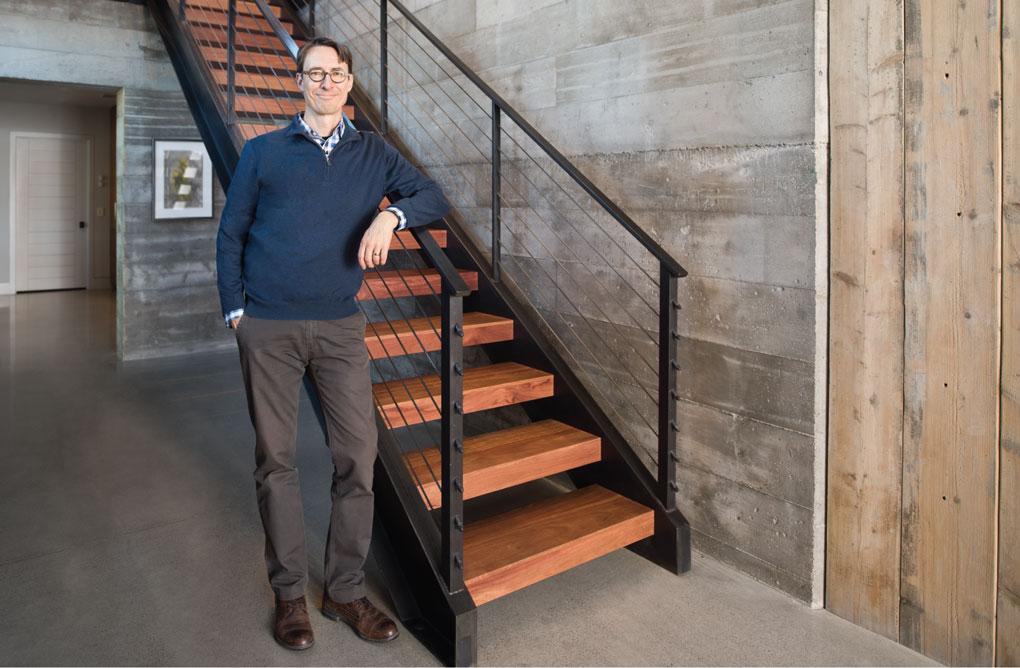 At the beginning of his college career, Mark Larson found art and other creative pursuits just too much fun. So he chose pre-med instead. Changed course and got an economics degree. Then he discovered architecture. "It not only fit my skill set because I love to draw and make things," says Larson, who earned his architecture degree from the University of Minnesota, "but it also suited my desire for rigor and my need to take on a profession."
Arguably, Larson's diverse educational background has also contributed to his ecumenical approach to residential architecture. The spectrum of styles, sizes, and aesthetics manifested in his houses, in fact, was one of the aspects of Larson's career that impressed the jury that gave him the 2016 Architect of Distinction Award.
"One can feel bad about not having the 'thing,' a look that gets repeated," says Larson, who started Rehkamp Larson Architects in Minneapolis with his wife, architect Jean Rehkamp, in 2000. "But we don't do that. Clients come to us asking for something we haven't done, so we research and translate our findings into good architecture."
Above: His remodel of a classic south Minneapolis home created a light-filled corridor.
Larson also prides himself—and the 14-members of his highly collaborative firm—on being a generalist. "I believe deeply that I'm a generalist," he explains, "which means we know, and care about, all kinds of stuff that's going to matter to homeowners, including soil conditions, heating systems, color selection, appliances, tile and grouts, structural engineering, landscape architecture, birds and wildlife. Moreover, we're happy to learn what we don't know."
Timber framing? Combined with a clean modern aesthetic? No worries. The jurors lauded Larson for his "accomplished use of timber-frame construction" in a cabin on a steep wooded hillside above a lake. The architect created a promenade adjacent to the water that leads up the steps, across a balcony, and onto the screen porch before opening into a home with soaring wood ceilings, wood-framed floor-to-ceiling windows, and wood floors. He tempered the rich cabin-like interior with a touch of industrial loft: steel railings, exposed ductwork, and kitchen countertops in black.
Conversely, in a project Larson calls Buckeye Point, also sited next to a lake, he used wood ceilings to warm up an industrial, durable materials palette of exposed steel and concrete. His "well-resolved spaces," said the jurors of Larson's design, occupy three wings to take advantage of the site's natural ridges, and maximize views of the nearby meadows and woods.
Above: While the front of Minnetonka Modern is subdued and private, the rear screen porch and patio open up to the surrounding marshland.
Both lakeside projects "showcase a high level of coordination with the many trades and artisans that need to come together to make an artful house," Larson says. "I believe the most amazing projects are the result of a robust collaboration between clients, designers, and all of the craftspeople necessary to realize the clients' vision. Such houses are way more than the sum of their parts."
For Larson, positioning himself as a generalist also means being innovative in resolving challenges: Inventing design solutions, in other words, for every project. When Wendy and Nick Brown approached Larson about renovating their classic south Minneapolis house, they were intent on retaining the home's original bones. Still, they wanted more space, and light, airy interiors in which their growing family could thrive.
Larson pivoted the traditional central staircase to the north side, "opening up the entire middle part of the house so we now have a central corridor filled with light from west to east," says Nick Brown. The couple also wanted a smaller bedroom and no large walk-in closet.
"I know that's unusual these days," Brown says.
Above: Larson tempered the rich interior of this timber-frame cabin with industrial loft touches, including black countertops in the kitchen.
"Mark's design positions our bed toward large, southern windows—which are actually in a closet," Brown continues. "It was a unique solution since the closet has floor-to-ceiling cabinets, covered with doors, so the closet really feels like a room of its own." The home also has an expanded kitchen with a masonry fireplace, lower-level family room, and wraparound back porch and covered front porch that create strong connections to the outdoors. A geothermal heat pump supplies heating and cooling, and Larson designed overhangs that maximize passive solar in the winter months.
Limitations and restrictions, such as a tight city lot or setbacks next to a suburban wetland, also drive Larson's inventive design solutions. "Constraints always make a project better," he says, "and pushing up against those edges is what we do with our clients." In the house Larson calls Minnetonka Modern, "tight setbacks defined the footprint, which flares out like a polygon in different directions."
The clients—who were building their future retirement home—requested an acoustically precise music rehearsal and teaching room, an electronics lab, and both a working kitchen and an entertaining kitchen. More specifically, Larson says, "They wanted a pizza oven, like a hearth, anchoring an open, courtyard-like home." He created a plan around an open living space with large windows and a modern pizza oven at one end.

Above: The project joined timber-frame craftsmanship with clean modern lines.
Tucked around the living area are the working spaces, bedrooms, and a second kitchen, "where they cook everything else besides pizza," Larson says. Clerestories bring in abundant daylight, while cantilevered roof overhangs and photovoltaic panels add to the home's sustainable design. Because the homeowners requested a high level of privacy, the front of the one-level house is more subdued than the back, which opens up to the marsh with a screen porch and an outdoor patio.
Prior to cofounding his own firm, Larson worked in the offices of Vincent James, Leonard Parker Associates, Julie Snow, and HGA, primarily on large projects. After he and Rehkamp completed their first project together, a cabin for Larson's parents, he knew residential architecture was his calling.
"Working with residential clients is so satisfying," he says. "When a house exceeds their expectations and fits them just right, it's a thrill to watch how our work can transform the way they live. Whether it's a front porch, a small kitchen, or a multi-million-dollar house, our clients are investing in something that matters tremendously to them. When they see the completed project for the first time—after imagining what it could be—the look on their faces … well, I never get tired of it.

Above: Inside the lakeside project Buckeye Point, wood ceilings throughout (and a wood-lined sauna) warm up the industrial steel and concrete materials of the exterior.
Mark Larson's Favorite…
Architectural style Vernacular Modern 
Twin Cities neighborhood Linden Hills
Public Building (local) Lakewood Cemetery Mausoleum
Design inspiration Client and site
City (international) Rome, Italy
Building (international) Casa Batlleó, Barcelona
Room to Design Art studio
Design Trends Open-living kitchens with a hard-working pantry tucked around the corner
Material Trends  Beautiful durable materials that get better with age
By Camille LeFevre
Photos by Chad Holder, Susan Gilmore, Troy Thies, Scott Karsten Ervin, and Ken Gutmaker