An idyllic setting, friends who love to cook, and inspiration from the Patagonian chef who reinvented outdoor grilling. What could go wrong?
Only the weather. Heading for Madeline Island, off the south shore of Lake Superior in Wisconsin, the group of 12 was stymied by an early winter storm that shut down the ferry—the only transportation to the island. Their trip was delayed by 24 hours, but the fresh snow made the setting even more magical and the cold only added to the primal allure of Francis Mallmann's open-fire cooking.
When they finally arrived at "The Barn" on the northern shore of the island, they settled into a 3,000-square-foot home surrounded by pine, maple, and birch with its own 900-foot stretch of lakeshore. This is a place made for large group stays: It has five bedrooms, two bathrooms and sleeps up to 16. (It's available for rental at vrbo.com/382507.)The name of this enchanted place is quite literal: It's a 200-year-old Vermont hay barn that was taken apart, peg by peg, transported to the island, and reassembled in 2003 by The Barn People, a Vermont company that specializes in such operations. The owner, Sanders Marvin, who purchased the property in the early '90s, didn't want to put up any old house or even an architect-designed home here. He wanted the real thing: massive beams hand-hewn in 1810 and interior wood "chewed on by cows." The house has soul, he says. "It had soul immediately."
In keeping with his commitment to authenticity, the structure was pegged just as it had been, and builder North Woods Construction used all hand-forged nails for the finishing work. "No drywall," says Marvin. "That was a rule." The floorboards came directly from a Missouri barn—delivered by the farmer, coating of manure intact. Installed after a power washing and light stain, they give the floors a real barn patina.
Verisimilitude doesn't substitute for creature comforts, however. Those barn-board floors have radiant heat and the enormous fireplace, its intricate handiwork by stone mason Tim Sullivan, keeps the massive room cozy. The gourmet kitchen is stocked with cast iron and copper cookware, a Viking range, and copper countertops. The massive dining table, made from a single piece of Kauri wood—a prehistoric fossilized wood from New Zealand—by Ancientwood, Ltd., is one of a kind.
All in all, it's a simpatico setting for meals cooked over an open fire. These simple but delicious recipes require minimal prep, but plenty of group participation, to keep the fire tended and the grill cooking at a constant temperature.
The Feast
The inspiration for this grill fest came from the episode of Netflix's Chef's Table that featured Francis Mallman's open-fire grilling technique. The following recipes created or adapted by food stylist Lara Miklasevics.
The Fire
Begin with building the outdoor fire. Wait for your logs to burn and break up into red-hot coals. You need to keep logs burning alongside the coals to maintain heat for several hours. Rake coals out to create a medium heat. To test for medium heat, hold your hand about 2 feet above the coals or desired cooking height. Count whole seconds ("one Mississippi, two Mississippi…"), when you have to pull your hand away after five to six seconds, that's medium heat.
Leg of Lamb with Mint Chimichurri
1 bone-in leg of lamb, 6-7 lbs.
Coarse sea salt and freshly ground black pepper
Season the lamb with salt and pepper. If desired, brown the meat on all sides on a grate over the open fire.
Truss the lamb with butcher's twine (doubled) or food-grade stainless steel wire at the end of the shank bone. Hang the lamb from a low tree branch or metal tripod, butt end down, 2 feet over the coals.
The lamb will be done in approximately three hours; coals need to be maintained at medium heat the entire time. Internal temperature should read 135°F for medium rare. Let rest for 15 minutes. The meat will range from medium to medium-rare to rare as you carve up the leg. Serve with chimichurri sauce.
Mint Chimichurri
1c. chopped parsley
1c. chopped mint
¾ c. olive oil
¼ c. lemon juice
2 Tbsp. minced garlic
2 Tsp. red chile flakes
salt and pepper
Combine all ingredients.
Roasted Chestnuts
Rinse chestnuts in cold water. Score the flat side of each nut with an X. Grill on a flat cast- iron skillet directly over fire or wrap in foil, set alongside open fire. Roast until the shells begin to split open and the insides feel soft. Peel off the shells and enjoy.
Butternut Squash Soup
To make over an open fire, use a Lodge tripod to hang the pot or use a cooking grate over the fire. This could also be made indoors on the stovetop.
1 large butternut squash, about 3½ lbs.
4 Tbsp. unsalted butter
2 Tbsp. extra virgin olive oil
2 large onions, thinly sliced
4 large garlic cloves, peeled  and smashed
¾ c. white wine
2 Tbsp. fresh sage
coarse salt and coarsely ground black pepper
4 c. vegetable stock
6–8 thin slices of toasted bread
freshly grated Parmesan for garnish
Peel, halve, and clean out seeds from squash. Cut into 1½-inch cubes. Prepare outdoor fire, let the wood burn down to coals, maintain medium–high heat. Place Dutch oven on grate over medium–high heat. Add butter and olive oil. Add onions and garlic. Sauté until soft and golden, approximately 10 minutes. Add the squash. Stir to combine, adding white wine and 1 Tbsp. of the sage, salt and pepper to taste. Maintain medium–high heat, cook until wine has evaporated. Add the stock and bring to a boil. Move pot to lower heat, cook gently, uncovered, for another 20–25 minutes or until squash is very tender. Remove from heat. Puree soup with immersion blender.
Brush sliced bread with olive oil and grill for 5–7 minutes. Top with Parmesan while still warm.
Ladle soup into bowls, top with part toast and remaining sage. Serve hot.
Grilled Brussels Sprouts
2 stalks Brussels sprouts
4–6Tbsp. olive oil
coarse salt and pepper
Preheat grill or fire to medium heat (375-400°F). Drizzle olive oil over stalks, turning as you do to cover all sides of stalk. Season generously with salt and pepper. Lay stalk on grate, turning occasionally as it cooks, 45 minutes to 1 hour.
To serve, using a sharp knife, scrape sprouts off stalk into large bowl or serving platter. Season to taste.
Pommes Anna
1½ lbs. russet potatoes
½ stick unsalted butter
3 Tbsp. chopped Italian parsley
Peel the potatoes. Slice very thin on mandolin. Transfer to bowl of cold water. Drain and rinse with cold water again. Dry potatoes in single layer between paper towels. Melt butter, pour 2 tablespoons into bottom of cast-iron skillet. Starting in the center, arrange the slices, slightly overlapping, in concentric circles, brushing each layer with remaining butter and seasoning with salt and pepper between layers. Cover the potato slices with a piece of buttered foil, pressing down on the foil firmly. Bake at 425°F in the middle of a preheated oven for 30 minutes. Remove foil and bake another 25-30 minutes. Invert onto a cutting board, cut into wedges, garnish with chopped Italian parsley.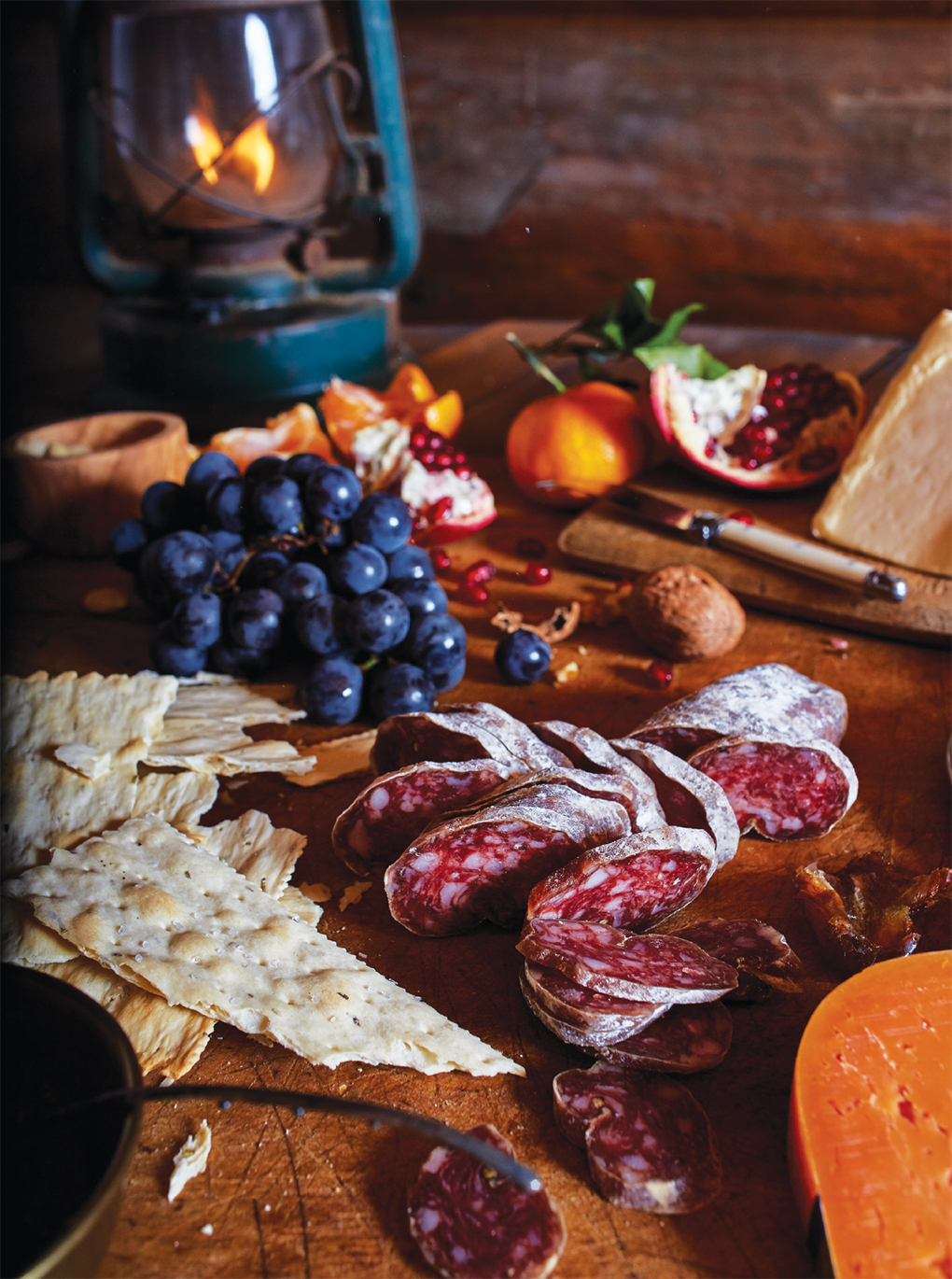 Charcuterie/Cheese Board
Variety of meats and cheeses
fresh figs
fresh clementines
Concorde grapes
Medjool dates
pomegranate
apricot jam
whole walnuts
various crackers
salumi
prosciutto
fruit
---
Digital Extra: Blood Orange Ricotta Tart
Crust
1 2/3 c. cake or pastry flour
1/3 c. confectioners' sugar
1 stick (1/2 c.) unsalted butter
1 egg yolk
2 Tbsp. heavy cream
Caramelized Blood Oranges
2/3 c. sugar
1 blood orange thinly sliced
Filling
1 c. ricotta
1 c. mascarpone
1/2 c. sugar
3 eggs
zest and juice of 2 blood oranges
Topping
1 1/2 c. heavy cream
2 Tbsp. confectioners' sugar
Make the crust
In a food processor, combine the flour and sugar. Add the butter and
process until the texture resembles coarse meal. In a small bowl, whisk together the yolks and 1 tablespoon cream. With machine running, add the egg mixture in a slow, steady stream through the feed tube until dough begins to form. To test, squeeze a small amount together, if crumbly add additional tablespoon of cream. Remove the dough from the machine, and on a lightly floured surface, press down into a disk.
Wrap in plastic wrap and refrigerate for at least 1 hour.
Make the blood oranges
Line a sheet tray with parchment. Heat the sugar and 2/3 cup water in a wide sauce pan over medium heat. Bring to a simmer and cook until the sugar appears golden (8-10 minutes.) Add the sliced blood orange and cook for an additional 2-3 minutes, making sure oranges are coated. Transfer oranges to parchment lined tray and set aside to cool.
Make the tart
Preheat the oven to 350F. On a lightly floured surface, roll out the pastry into an 11-inch circle. Drape the dough over the rolling pin and transfer to a 9-inch tart pan. Fit the dough into the bottom and up the sides of the pan as evenly as possible and trim the excess pastry. Chill in the freezer for 15 minutes. Line the dough with parchment paper and baking weights. Bake for 8 minutes, then remove the paper and weights, and return to the oven. Continue baking for another 5 minutes or until dough is a pale golden color. Cool slightly. Place the ricotta, mascarpone, sugar, eggs, blood orange juice and zest into a food processor. Pulse until smooth. Pour the filling into the cooled crust. Bake for 30 minutes or until mostly set, with a slight wiggle in the center. Cool completely. Whip heavy cream until slightly thickened. Add sugar and continue to whip until cream reaches soft peak. Top the cooled tart with whipped cream and caramelized blood oranges.