Lynn Steiner was already a longtime gardener with a master's degree in horticulture when she fell for native plants. It was 2002 and Steiner, a writer, had recently become a freelancer. When a publisher asked if she'd like to write a book about using native plants in gardens and landscaping, she accepted, and that was it. "I had always had an interest in natives, but not more than I was interested in any other garden plant," she recalls. "Once I discovered how wonderful and beneficial they are, I've focused on helping people incorporate more natives into traditional landscapes."
Steiner has now written several books focused on her horticultural specialty, including Grow Native: Bringing Natural Beauty to Your Garden and Landscaping with Native Plants of Minnesota. Naturally, she also grows many native plants in the gardens that surround her home in Stillwater. She and her husband have lived in their 1898 farmhouse since 1985. Over time they have planted many different sections of their nearly 18-acre property, which includes perennial and vegetable gardens, as well as a prairie, woodland, and savanna, with a mix of native and non-native plants.
Steiner's favorite spot, the entry garden, was inspired by walled gardens she once saw on a garden tour in Charleston, South Carolina. "I liked the small spaces enclosed by brick walls, and I wondered how I could do that," she says. Her solution was twofold. First, she added a garage next to the house to create two walls, and then a cedar fence with a custom-built arbor to give the space the feeling of enclosure that she wanted. Bricks from the St. Paul Stockyards were repurposed to create a path through part of the charming garden, which includes small trees, shrubs, and perennials, as well as herbs.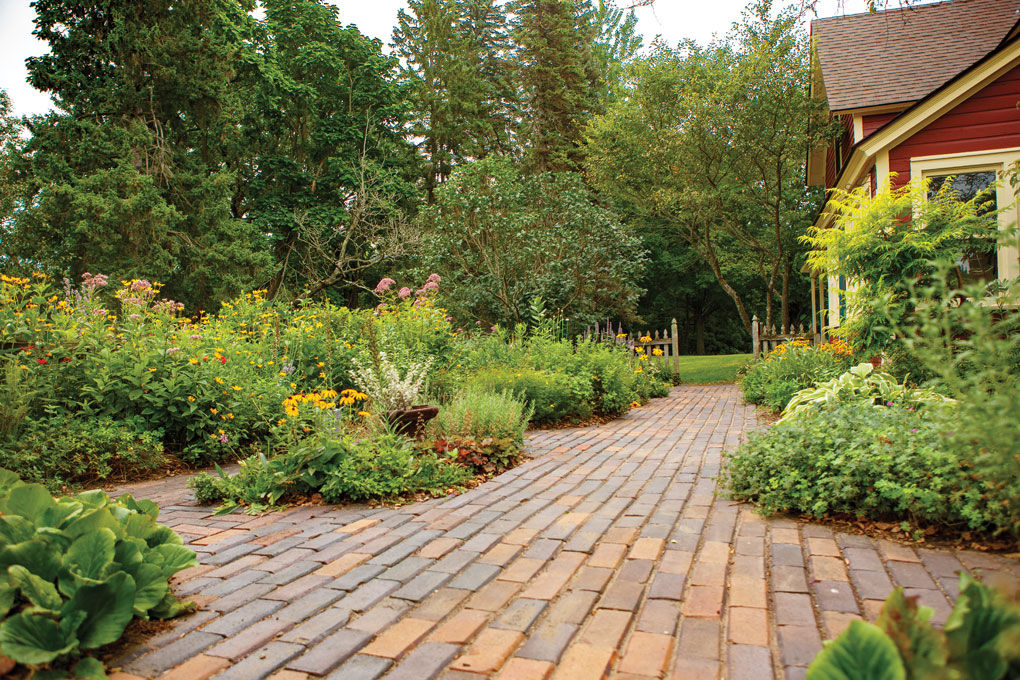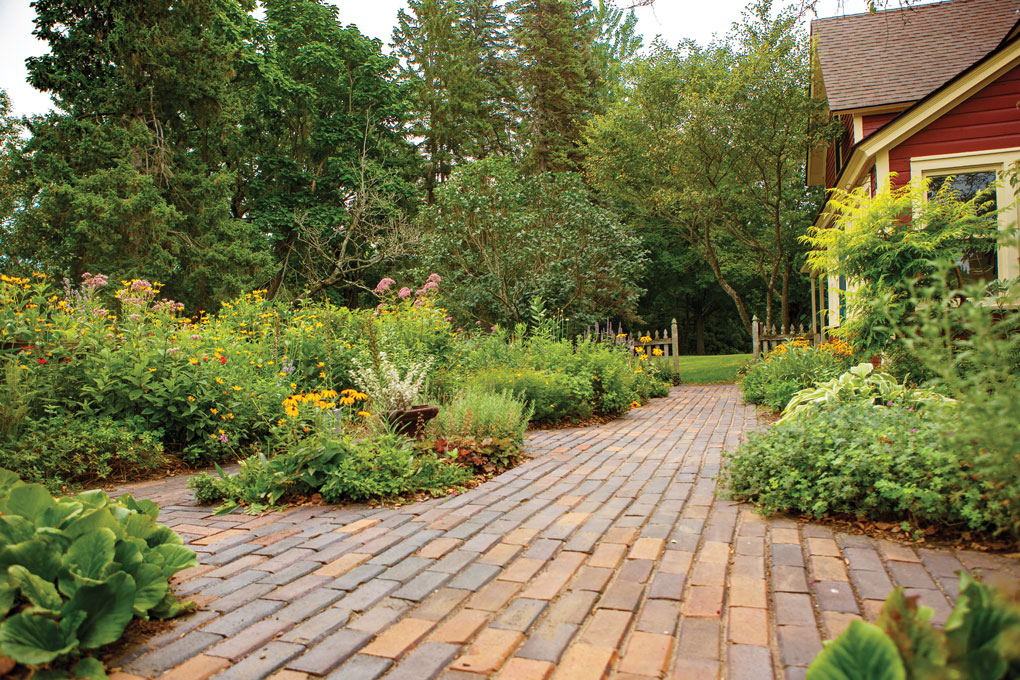 Though it throws some people off since she writes so much about natives, Steiner likes growing both native and non-native plants. The entry garden, for example, offers natives such as Joe-Pye weed, anise hyssop, gaillardia, bee balm, black-eyed Susan, and gray dogwood; non-natives include bergenia, forsythia, lavender, and 'New Hampshire Purple' geranium. "I am first and foremost a horticulturist and a gardener who discovered that incorporating natives into my gardens is good for me, pollinators, and the world," she explains. "I don't have anything against non-native plants, and I think that's where most people are coming from. I just do my research to make sure I'm not growing things on the invasive list."
That said, Steiner does make a point of choosing the pure species of natives as often as possible, but there are instances where cultivars (cultivated varieties) of native plants are a better option because they have been specifically bred with positive attributes like a longer flowering period, less of a tendency to sucker, or better form. In talks she gives to gardening groups, Steiner often uses New England aster as an example, pointing out that the pure native species is tall, gangly, and often in need of support while native cultivars like 'Purple Dome' and 'Hella Lacy' are more compact while still having all the characteristics that attract pollinators.
Steiner's prairie-restoration garden is the one place where she grows pure species of natives only because the whole idea is to restore what would have grown there naturally. Located in front of the house along the driveway, the prairie-restoration garden was installed and is maintained by Princeton-based Prairie Restorations. Built from a small remnant of prairie by the road, the garden started with a seed mix and a few plant plugs after the land had been burned and cleared. Some of the prairie's many plants include oxeye daisy, anise hyssop, prairie dropseed, big blue stem, little blue stem, wild bergamot, liatris, and goldenrod.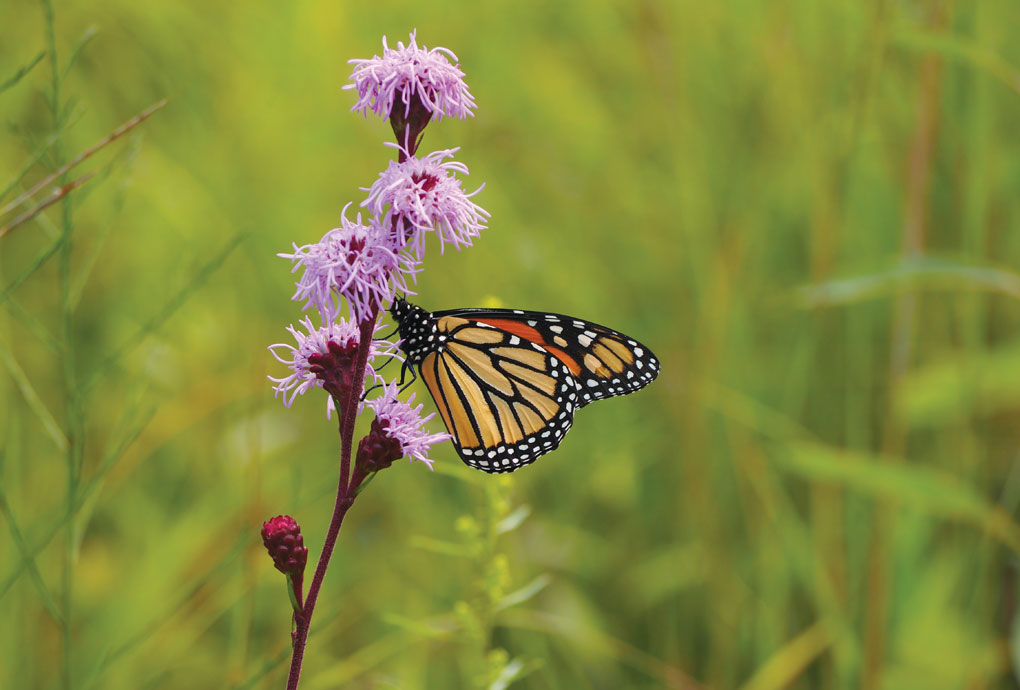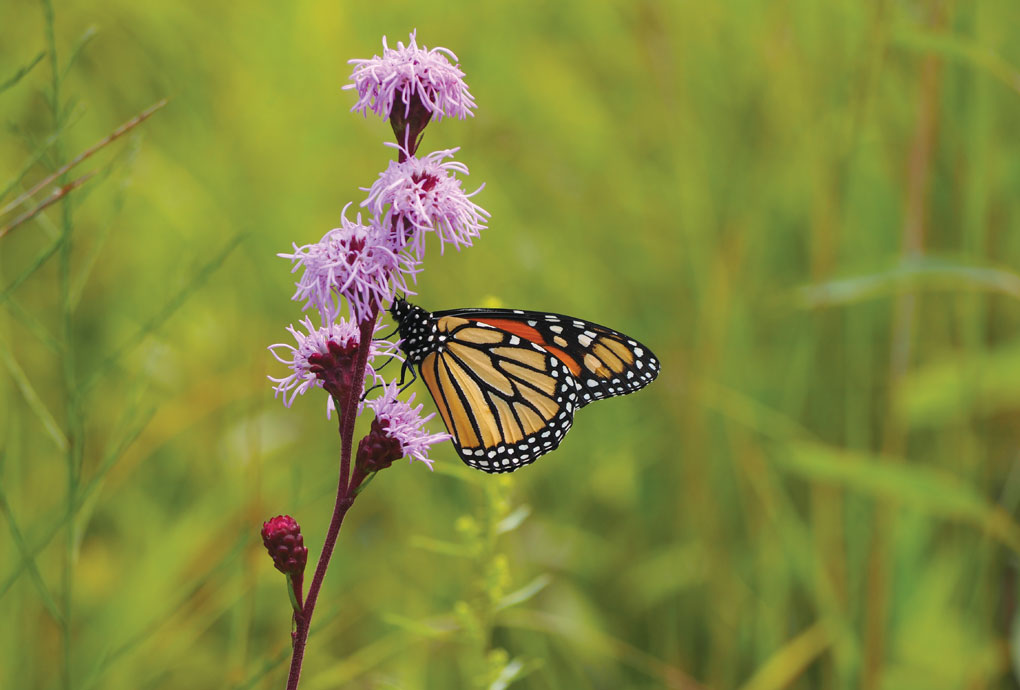 Also in front of the house is the woodland garden, which grows beneath a partially fallen Northern catalpa tree that's probably been around since the house was built, Steiner figures. "It's a North American native, though it's not a tree that's native to Minnesota. It has weathered so many winters even though it's been damaged several times," she says, explaining that the tree has become a sculptural piece in the front yard.
Like most woodland gardens, this one is most spectacular in spring when early blooming natives such as trillium, bloodroot, Virginia bluebells, and woodland phlox are in bloom. Once they die back, a variety of natives and cultivars take their place, including shade-tolerant zigzag goldenrod, ferns, wild ginger, hostas, baneberries, and Jack-in-the-Pulpit.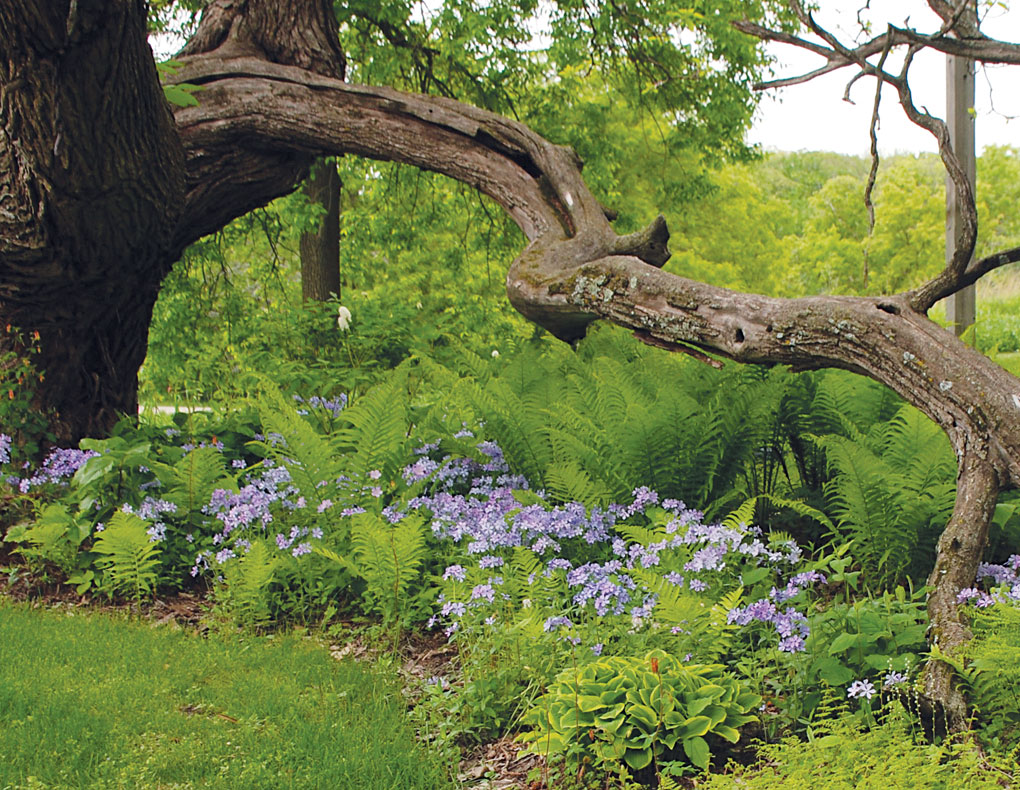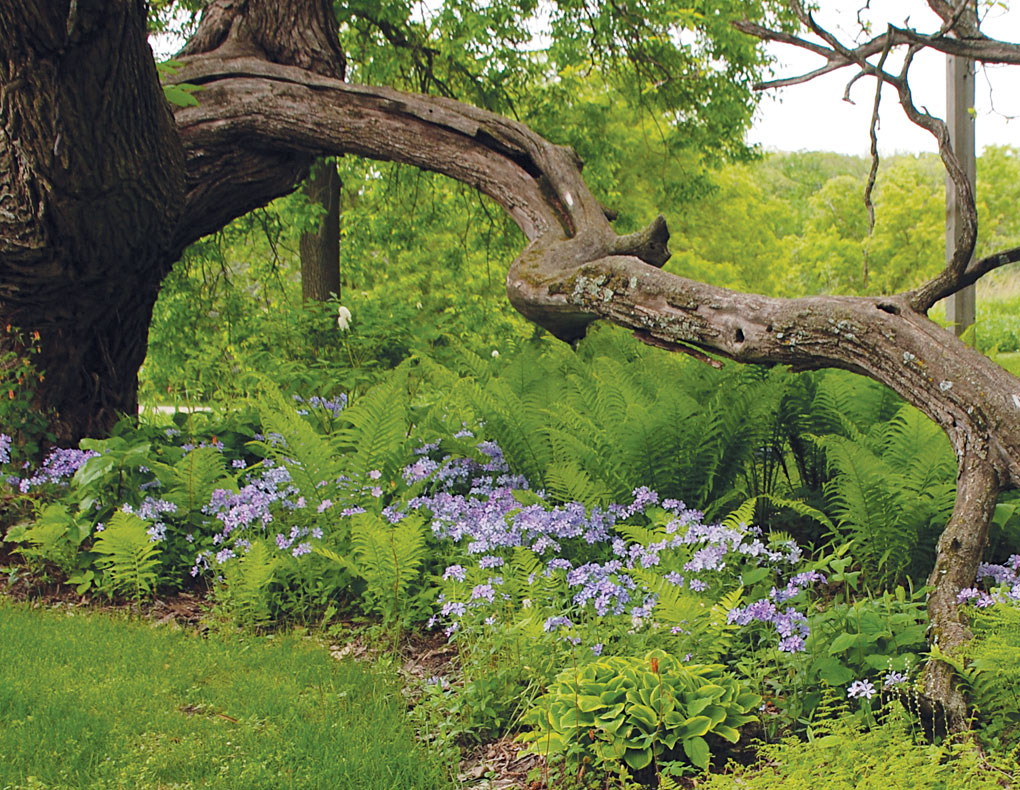 For gardeners who would like to either add some or more native plants to their gardens, Steiner has this advice: "Don't worry about it. There is no secret, just use the same techniques you use with other perennials in your gardens." In other words, just like you would when buying other plants, choose natives that are suited for the conditions of your site: Sun or shade? Moist or dry soil? Sloping or flat ground? Sandy or clay soil? "People think natives are tough and can withstand anything, but that's not true," she says. "You still need to prepare your soil and remove weeds and water them until they get established. Then they should do just fine."
10 Native Plants For Any Minnesota Garden
Looking for some tried-and-true natives to add to your gardens? Here are 10 of Steiner's Favorites:
Maidenhair fern (Adiantum pedatum)
Apple serviceberry (Amelanchier x grandiflora)
Wild ginger (Asarum canadense)
Butterfly milkweed (Asclepias tuberosa)
Blanket flower (Gaillardia x grandiflora)
Prairie smoke (Geum triflorum)
Virginia bluebells (Mertensia virginica)
Prairie phlox (Phlox pilosa)
Bloodroot (Sanguinaria canadensis)
Prairie dropseed (Sporobolus heterolepis)